Rest of the work week: Much warmer, a couple shower chances mixed in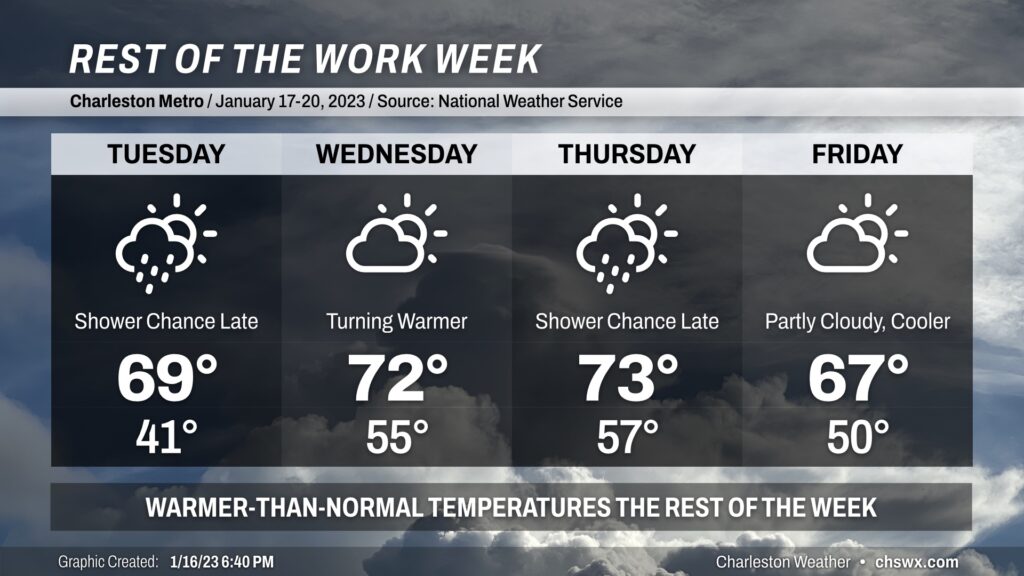 The rest of the work week will be punctuated with a warming trend through Thursday before a cold front knocks temperatures down slightly for Friday. There will be a few shower chances, but mostly after dark.
Tuesday will be the first morning in a couple days that doesn't dip below freezing, but it'll still be a little chilly with lows in the low 40s. Temperatures will head into the upper 60s to around 70° under increasing cloud cover. A few showers will be possible late in the day as a cold front washes out nearby, but otherwise most of us stay dry.
Wednesday turns even warmer as winds go southerly and warmer and more moist air moves into the area. We'll start the day in the mid-50s — close to the normal high for this point in January — and temperatures will peak in the low 70s in the afternoon. It'll turn more humid, but we should stay rain-free.
Thursday will continue to feature warm temperatures ahead of a cold front expected to come through late in the day/early Friday. Highs on Thursday top out once again in the low 70s. A few showers will once again be possible, generally late in the day as the front gets closer. It'll be on a weakening trend, though, making showers generally more isolated than anything.
Friday will run a little cooler in the wake of the front, but temperatures will remain well above-normal. We'll start the day around 50° and warm into the upper 60s in the afternoon under partly cloudy skies. It looks like Friday will be the last rain-free day until next Tuesday, as an unsettled weekend appears to be in the cards as another storm system moves by.
---
Follow my Charleston Weather updates on Mastodon, Instagram, Facebook, Bluesky, or directly in a feed reader. You can also get daily audio updates via the Charleston Weather Daily companion podcast, available wherever fine podcasts are listed. Do you like what you see here? Please consider supporting my independent, hype-averse weather journalism and become a supporter on Patreon for a broader look at all things #chswx!