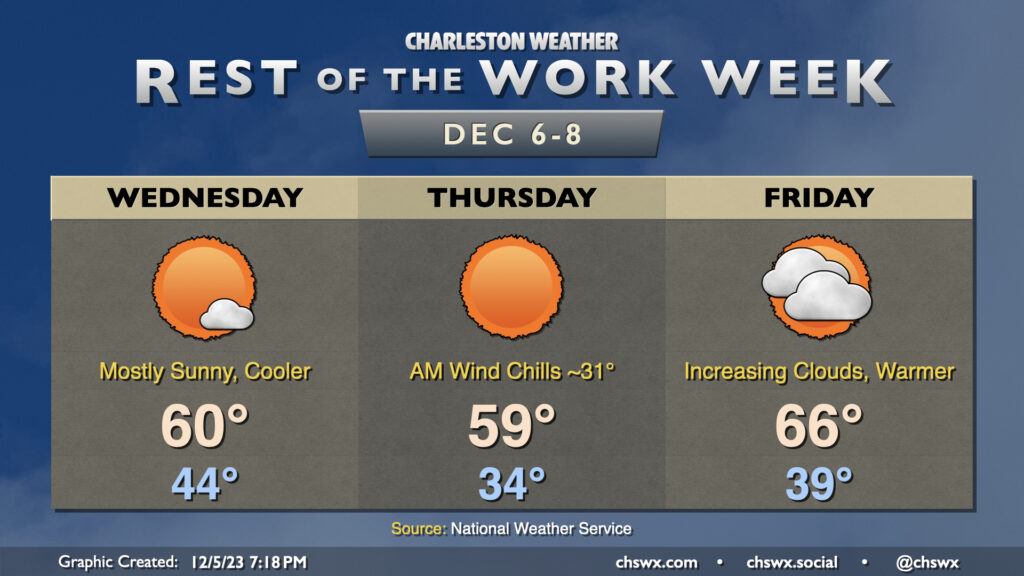 Another cool couple days lie ahead as a reinforcing front comes through early Wednesday morning. This will be a pretty solid shot of cool and dry air as high pressure builds in from the west. We'll start Wednesday in the mid-40s, but the cooler air rushing in will limit the high to around 60° in the afternoon despite primarily sunny skies. It'll be a bit breezy, with gusty winds out of the northwest at times, so some element of wind-breaking may be ideal.
Thursday will be the coolest day of the week. We'll start the day in the mid-30s, with inland locations possibly approaching freezing. A light wind will make it feel a little cooler, with wind chills in the low 30s across the metro. Skies will once again be predominantly cloud-free, but the cold high pressure settling in will hold highs to the upper 50s to around 60°.
High pressure slips offshore Friday, and this allows some warmer air to move back in. We start Friday in the upper 30s to around 40°, but temperatures will warm back toward the mid-60s in the afternoon. Clouds will also be increasing as a coastal trough begins to take shape nearby, but rain is not expected.
Read more »