The week ahead: Warm start, unsettled at times, but a seasonable and quiet Thanksgiving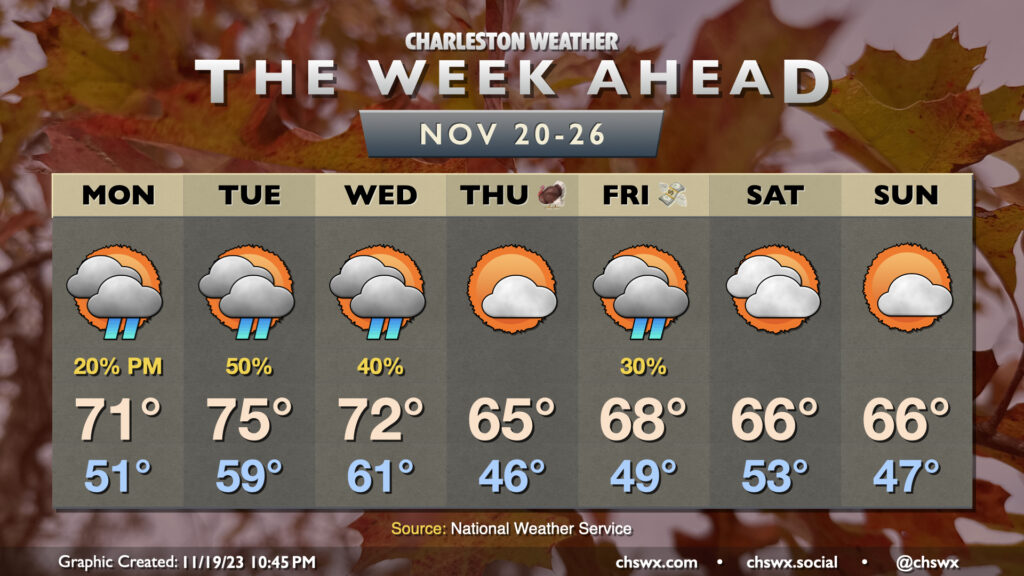 The week ahead will be unsettled at times as a couple disturbances, including a reasonably strong cold front, come by this week, which will bring more beneficial rain to the area (and maybe even a few rumbles of thunder).
We'll get much of Monday in rain-free, though clouds will certainly be increasing with time as moisture increases from the south. As it interacts with a trough organizing near the coast, we could see a few showers after sunset, but widespread precipitation isn't currently expected. Highs on Monday top out in the low 70s after we start the day around 50°.
Shower chances increase as we head into Tuesday as a vigorous upper low and surface cold front approach from the west. We'll be in the warm sector, with lows bottoming out only in the upper 50s to low 60s before warming to the mid-70s in the afternoon. We'll see scattered showers throughout the day — certainly no washout, but keep rain gear nearby nonetheless. As we get into Tuesday evening and early Wednesday morning, a little bit of instability could move in and generate some rumbles of thunder. There will be ample shear, but it remains to be seen if more robust instability can build in for an isolated strong to severe storm. Right now, I'm not too concerned there, but we'll watch it.
Showers look to taper off on Wednesday as the front is expected to move through during the day. It'll be another relatively warm day, with lows in the low 60s warming to the low 70s. Once the front is through, winds will turn more toward the west and drier air will steadily move in. Thanksgiving is looking quiet and seasonable as we sit between disturbances, with lows in the mid-40s yielding to mid-60s highs in the afternoon under partly cloudy skies. Another disturbance moves by for Black Friday, perhaps generating some shower activity once more before we dry out over the weekend with temperatures at or a little below normal.
---
Follow my Charleston Weather updates on Mastodon, Instagram, Facebook, Bluesky, or directly in a feed reader. You can also get daily audio updates via the Charleston Weather Daily companion podcast, available wherever fine podcasts are listed. Do you like what you see here? Please consider supporting my independent, hype-averse weather journalism and become a supporter on Patreon for a broader look at all things #chswx!