Today's severe weather threat: Updated timing and impacts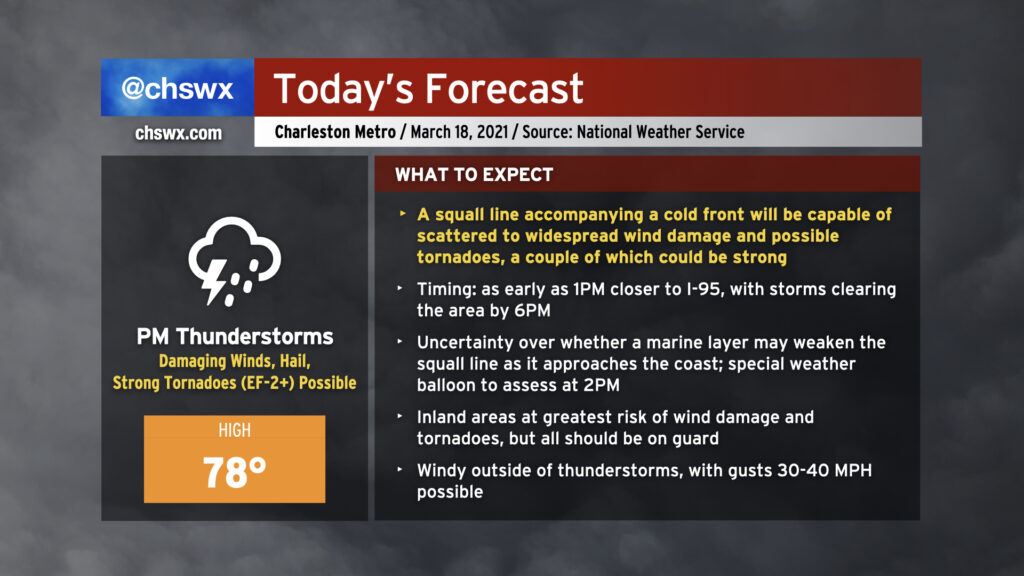 Today could feature a severe weather episode across the Lowcountry in the afternoon and early evening hours as a squall line pushes through the area. Damaging straight-line wind gusts are the primary concern, but embedded strong tornadoes and some large hail will be possible as well. We may see some weakening of the storms as they approach the Charleston metro area as the line interacts with a more stable marine layer, but I wouldn't hang my hat on it as these storms could remain vigorous enough to overcome the stable air.
Before the storms arrive, expect mostly cloudy skies with some peeks of sun. Highs should top out in the upper 70s provided the line does not sweep through earlier than anticipated. It'll turn windy outside of thunderstorms as the low-level jet kicks up throughout the day. Gusts to 30+ MPH will be possible, making bridge driving a little more tricky.
Storms should clear the area by around 6-7 PM if current timings hold, and we will turn much cooler tomorrow.
The risk category changes, but don't let your guard down
With the overnight update, the Storm Prediction Center revised the severe weather risk category to a level 3 of 5 (enhanced risk) across the Tri-County area, confining the previous Moderate Risk area to the Pee Dee and eastern North Carolina. As mentioned earlier, uncertainty remains over how much stable marine air could impact the squall line's strength as it approaches the coast. The National Weather Service in Charleston, according to this morning's forecast discussion, is planning to release a special weather balloon this afternoon to assess the marine layer before storms arrive.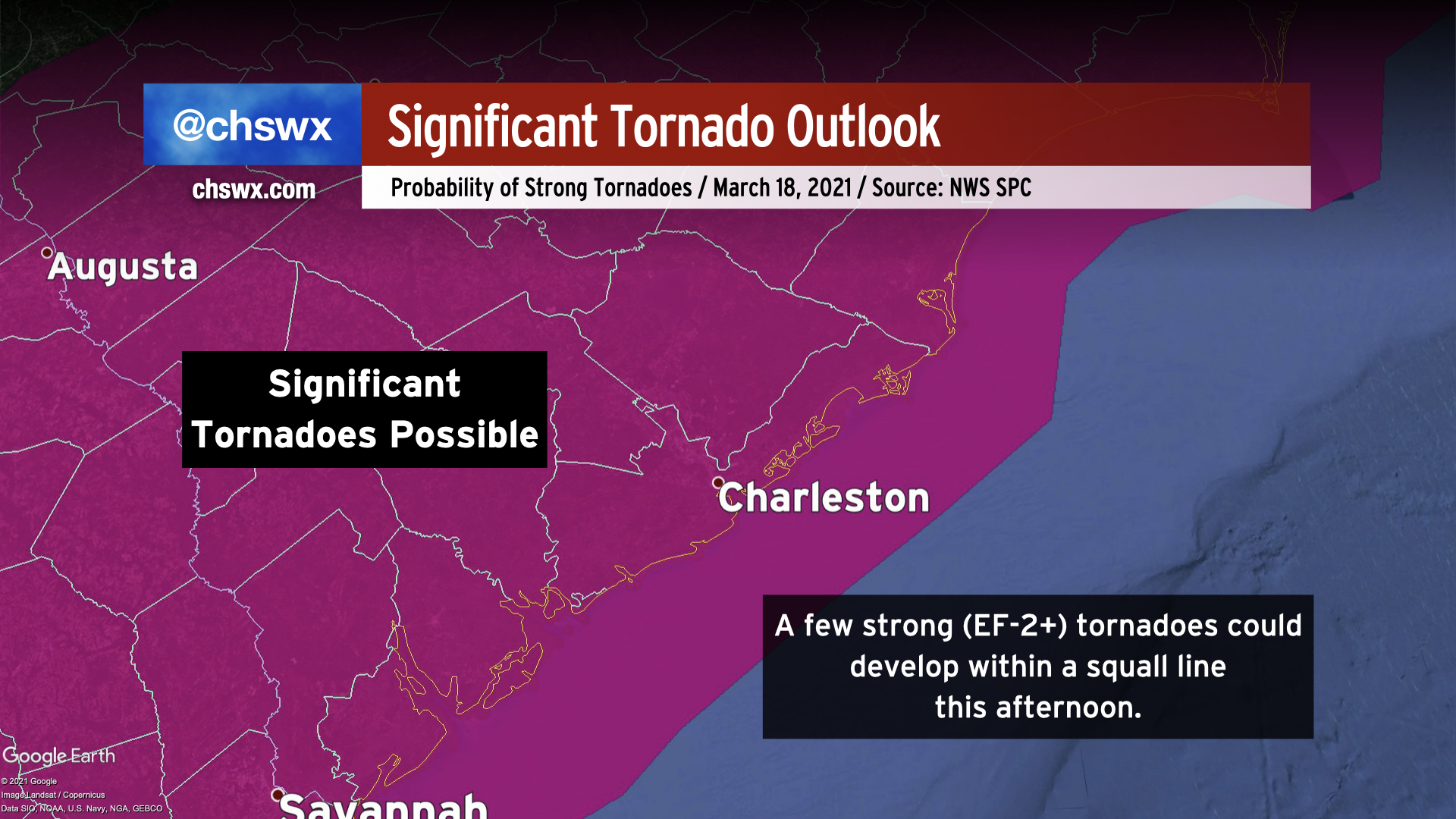 Even though we may not be in the Moderate Risk area anymore, Enhanced Risk days can still be quite rough, and you shouldn't change your preparations as a result. The downgrade in risk category is more of a communication of uncertainty rather than a downgrade in the overall severe weather risk. Indeed, if storms can get going and become as vigorous as forecast, there is the potential for strong tornadoes across much of the state as the line moves through. The Storm Prediction Center highlights this with an area of 10% probability of strong tornadoes (EF-2 or greater) within 25 miles of a point in central and eastern SC into NC.
Ultimately, storms do not care about risk levels or convective outlooks. Treat today's risk and the uncertainty that comes with it with respect and be ready to act if warnings are issued.
What to do today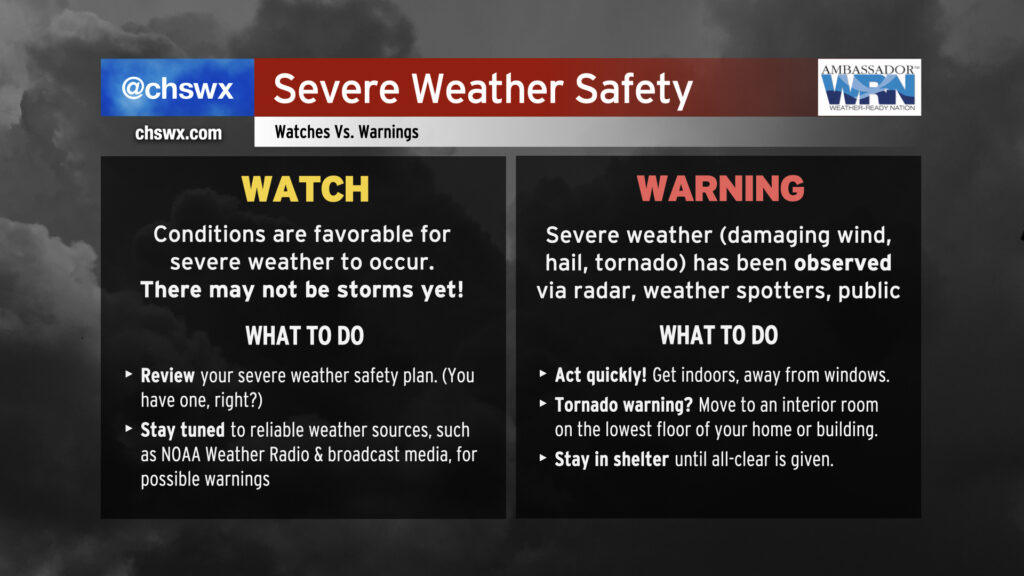 Remember the difference between a watch and a warning. A Tornado Watch is likely to be issued today; this indicates that conditions are favorable for the development of severe thunderstorms that could produce tornadoes. In today's case, the watch will likely be issued a few hours ahead of the squall line's arrival. If severe weather is observed, the National Weather Service will issue a warning, which is contained within a smaller polygon. If you are in the warned area, take immediate action to head indoors, away from windows. If a tornado warning is issued, go to an interior room on the lowest floor of a site-built structure and await the all clear. Don't wait to see if a tornado is coming to take action! Tornadoes in the Southeast are often rain-wrapped, impossible to see until it's too late.
Monitor trusted weather sources. The forecast will continue to evolve right up to the event. Stay close to trusted weather sources for updates in timing and strength as the event gets closer. We may very well have a better idea of the impacts on the Charleston metro area if the supplemental weather balloon launch happens; expect this data a little after 2PM.
Prepare for power outages by keeping phones charged and flashlights handy. Scattered power outages may be possible today in the wake of storms. Keep your phones charged so that if the power does go out, you can continue to monitor severe weather updates. As storms will be departing the area closer to sunset, power outages could leave you in the dark for a period of time, so make sure you have flashlights handy.
Ensure Wireless Emergency Alerts are turned on in your phone's settings. If a tornado warning is issued for your location, Wireless Emergency Alerts will trigger as your signal to take action. If you have turned these off in the past, I urge you to have them on today.
Do these things above and you will be in great shape for storms this evening. The good news is that the storms will be short-lived, and there is no expected threat for any additional severe weather once the squall line passes.
I'll have updates here and on Twitter as conditions warrant. Stay safe today!
---
Follow my Charleston Weather updates on Mastodon, Instagram, Facebook, Bluesky, or directly in a feed reader. You can also get daily audio updates via the Charleston Weather Daily companion podcast, available wherever fine podcasts are listed. Do you like what you see here? Please consider supporting my independent, hype-averse weather journalism and become a supporter on Patreon for a broader look at all things #chswx!