Friday & the weekend: Tidal flooding threat persists as coastal storm passes offshore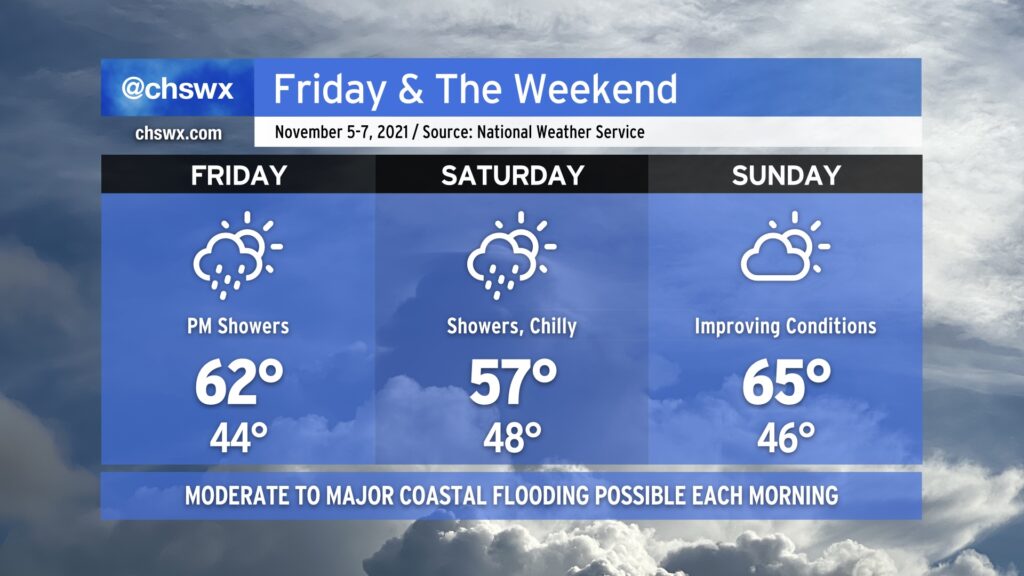 Much cooler than normal temperatures will persist for Friday into the weekend as a high pressure wedge remains in place, keeping north to northeasterly flow over the area through Sunday. As a coastal storm organizes offshore — how far offshore remains quite an important forecast question — we'll see an uptick in rain chances beginning Friday evening into Saturday. Where the storm sets up will largely influence just how much rain we get, an important piece considering the specter of an 8'+ high tide on Saturday morning. If heavy rain coincides with that tide, what looks to already be a significant coastal flooding event gets that much worse.
The coastal storm will lift away from the area heading into Saturday night, and we should see some more sunshine on Sunday. Moderate to major flooding remains a threat with the Sunday morning high tide, though, and will need to be watched carefully. We'll stay on the chilly side, too, with highs only topping out in the mid-60s — more January than November.
Moderate to major flooding remains a threat for the next few mornings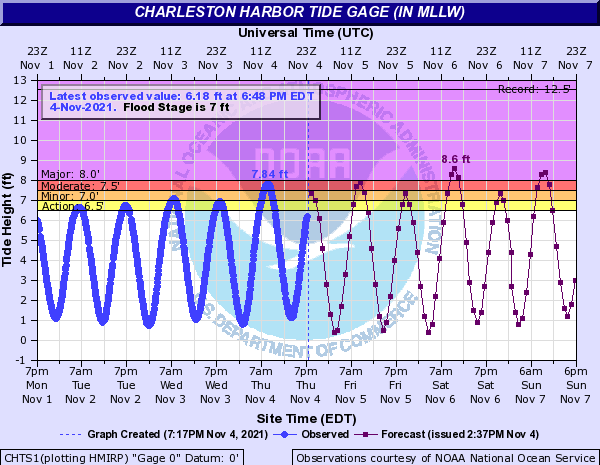 Moderate flooding was observed this morning in the harbor, with water levels topping out around 7.84'. We will make another solid run into moderate flooding territory on Friday morning, with the 8:48am high tide topping out around 7.8-8.0'. Major flooding is certainly in the cards if wind directions are a little more northeasterly than northerly. Regardless of the flood stage category, the situation certainly appears ripe for another round of widespread road closures like we saw this morning. We'll see another round of minor to potentially moderate flooding Friday night, too, so be aware if you are headed out and about in downtown Charleston.
As the coastal storm develops and makes its closest pass to the area on Saturday, water levels are expected to reach well into major coastal flooding territory. While still subject to change, the National Weather Service continues to forecast a top-10 tide in Charleston Harbor for Saturday morning with a forecast height between 8.5-8.7'. Widespread coastal flooding impacts not seen since the Thanksgiving weekend of 2018 would be possible, with numerous road closures not only in downtown Charleston but also potentially on James Island and in parts of Mt. Pleasant. Another round of minor to moderate flooding is expected Saturday evening, as well.
Water levels will remain elevated on Sunday, with major flooding once again in the forecast for the mid-morning high tide and minor to moderate flooding for the evening. Model uncertainty is quite significant as we get into Sunday, though, so stay tuned to forecast updates as, once again, the progress of the low pressure system and alignment of the high have impacts on wind direction and speed.