Weekend forecast: Showers diminish, warmth returns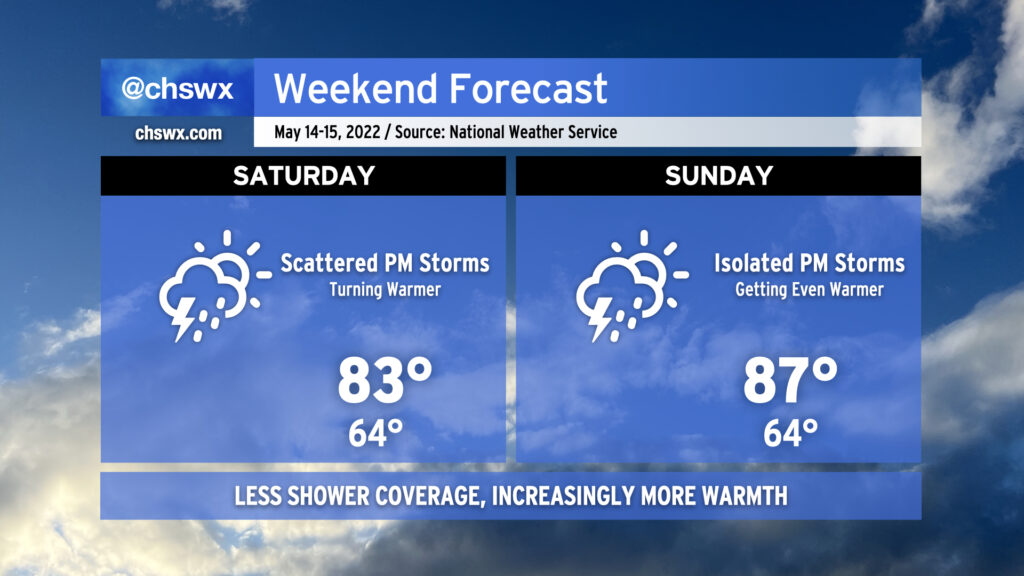 After today's round of rain for many of us, we return to a drier and warmer pattern once more as low pressure slips out of the area. While isolated to scattered thunderstorms will be possible each afternoon, a good bit of us will remain dry. Highs will begin to head back up starting Saturday, with low-to-mid-80s expected across the area. On Sunday, highs look to peak closer to the upper 80s, and we'll be flirting with 90° by Monday, as above-normal temperatures are expected heading into much of next week.
Coastal flooding will remain a concern with each high tide cycle through Saturday evening, and then with the evening high tide on Sunday as well. Minor to moderate coastal flooding looks to be probable, with road closures a consideration an hour or two each side of the predicted time of high tide. Expect Coastal Flood Advisories from the National Weather Service.
This weekend's high tides:
Saturday: 6:55 AM (approaching minor flood), 7:33 PM (minor flood stage)
Sunday: 7:46 AM (currently predicted to stay below flood stage), 8:23 PM (minor to moderate flood)
Total lunar eclipse overnight Sunday
The last total lunar eclipse visible from our neck of the woods until 2025 will take place late Sunday into early Monday morning, peaking around 12:11 AM. We'll have just shy of one hour and 24 minutes of totality beginning at 11:29 PM Sunday and ending at 12:53 AM Monday. (The whole eclipse runs from 9:32 PM Sunday to 2:50 AM Monday.)
Viewing conditions should be okay, but there will certainly be the question of cloud cover, which could thicken at times throughout the evening. It shouldn't be cloudy the whole time, though — and scattered cloud cover could even make for more interesting photography! We'll keep an eye on the cloud cover forecast over the next couple days as the event gets closer.