The week ahead: Rain chances return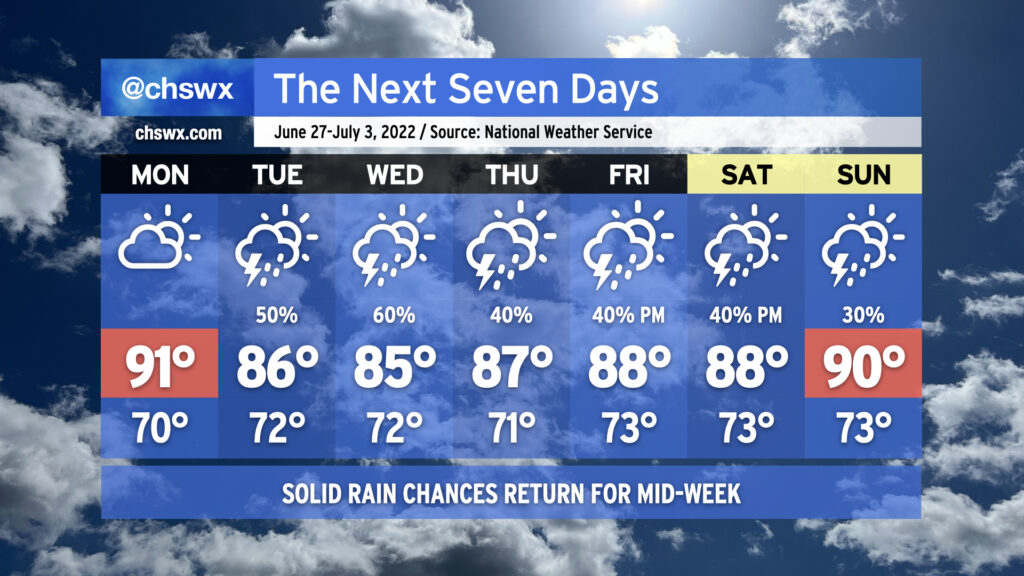 At Sunday dinner tonight, my mom remarked to me that her grass was getting awfully crunchy with the lack of rain. Fear not, Mom and others: Rain chances return to the forecast starting Tuesday and will continue for the next several days as a front presses into the area and stalls out. We could see some fairly heavy downpours at times as precipitable water values — essentially, the amount of water you could wring out of a column of air — approach 2″ across the area heading into Tuesday and Wednesday. The caveat, as always, is that it won't rain all the time at any one location, and some locations will see more rain than others. (A few spots might even get shut out. Such is life in late June.) Once the front washes out and high pressure rebuilds heading toward the weekend, storms will be more scattered in nature, driven by typical daytime heating and forcing along the seabreeze. Overall, most spots can expect generally about 3/4″ of rain on average during the week with locally heavier amounts. It's not going to bust the drought, but it should at least blunt it a little.
Cloud cover and thunderstorms will also help to keep temperatures down; below-normal temperatures are forecast for a good chunk of the week, in fact, with heat indices not really factoring in all that much especially on Tuesday and Wednesday. Monday will act as the high-mercury mark for the week, starting us in the low 90s before the front approaches and temperatures generally top out in the mid-to-upper 80s for the rest of the week. We could see another run at 90° for Sunday as the aforementioned high pressure settles back in, but all in all, welcoming July without oppressive heat and some beneficial rain isn't all bad.