Sunday: Starting out unsettled, drying by evening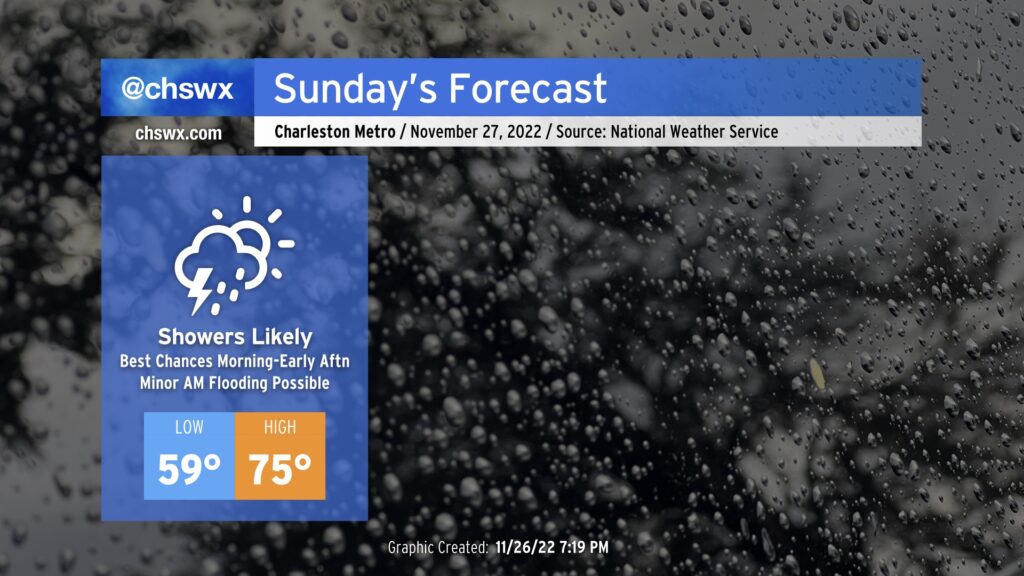 A storm system will approach the area overnight into Sunday, bringing another round of rain chances to the area primarily tomorrow morning into early afternoon.
First, a warm front will lift across the area overnight into very early Sunday morning. As this happens, showers look to move ashore from the south, which will keep rain in the area to start the day. We'll want to keep an eye on any downpours that might be sneaking around downtown around the ~10:30am high tide; that tide's expected to peak around 7.3' in the harbor and thus will produce some minor coastal flooding. Rain on top of that could spread the flood threat beyond the usual areas of downtown that see issues with sunny day flooding, so we'll want to keep an eye on that.
The other effect from the warm front, of course, will be much more warm and moist air spreading in from the south. Expect lows to bottom out around 60° primarily very early in the morning; many of us should wake up to temperatures in the 60s in the wake of the warm front. Highs should top out in the mid-70s ahead of the cold front.
The next round of rain arrives from the west around midday in the form of a line. Said line should be weakening with time given that the parent low will be more and more to our north, but there's still the risk of a thunderstorm or two given marginal instability. Wind shear will be more than adequate as well, and it wouldn't totally shock me to see a storm at least garner a special weather statement for gusty winds during the early afternoon. However, the severe weather threat remains rather low.
Even outside of showers and thunderstorms, winds will be fairly gusty — gusts 30-35 MPH aren't out of the question as mixing heights increase with heating and tap into a decently strong low-level jet. These gusts will subside later in the day once the front gets by and the low-level jet lifts northeast.
Deep moisture should exit the area by early evening in the wake of the cold front, shutting off the rain, scouring out cloud cover, and making for a mostly clear night with temperatures falling into the 50s after midnight. This will lead to a nice start to the work week before another round of rain mid-week.