The week ahead: Aside from a mid-week front, quiet weather expected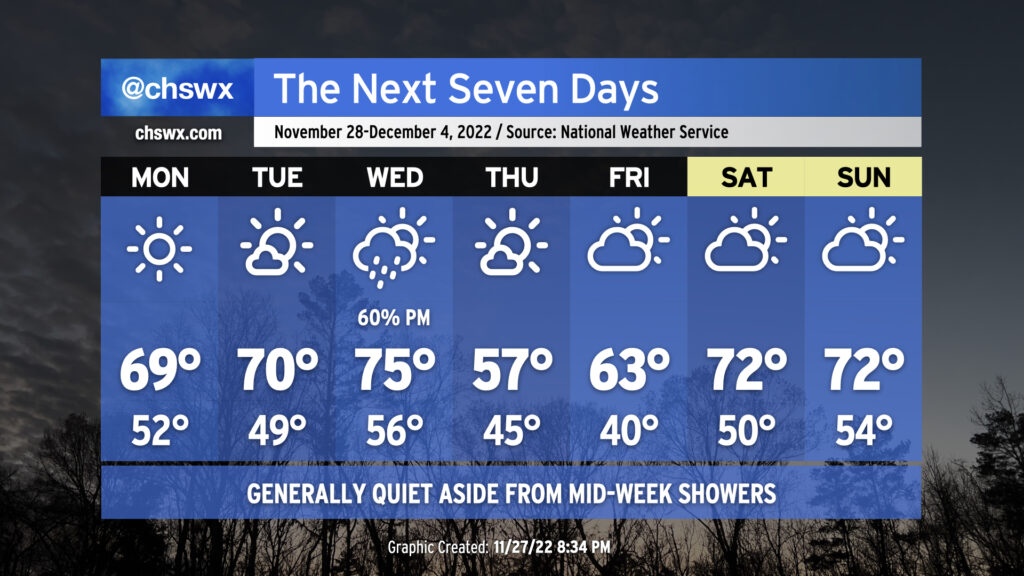 Aside from some showers on Wednesday as a cold front moves through, this week looks pretty good weather-wise, offering up more in the way of sunshine than we've seen in the past couple weeks.
After a frontal passage earlier today, much drier air has moved into the area, and this will keep skies largely cloudless for Monday as temperatures top out just shy of 70°, making for a really nice way to kick off the work week. Mostly sunny skies continue into Tuesday as highs rise to about 70° in the afternoon.
Cloud cover and moisture will increase ahead of the cold front on Wednesday, which will push a batch of showers and maybe a thunderstorm through the area in the afternoon and evening hours. Highs will top out in the mid-70s with the warmer airmass in place. No severe weather is anticipated, and don't expect to see too terribly much in the way of rainfall accumulation.
Thursday will be considerably cooler in the wake of the front, with highs only topping out in the mid-50s. Ridging aloft will help the airmass moderate, though, and after low-to-mid-60s on Friday, we're back in the 70s for the weekend with partly cloudy skies. Not too shabby.
It looks like we'll be okay coastal flooding-wise for at least the first part of the week, though we'll want to keep an eye on Friday as winds go northeast a few days out from December 7th's full moon. Earlier today, we tied 2020 for the most coastal flooding events in a year with our 68th tide at 7′ or greater…and we have a little over a month left to go in 2022. I suspect this is one record we will end up breaking at some point soon…
---
Follow my Charleston Weather updates on Mastodon, Instagram, Facebook, Bluesky, or directly in a feed reader. You can also get daily audio updates via the Charleston Weather Daily companion podcast, available wherever fine podcasts are listed. Do you like what you see here? Please consider supporting my independent, hype-averse weather journalism and become a supporter on Patreon for a broader look at all things #chswx!