The week ahead: Mostly quiet and seasonably cool except for Wednesday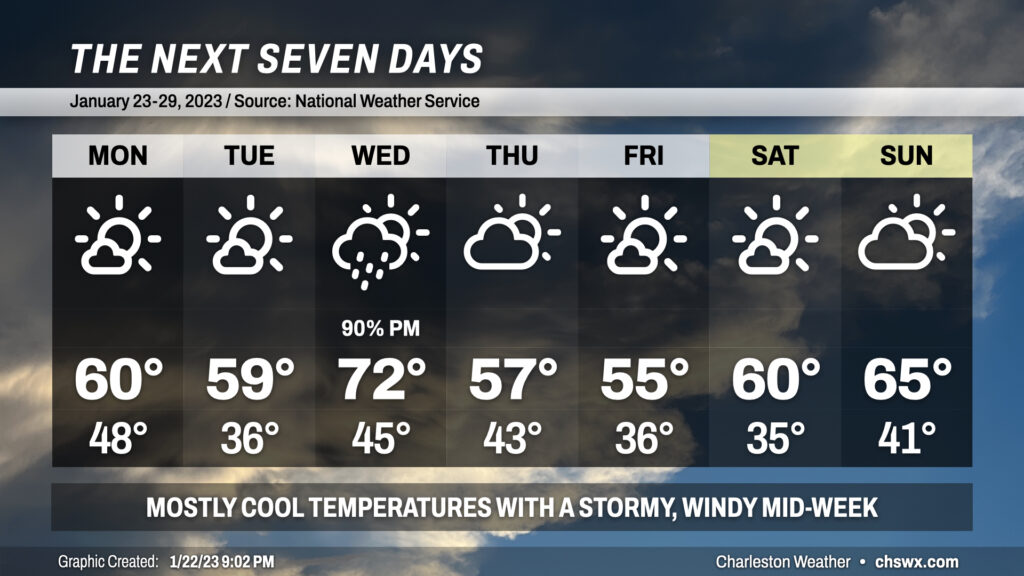 The week ahead will feature temperatures generally at or slightly below normal for this point of the year aside from Wednesday, when temperatures will head into the low 70s ahead of a cold front.
A cold front will come through overnight, clearing out the cloud cover and helping temperatures bottom out in the upper 40s to start Monday. We'll head only to about 60° in the afternoon despite more than ample sunshine. Tuesday starts even cooler, with lows in the mid-30s expected and highs just shy of 60° in the afternoon with another day of mostly sunny skies.
High pressure gives way to a fairly dynamic storm system for Wednesday, with a cold front moving through the southeast states throughout the day. Southerly winds will turn the heat pump on in the atmosphere, sending highs into the low 70s in the afternoon ahead of a line of storms. With the pressure gradient tightening between high pressure offshore and low pressure passing to our northwest, winds will turn gusty at times throughout the day. A line of showers and maybe even a few thunderstorms will come through later in the day into the early evening hours, with some even stronger winds possible within those storms (though instability looks pretty marginal at this point). It'll be worth watching Wednesday, though, to see how the severe threat, if any, evolves.
Once the front is through, we're back to quiet weather for Thursday into the weekend. Cool advection will keep winds elevated on Thursday, with highs topping out in the mid-50s. Friday will once again run in the mid-50s, but a warming trend takes hold for the weekend, with low 60s Saturday and mid-60s Sunday.
---
Follow my Charleston Weather updates on Mastodon, Instagram, Facebook, Bluesky, or directly in a feed reader. You can also get daily audio updates via the Charleston Weather Daily companion podcast, available wherever fine podcasts are listed. Do you like what you see here? Please consider supporting my independent, hype-averse weather journalism and become a supporter on Patreon for a broader look at all things #chswx!