The week ahead: Hot start, but another taste of fall is inbound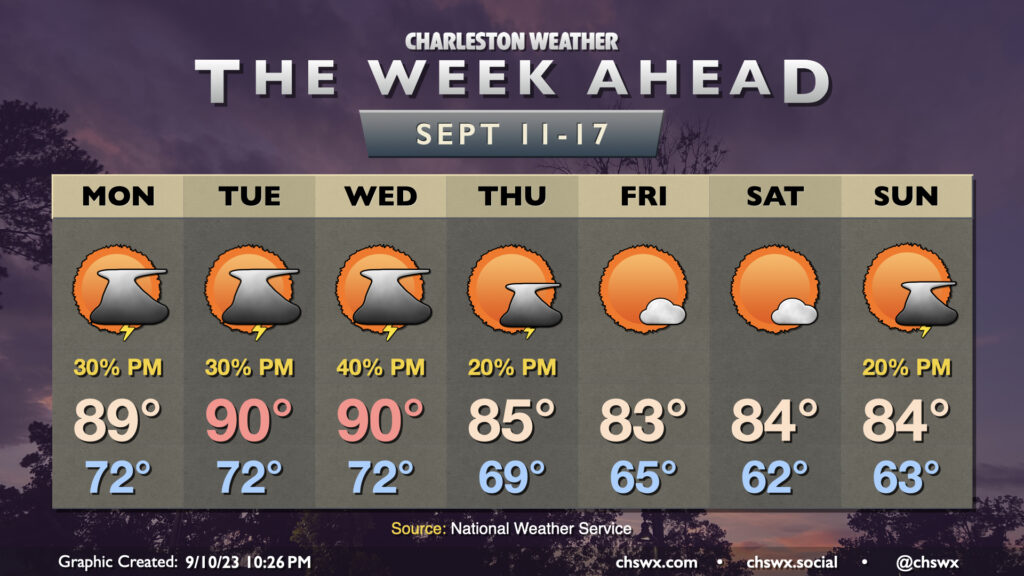 We will get off to a warm start for the first part of the work week, but a front will bring another taste of fall for the second half into the weekend.
Generally expect Monday through Wednesday to functionally feel about the same — we start the day in the mid-70s with highs topping out around 90° in the afternoon. We should see scattered showers and thunderstorms firing on the seabreeze each afternoon, some of which may pack some heavy rain at times. A few stronger storms with gusty winds can't be ruled out, either.
A cold front will approach the area later Wednesday, and this may kick up the risk for showers and thunderstorms as we get into the evening hours. A couple strong storms can't be ruled out with the frontal passage, but so far the overall severe risk looks relatively small.
As we get into Thursday, we'll start to feel a cooler and drier airmass working into the area. Highs on Thursday only top out in the mid-80s. Dewpoints in the upper 60s could support an afternoon shower or storm, but most of us look to stay dry. The aforementioned drier airmass really plunges in for Friday, sending dewpoints down into the 50s and highs into the low 80s in the afternoon, making for an absolutely marvelous day of weather with just a few clouds. Looks like we'll generally repeat that heading into the weekend, too. There may be an isolated seabreeze storm on Sunday, but otherwise, the weather is looking fantastic to close out the work week, and I hope you can take advantage.
Tropics: Lee will turn, Margot is no threat, and two other areas to watch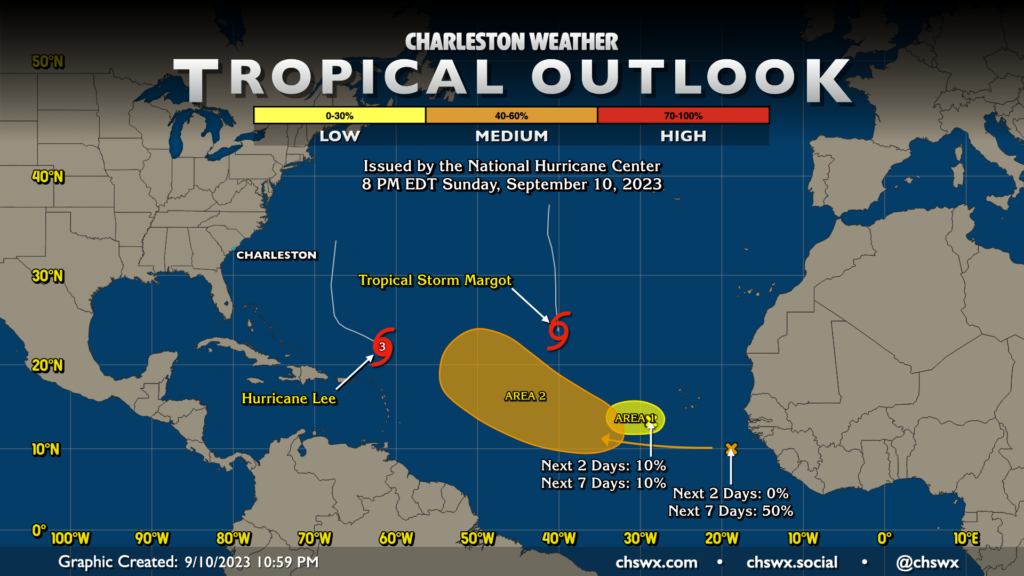 The climatological peak of hurricane season is September 10, and there's plenty out there, but nothing of major concern to the Lowcountry. Lee, which has been the headliner for a fair bit of the past week, is getting its act back together and should become a Category 4 storm for a brief period once more before weakening as it turns northward well to the east of the Eastern Seaboard. We'll be contending with waves and rip currents courtesy of Lee as the storm expands and pushes a lot of water around, but there are no direct impacts expected with Lee, and there really is no reason to be overly worried about it at this point.
Margot will continue to head north in the central Atlantic as a threat only to maritime traffic. Meanwhile, there are two other areas of interest. One spot, just to the west of the Cabo Verde Islands, has a 10% chance of development over the next week. The other spot, a wave fresh off of Africa, has a medium chance of development as it moves into the central Atlantic between 30° and 55°W later this week. Longer-range guidance does suggest some slow development will be possible, but so far it, too, only remains a maritime concern at this point. So, unless your travels take you by boat across the central Atlantic, don't fret about this new area of interest, either.
Gotta say, it's certainly nice to be able to sit here at the peak of the season and say that the Lowcountry faces no imminent concerns. There's still a fair bit of season left, though, and it's important to stay prepared and keep an eye on the outlook from time to time. Such is the cost of living here at this time of year, after all.
---
Follow my Charleston Weather updates on Mastodon, Instagram, Facebook, Bluesky, or directly in a feed reader. You can also get daily audio updates via the Charleston Weather Daily companion podcast, available wherever fine podcasts are listed. Do you like what you see here? Please consider supporting my independent, hype-averse weather journalism and become a supporter on Patreon for a broader look at all things #chswx!