Rest of the work week: Front comes through Wednesday to bring great weather for the weekend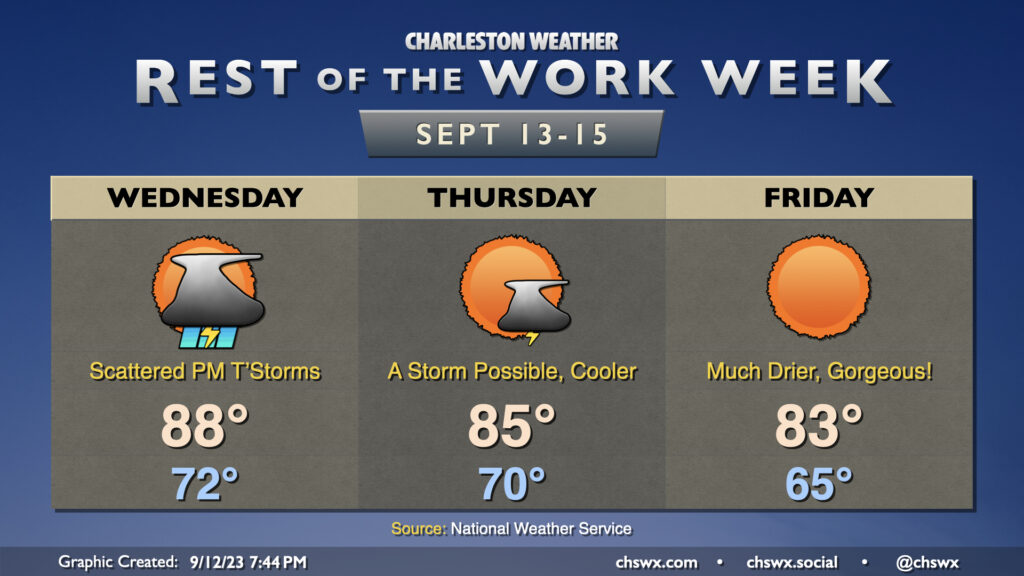 Shower and thunderstorm chances — as well as temperatures — peak on Wednesday ahead of a cold front approaching the area. We'll start the day in the low 70s with highs heading into the upper 80s in the afternoon before thunderstorms erupt generally along the seabreeze. A few thunderstorms could produce some strong wind gusts, with heavy rain and frequent lightning the more widespread concerns. The front should stall out to our west for the balance of the day before making its move through the area overnight Wednesday.
The airmass change behind the front will be somewhat slow at first. We'll certainly see slightly lower dewpoints Thursday with air temperatures topping out a few degrees cooler as well, generally in the mid-80s. However, there should be enough low-level moisture to allow for a few popup showers and storms in the afternoon, so be ready for the potential to dodge a storm or two.
The airmass change picks up steam later Thursday into Friday, which looks positively brilliant. Expect lows in the mid-60s Friday to be followed by highs in the low 80s in the afternoon under nearly unfettered sunshine. Dewpoints will fall into the low-to-mid-50s during the day, providing a comfortably warm feel to the air. We'll keep this going into the weekend, too, with lows bottoming out near 60° on Saturday. (Might even record a few upper 50s in some spots!) Fall is indeed coming, but these transitional seasons can be a little frustrating at times as the weather see-saws back and forth. (Hence "transitional season."
Tropics: Lee and Margot churn northward; another depression likely by this weekend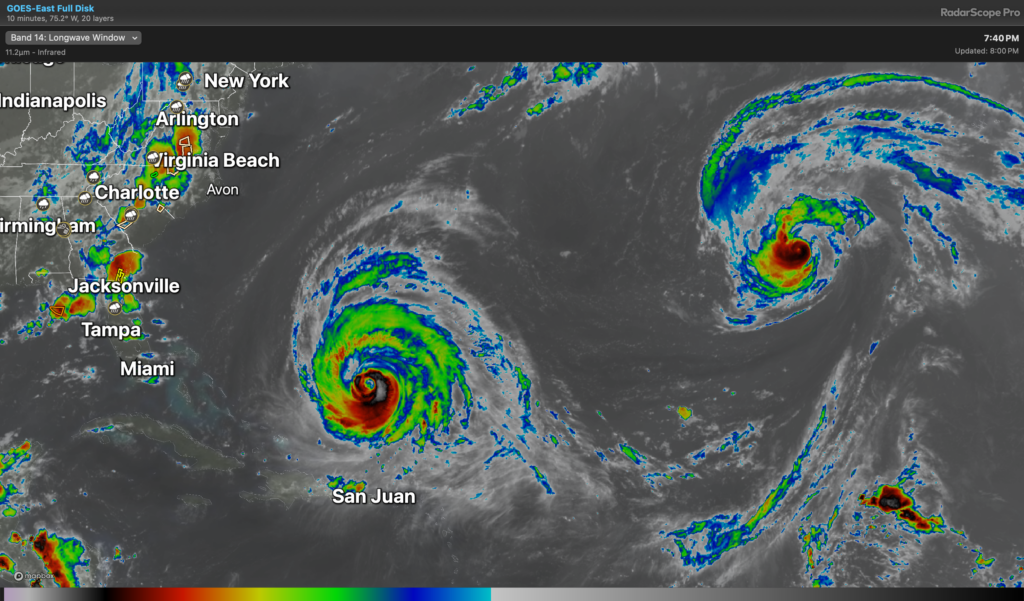 The Atlantic satellite image this evening shows Hurricane Lee and Hurricane Margot both churning in the Atlantic. As of the 8PM advisory, Lee is moving northwest at 7 MPH, with maximum sustained winds of 115 MPH. It is expected to complete its northward turn tomorrow, and from there, appears to be on course to cause some issues for parts of the northeastern U.S. and Nova Scotia this weekend. Swell from Lee is here, and there is a high risk of rip currents at area beaches through the end of the week as a result. The forecast for Lee is well on track and no other issues are expected here in the Lowcountry.
Margot is a Category 1 storm on the Saffir-Simpson Wind Scale, with maximum sustained winds around 80 MPH. It's moving northward at 14 MPH, but that forward motion should slow down considerably as we head into the second half of the week. Infrared satellite imagery shows a little bit of warming of the eye as the compact circulation holds its own, though it will be heading into cooler water as it stalls out.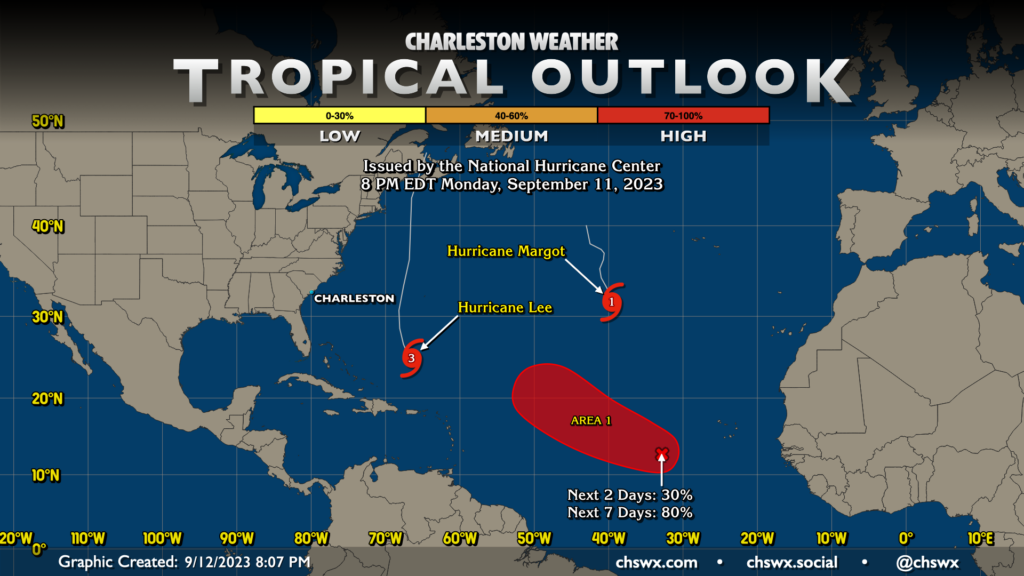 Further to the southeast in the Atlantic, a couple areas of concern will likely merge later this week, and NHC believes we will have our next tropical depression by the weekend. This area of interest has an 80% (or high) probability of development over the next seven days. Models are generally consistent in developing the storm and having it move northwest, followed by a turn around the subtropical ridge, though uncertainty is predictably high given that, well, the storm hasn't really come together yet. So far, though, I'm not concerned about this one for us right now. Of course, I'll keep an eye on it in case that changes.
---
Follow my Charleston Weather updates on Mastodon, Instagram, Facebook, Bluesky, or directly in a feed reader. You can also get daily audio updates via the Charleston Weather Daily companion podcast, available wherever fine podcasts are listed. Do you like what you see here? Please consider supporting my independent, hype-averse weather journalism and become a supporter on Patreon for a broader look at all things #chswx!