The week ahead: Fairly nice start, then storminess returns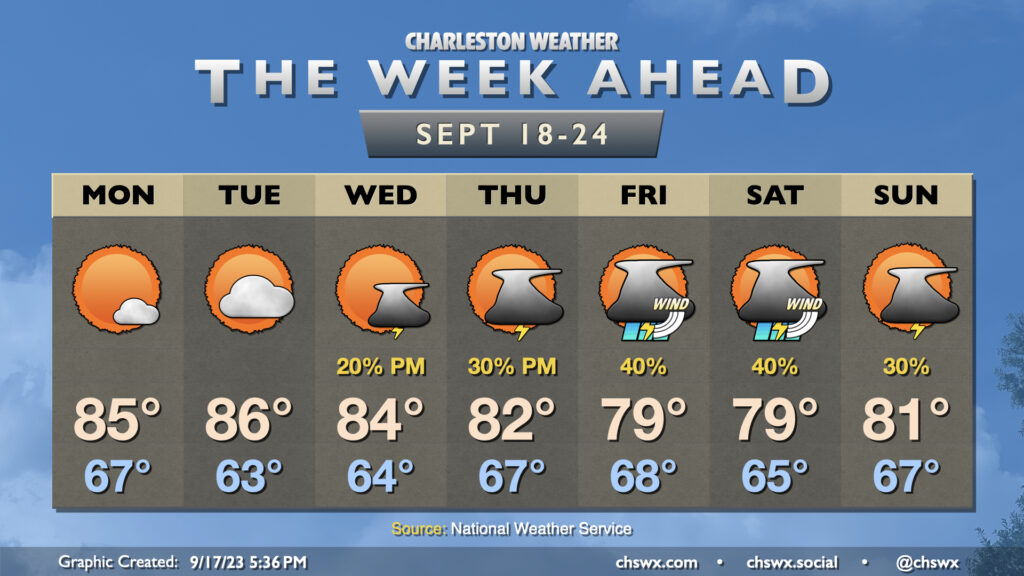 After an incredibly soggy day across the Charleston metro, featuring another round of downtown flooding and rain totals exceeding 4″ in some spots, we get a couple days to dry out to start the work week. We start Monday in the mid-to-upper 60s and top out in the mid-80s as dewpoints fall into the low 60s throughout the day, which will make it an awfully nice day for an emotional support lunch outdoors as we head back to work. We keep the vibe going into Tuesday, with a somewhat cooler start thanks to the lower dewpoints in the area. A few more clouds are expected, but otherwise expect another nice day. Winds go northeasterly on Wednesday and could bring a few showers or storms into the area, but otherwise, much of us should stay rain-free.
Things get weird starting Thursday and heading into the weekend. Models are in good agreement that low pressure will spin up nearby in something resembling more of a nor'easter setup than anything else. However, if it stays over water (which is still plenty warm), there's a chance it could try to acquire some tropical characteristics. Right now, the forecast is for some periods of rain and some gusty winds particularly near the beaches, and regardless of whether the storm is cold-core, warm-core, or hybrid, the impacts should be relatively straightforward. Obviously, we'll keep an eye on this, but for now, not seeing anything extraordinary here. Stay tuned to forecast updates in the meantime.
Tropics: Lee and Margot's advisories end, Nigel to stay well away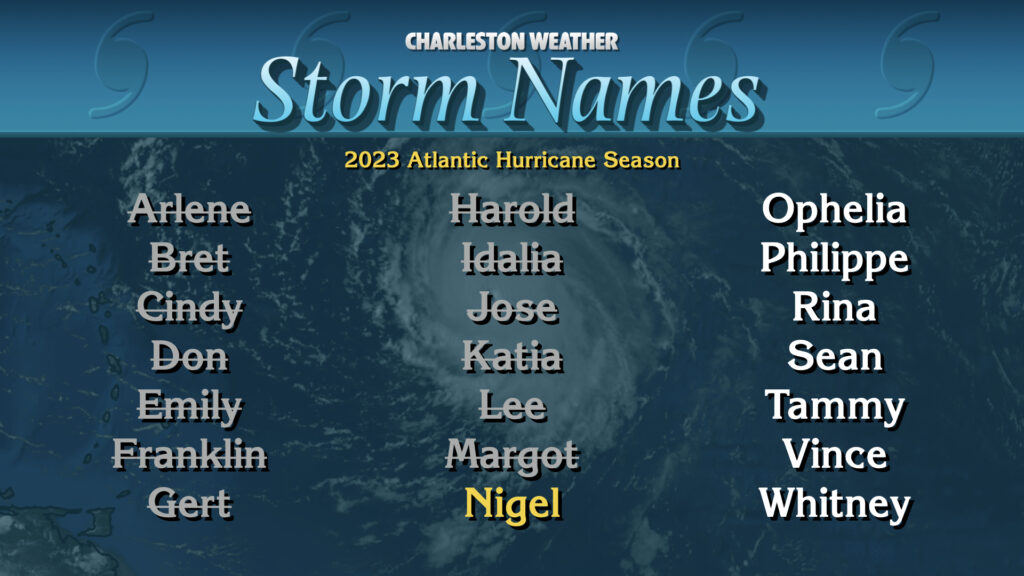 Lee and Margot received their final advisories Sunday morning as the storms have fully lost tropical characteristics and no longer represent tropical threats to land. We've churned through thirteen names so far this year (with fourteen name-eligible storms, counting one from January). Nigel is the fourteenth, having been christened on Saturday as a tropical storm.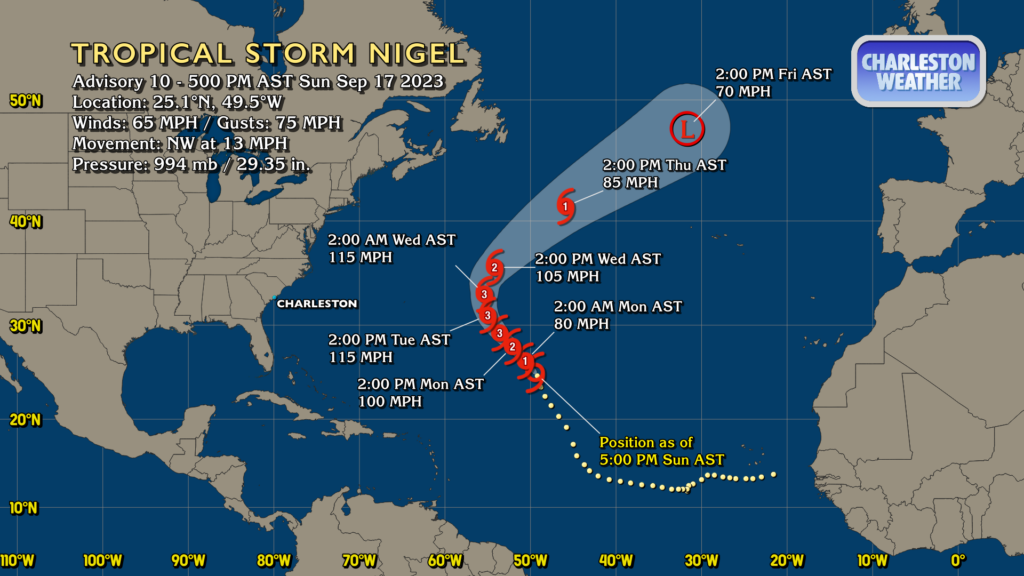 The good news for us on Nigel is that it will stay well away from the area, recurving to the north and out to sea around the subtropical ridge that steered Margot for a while, all the while strengthening to around a category 3 hurricane by Tuesday before beginning to wind down Wednesday as it accelerates northeastward. Nigel is expected to become a post-tropical cyclone by Friday. Bermuda may want to keep a side-eye on this one just in case, but it is no threat to us here in the Lowcountry
Tropical outlook: Two areas to watch, including one close by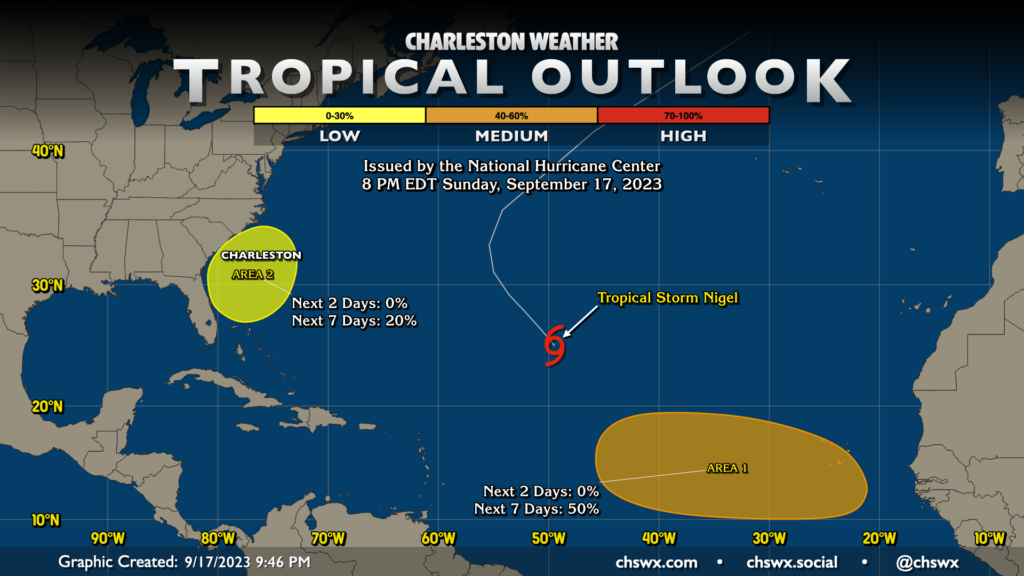 Finally, there are two areas where some tropical cyclone development will be possible this week. NHC has gone up to 50% on an area that's expected to emerge from Africa this week as it moves eastward through the eastern Atlantic. We have plenty of time to keep an eye on that one, with it being nowhere close to land as a tropical threat well into next week. The other area is the "weird" spot I talked about earlier, which NHC gives a 20% chance to develop later this week into the weekend. As mentioned, it looks like there will be some sort of low pressure there, but what form it takes remains to be seen. Just stay tuned to forecast updates periodically, but right now it's nothing to take a cow down over.
---
Follow my Charleston Weather updates on Mastodon, Instagram, Facebook, Bluesky, or directly in a feed reader. You can also get daily audio updates via the Charleston Weather Daily companion podcast, available wherever fine podcasts are listed. Do you like what you see here? Please consider supporting my independent, hype-averse weather journalism and become a supporter on Patreon for a broader look at all things #chswx!