Friday & the weekend: One more warm day, then rain for the first time this month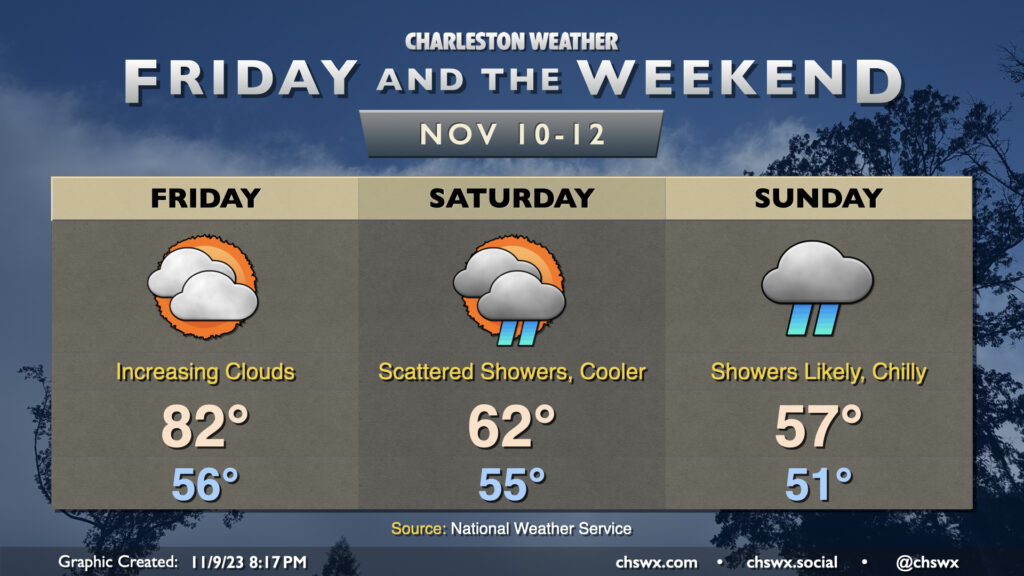 If you've been a fan of this recent warm weather, soak Friday in, because that's going to do it for the 80s for a little while. Clouds will be increasing ahead of a cold front that will be moving by late Friday night, which will usher in a much cooler airmass for the weekend and beyond.
Cool high pressure will wedge southward overnight Friday into Saturday, and we're going to feel it in the way of lows that'll run ~20° cooler than what's expected Friday (low 60s vs. low 80s). Overrunning moisture atop the wedge could bring some showers to the area for Saturday, especially later in the day. The better chance of showers will arrive with a round of mid-level energy that'll move by Sunday. The expected clouds and showers will keep highs suppressed to the upper 50s at best. We'll also need to keep an eye on Sunday morning's high tide for the potential for minor coastal flooding thanks to the northeasterly winds driving up tidal departures.
Overall, it'll be good to get our first measurable rain of the month as abnormally dry conditions continue to spread across the Lowcountry, even if the weekend is not an ideal time. We'll see rain taper off later Sunday and some more sunshine as we get into Monday and beyond, though temperatures will remain generally below normal for this point in the year with highs in the mid-60s each afternoon.