Weekend forecast: Lots of sun, warm Saturday, cooler Sunday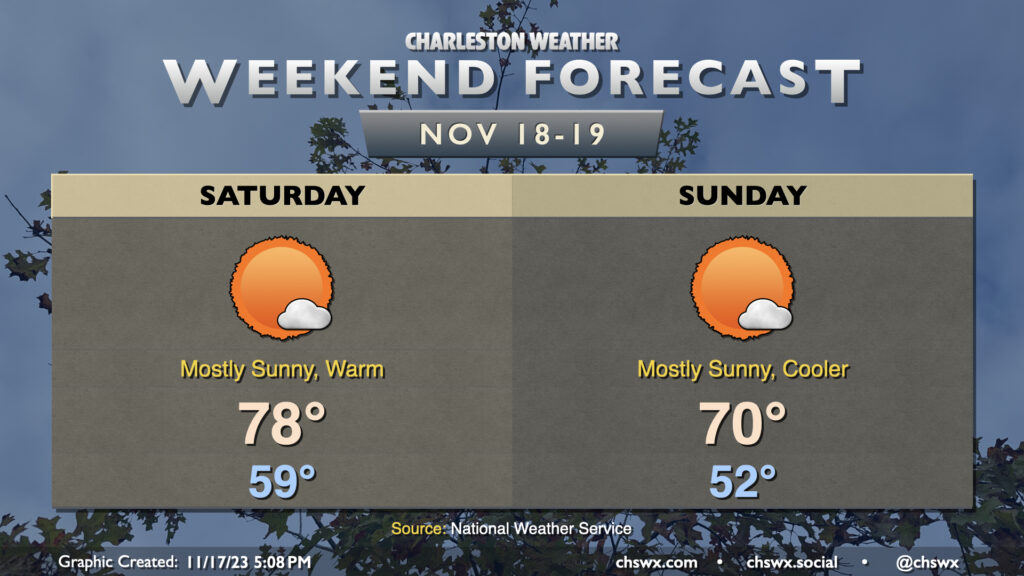 Showers will depart overnight Friday, and we look to have a rather nice and warm Saturday ahead. We'll start the day in the upper 50s and warm to the upper 70s in the afternoon with plenty of sunshine to be had. A cold front will then pass through Saturday evening with nary a whimper, just a gradual drop in dewpoints with temperatures to follow. We start Sunday in the low 50s — a few degrees warmer than recent forecasts — and warm to about 70° in the afternoon. Sunshine will once again be in abundance, and it'll be another gorgeous (and more seasonally-appropriate) weather day.
Looking ahead: Showers will return to the forecast for the first half of Thanksgiving week with temperatures generally around or above mid-late November norms. From there, a strong cold front looks to sweep through, knocking temperatures down well below normal — thinks highs in the upper 50s to around 60° — just in time to make Thanksgiving Day feel like, well, Thanksgiving Day.
Tropics: Potential Tropical Cyclone 22 not likely to live up to its potential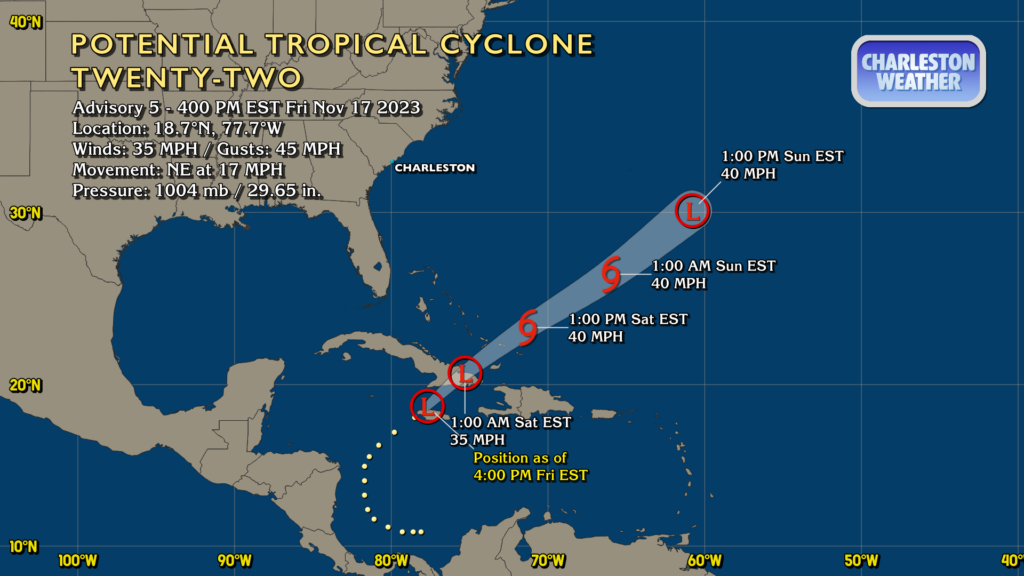 Potential Tropical Cyclone Twenty-Two is increasingly looking like it won't have a chance to develop into a tropical storm after all, but advisories are hanging on for the moment as it heads toward Cuba. There's a 30% chance it could still become a tropical storm, but the odds are against it as conditions turn more unfavorable the further northeast it gets. Otherwise, the tropics are quiet — just the way we like it heading into Thanksgiving.
---
Follow my Charleston Weather updates on Mastodon, Instagram, Facebook, Bluesky, or directly in a feed reader. You can also get daily audio updates via the Charleston Weather Daily companion podcast, available wherever fine podcasts are listed. Do you like what you see here? Please consider supporting my independent, hype-averse weather journalism and become a supporter on Patreon for a broader look at all things #chswx!