Friday & the weekend: One more day of tapering showers, then turning nice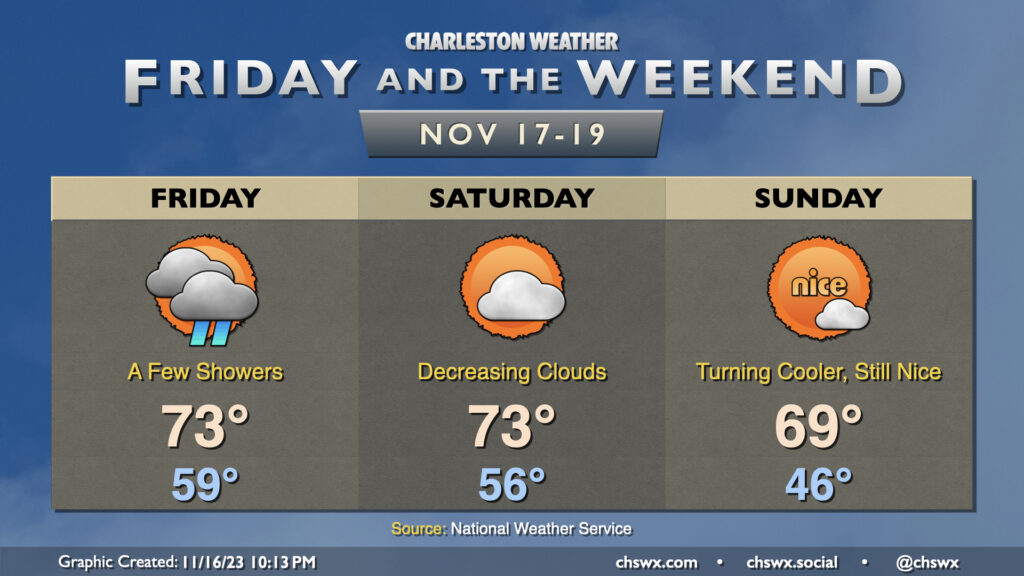 Showers will gradually depart as Friday wears on thanks to low pressure moving away from the area. It'll be an unseasonably warm day, with lows starting near 60° before temperatures top out in the low to mid-70s in the afternoon. We'll see some breaks in the clouds between showers, so once again, we're not expecting a totally gray, washed out day. The only other issue will be the potential for some minor salt water flooding around the 10:25am high tide; expect water levels to peak around 7′ or so, putting some salt water once again on Hagood at Fishburne and perhaps on Lockwood. Widespread flooding issues are not expected.
The weather improves just in time for the weekend. Clouds will be decreasing Saturday as deeper moisture departs. We start the day in the mid-50s before warming into the low 70s in the early afternoon. From there, a cold front will get through later in the day; expect a dry passage thanks to much drier air in place. Sunday will be noticeably cooler — expect lows in the mid-40s, some 10° cooler than Saturday morning — before warming to around 70° in the afternoon.
Tropics: Potential Tropical Cyclone 22 forms; no threat to the Lowcountry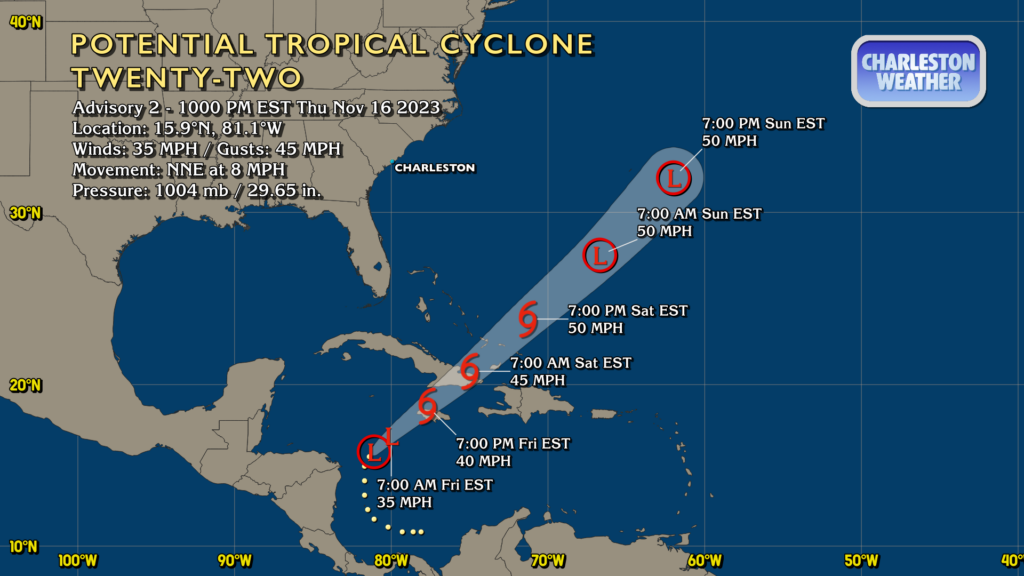 Potential Tropical Cyclone Twenty-Two has been christened in the southern Caribbean. It is not yet a tropical cyclone, but it is expected to become at least a depression by Friday morning before strengthening into a tropical storm near Jamaica Friday evening. It looks poised to move across Cuba and the Turks and Caicos while slowly strengthening in the meantime. It should peak as a 50 MPH tropical storm Saturday evening before making an extratropical transition as it approaches 30°N late Saturday into Sunday. It is no threat to the United States.
The other area off the Southeast coast that NHC was watching has been downgraded to a 0% chance to develop with the Thursday evening outlook. As mentioned, this area of low pressure will be pulling away as Friday goes on, and will not have further impacts on our weather here at home — and certainly nothing tropical in nature.
---
Follow my Charleston Weather updates on Mastodon, Instagram, Facebook, Bluesky, or directly in a feed reader. You can also get daily audio updates via the Charleston Weather Daily companion podcast, available wherever fine podcasts are listed. Do you like what you see here? Please consider supporting my independent, hype-averse weather journalism and become a supporter on Patreon for a broader look at all things #chswx!