#chswx notes: National Weather Service confirms EF-1 tornado on Johns Island
UPDATED at 6:30 PM: The National Weather Service in Charleston has confirmed a tornado on Johns Island yesterday. The tornado went a little over 3/4 of a mile along Chisholm Road, downing trees and power lines before dissipating over Church Creek. The storm survey team also found straight-line wind damage along Maybank Highway between Angel Oak Road and Oak Grove Road.
Heavy rainfall, significant flooding cripples downtown Charleston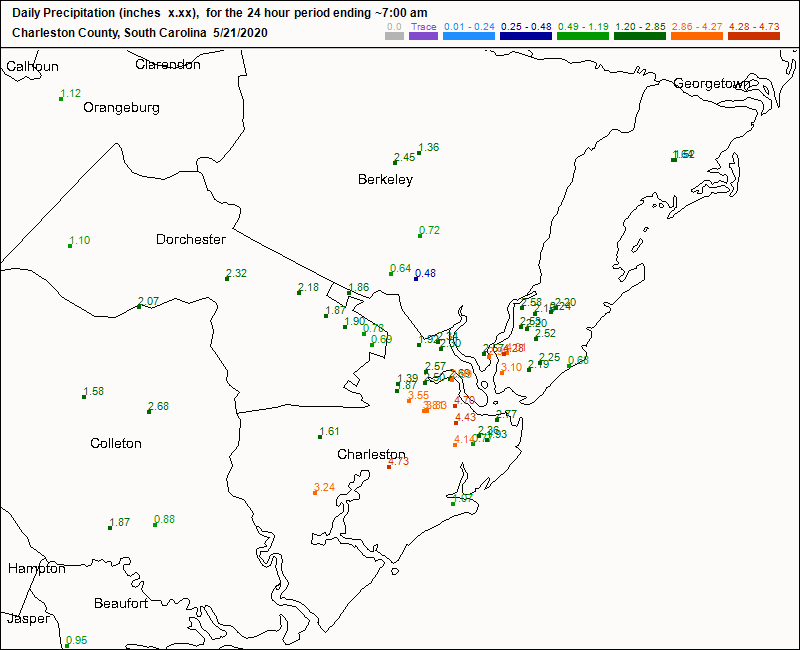 As usual, heavy rainfall became the story very quickly. Many CoCoRaHS observers between Highway 17 and Maybank Highway received from 3-5″ of rain, much of which fell in a couple hours' time. This, predictably, led to quite a bit of flooding across West Ashley, Downtown Charleston, and Mt. Pleasant.
Marginal severe weather risk today
While the upper low that helped spawn yesterday's bad weather will begin to get a move-on today, there is still the risk for a few isolated strong storms during the day today, with damaging wind gusts the primary threat. The better tornado risk is now in NC, coincident with the slow northward motion of the cutoff low, so we shouldn't see a repeat of yesterday.
Locally heavy rainfall will be possible as well, but the overall coverage of storms should be a little less than yesterday. So, while some spots could potentially experience flooding, don't expect as widespread of an issue today.
Improving weather for Memorial Day weekend
Thankfully for all of us, we will not be breaking any temperature records this Memorial Day weekend (unlike last year's searing run of 100° heat!). The hottest day of the weekend will be Saturday, with temperatures in the low 90s and the potential for some afternoon airmass thunderstorms. We'll keep isolated thunderstorm chances in the forecast for Sunday ahead of a cool front (they really aren't "cold" this time of year). Memorial Day itself is looking really good, with cooler, drier air working its way in, keeping temperatures in the low 80s under partly cloudy skies.
---
Follow my Charleston Weather updates using Twitter, Facebook, Instagram, micro.blog, or RSS. Do you like what you see here? Please consider supporting my independent, hype-averse weather journalism and become a supporter on Patreon for a broader look at all things #chswx!