Warm and mostly rain-free weather continues for Thursday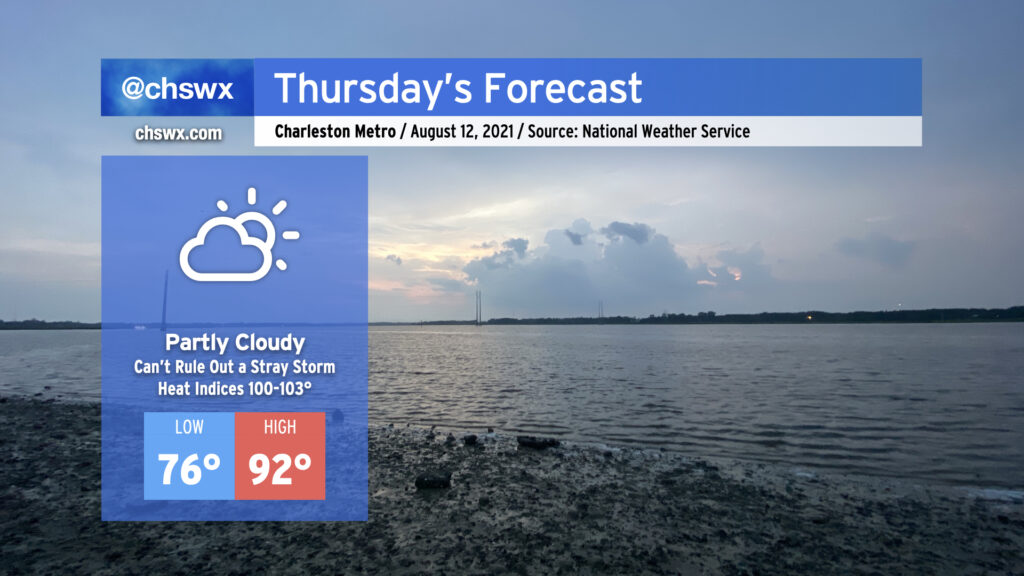 Thursday looks to be much the same as the previous few days: Temperatures in the low 90s, heat indices in the low 100s, and mostly rain-free conditions (with the disclaimer that a stray storm can never be ruled out this time of year — ask Goose Creek and Summerville all about that today). High pressure continues its firm grip on our weather both at the surface and aloft, and this looks to continue for a few more days before a front and enhanced tropical moisture moving into the area ahead of Tropical Storm Fred begin to increase rain chances to start next week.
Fred is tangling with Hispaniola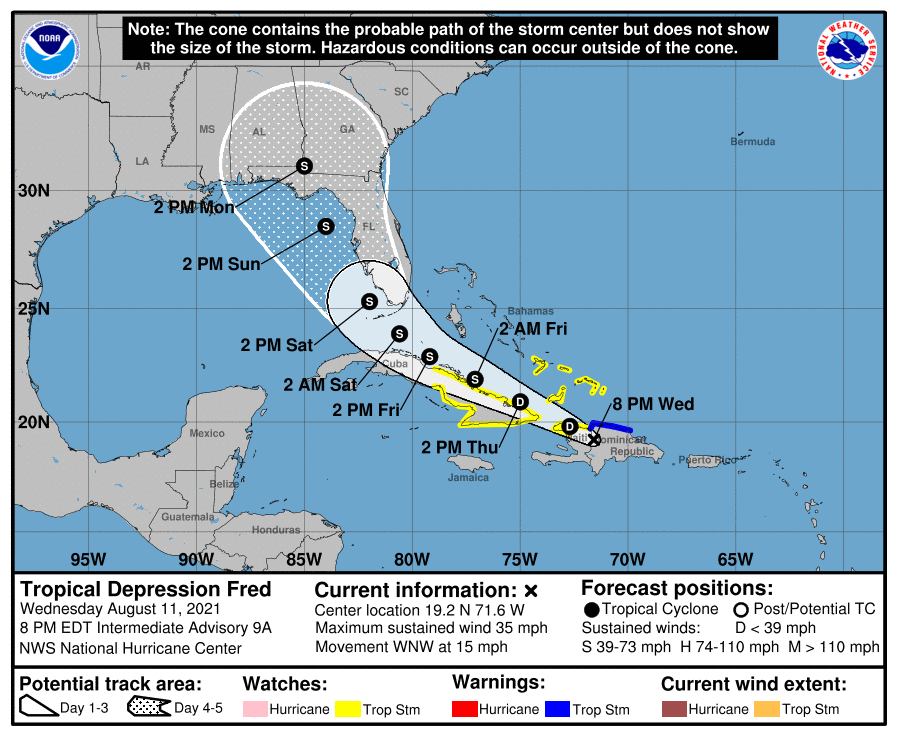 Tropical Depression Fred — recently downgraded as of the 8PM intermediate advisory — is moving over Haiti this evening. As expected, the rough terrain of the island of Hispaniola is disrupting the storm's circulation, weakening the maximum sustained winds a little bit. Fred will emerge back over water overnight and eventually regain tropical storm strength as it continues its west-northwestward track. By Saturday, Florida should be seeing some rainfall from Fred. The extended forecast brings Fred into the eastern Gulf of Mexico, running roughly parallel to the Florida west coast.
I will caution that there remains considerable uncertainty with how Fred recovers as it moves back over water. It's not out of the realm of possibility that it may have land interactions with Cuba, either. A weaker storm would ultimately track more westward longer, while a stronger storm could recurve sooner than currently forecast, especially if the ridge of high pressure to the north of Fred weakens some. As always, there are so many variables with tropical cyclones, and Fred is no exception.
Ultimately, it remains to be seen what kind of impacts we see in the Carolinas, if any. This evening's NWS discussion suggests that a frontal system sagging south into the area could interact with Fred's moisture plume and produce heavy rainfall across parts of the Carolinas in what is known as a predecessor rain event. Beyond that, the specifics remain rather vague. We in #chswx will continue to monitor Fred's progress vigilantly; stay tuned!
---
Follow my Charleston Weather updates on Mastodon, Instagram, Facebook, Bluesky, or directly in a feed reader. You can also get daily audio updates via the Charleston Weather Daily companion podcast, available wherever fine podcasts are listed. Do you like what you see here? Please consider supporting my independent, hype-averse weather journalism and become a supporter on Patreon for a broader look at all things #chswx!