The week ahead: Summertime showers and storms continue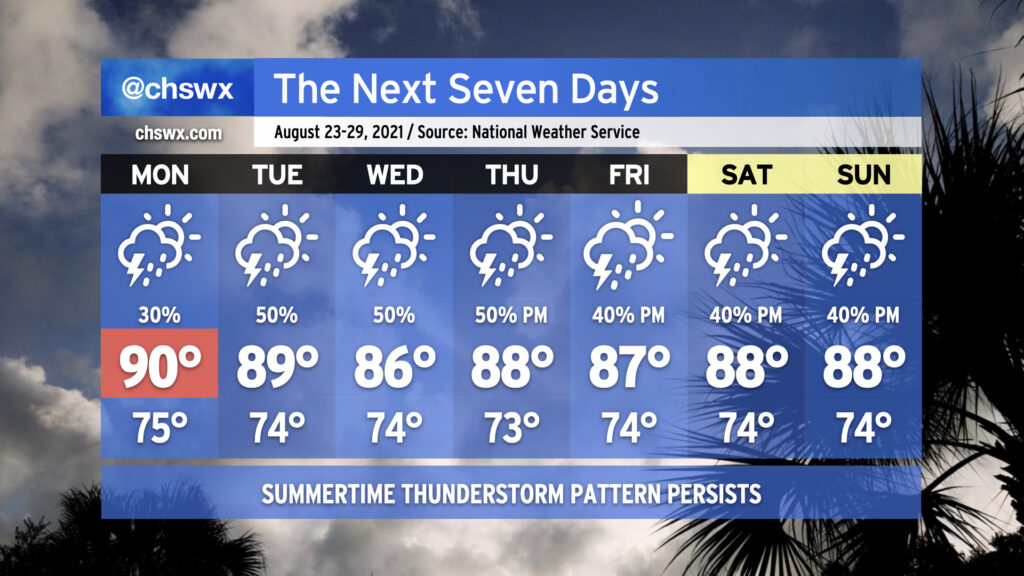 We'll remain in a somewhat unsettled regime of afternoon showers and thunderstorms each day this week as tropical moisture continues to hang tough in the Lowcountry. Temperatures will generally top out in the upper 80s to around 90° each day. Mix in the humidity and it'll feel closer to 100°. Not everyone will see rain every day, nor will it rain all the time, but you'll want to keep a close eye on the weather if you have outdoor plans this week.
Taking a look at the numbers, it's been a very, very soggy August. 10.83″ of rain at the airport — including August 15's 4.08″ deluge — is good for fourth wettest to date (as of August 21). Only 1940, 1969, and 1974 have seen wetter starts to the month. We're a few well-placed downpours away from making a decent run at August 1940's monthly record of 17.24″ with ten days to go (including whatever falls between the trace of rain at 5PM through the end of the day).
If there's one bit of good news, though, it's that the tropics are largely quiet. Henri made landfall in New England earlier today, and with that, there are no named storms in the Atlantic basin. NHC is keeping an eye on an area of disturbed weather near the Cabo Verde Islands, but as of this writing only gives this disturbance a 10% chance of development over the next five days. Otherwise, a round of Saharan dust is going to help keep things at bay a little bit for at least the next few days — suffice to say, we will take whatever break we can get from the tropics in late August. The climatological peak of the season arrives September 10.