Chilly Tuesday ahead as the coldest air of the season moves in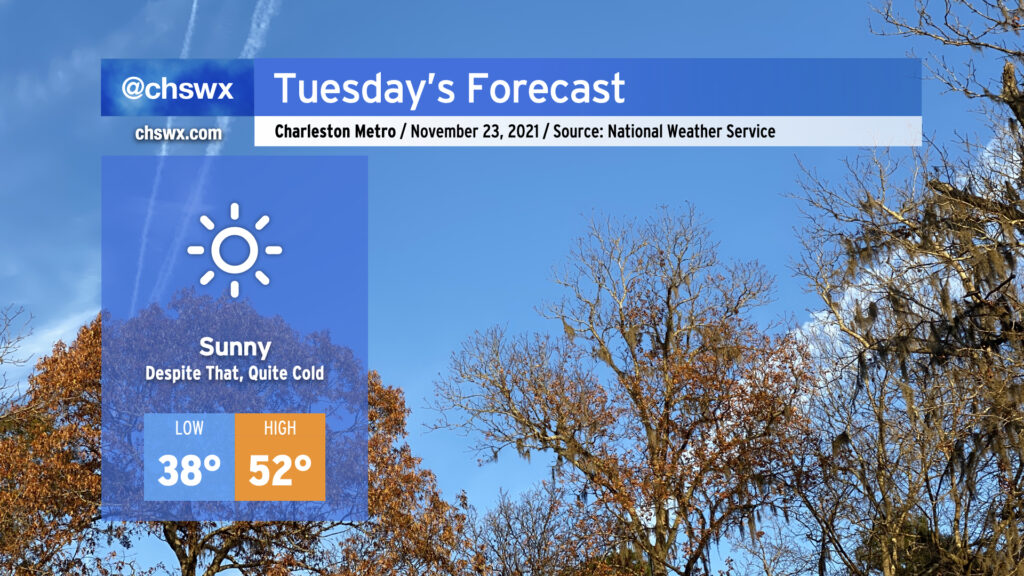 Sweater alert for Tuesday! We'll start the day a little breezy and much cooler as a polar airmass takes residence in our neck of the woods. Air temperatures should bottom out in the mid to upper 30s away from the locally warmer coastline, but factor in the wind and it'll feel closer to 30-32°. We'll see predominantly sunny conditions throughout the day with just a few passing clouds at times in the afternoon; despite this, temperatures look to go no higher than the low 50s. Make sure your pets have a warm place to be tonight.
As we get into Tuesday night and Wednesday morning, winds will come down and allow radiational cooling to develop, which should be enough to get us our first freeze of the year in many spots (with widespread frost elsewhere). Lows look to bottom out from the mid-30s away from the immediate coast to possibly some upper 20s well inland. (Areas around Lake Moultrie should stay a touch warmer thanks to the influence from the warmer waters.) You'll definitely want to make sure pets and plants have a warm place to be.
After one more frosty morning on Thanksgiving, temperatures will moderate back into the 60s in the afternoon, where we'll stay for a couple days before a reinforcing shot of cooler air arrives in time for the weekend.