Rest of the work week: First 90s of the year coming up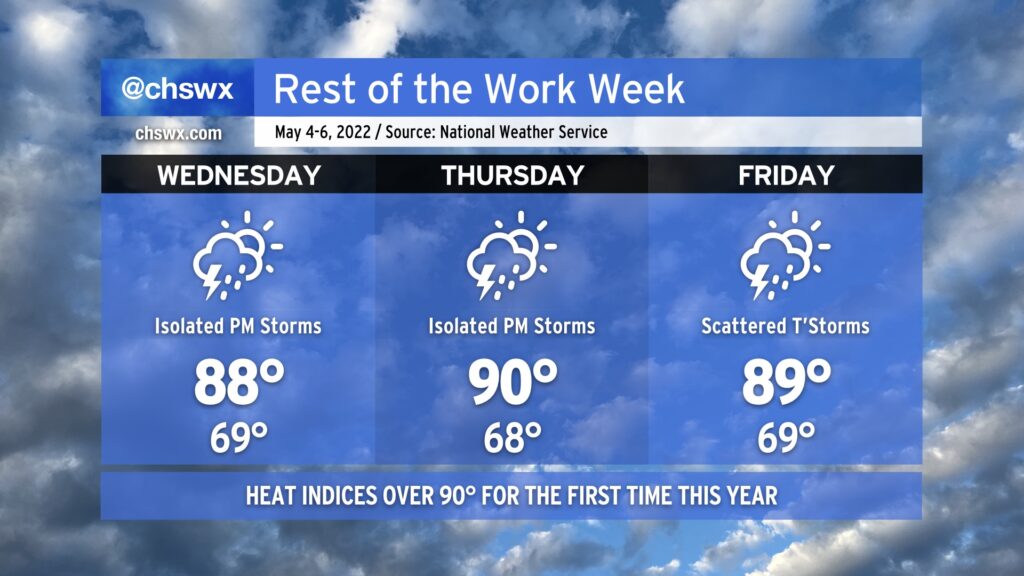 Our warm start to May continues for the rest of the work week as Atlantic high pressure and ridging aloft build across the area. We should see our first 90° reading of the year on Thursday. This comes a few weeks earlier than we saw 90° for the first time last year, but overall, we touch 90° in the first week of May more often than not. We stay warm on Friday as a cold front approaches from the west, perhaps getting close to 90° once again.
Isolated showers and thunderstorms will factor into the forecast each afternoon along and ahead of the seabreeze, with a pulse severe thunderstorm or two possible with damaging downburst winds and perhaps some large hail. Widespread severe weather is not expected, and I suspect that the best chances for a severe storm will be found where outflow boundaries and/or the seabreeze intersect, giving a little more oomph to thunderstorm updrafts.
We should see an uptick in shower and storm coverage on Friday afternoon and evening as a cold front gets a little closer; however, these storms will remain generally scattered. Keep an eye out for storms Friday evening and be ready to bring outdoor activities indoors quickly if lightning approaches. If you're hearing thunder or seeing lightning strikes, you're close enough to be struck!
The front will get into the area on Saturday with more scattered showers and thunderstorms. Cooler and drier air moves in Sunday, gradually scouring out precipitation and cloud cover while bringing temperatures back down closer to early May normals (low 80s).