Friday & the weekend: Strong storms give way to a return to springtime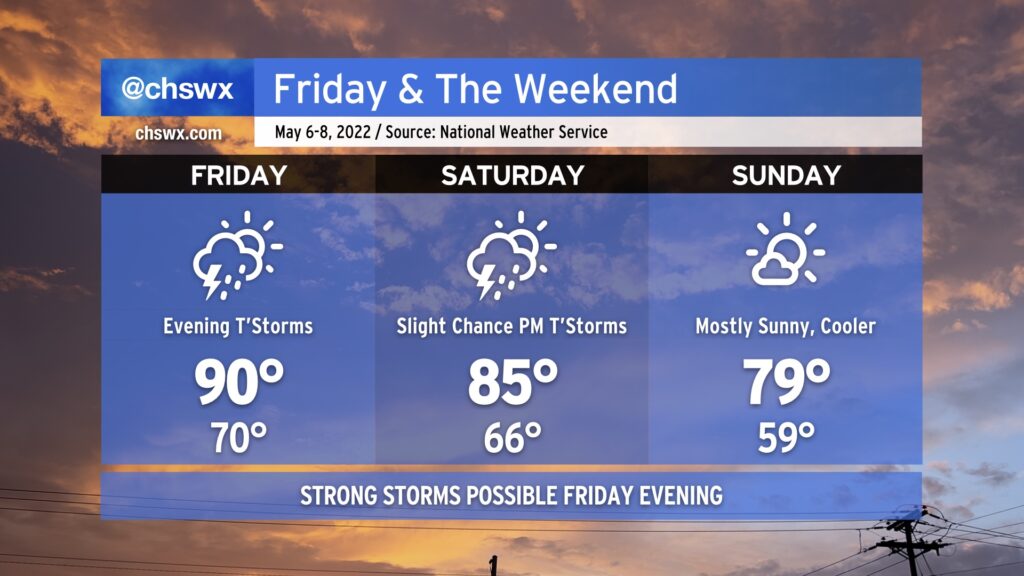 A cold front will come through this weekend, bringing strong storms to the area Friday evening before restoring order to temperatures by Sunday.
After hitting 92° at the airport today, we'll climb back into the 90s on Friday afternoon. Much of Friday looks to remain dry (though a stray shower or two can't be ruled out in the morning). However, we'll be watching a squall line and an associated risk for severe weather push eastward through the Carolinas during the day. Damaging winds and large hail would be the primary concerns, though a tornado can't be ruled out. The best risk of severe weather will be along and west of I-95. The line will be getting into the Charleston metro area later in the evening, and as a result, we should begin to see some weakening as daytime heating is lost. However, sporadic wind damage or hail will still be possible as the line pushes offshore, so you'll want to keep an eye out for rapidly changing conditions Friday night.
The cold front will get through the area Saturday morning, but a deep trough aloft will still allow for a slight chance of showers and thunderstorms in the afternoon. Temperatures will top out in the mid-80s, a far cry from where we've landed the last couple days.
Pleasant weather returns in full force for Sunday. High pressure will build in, and the cooler and drier airmass will yield highs in the upper 70s to around 80° under mostly sunny skies. If there's a pick day for getting out and about this weekend, it's Sunday.
From there, seasonable temperatures continue for much of the new work week, with highs in the upper 70s to low 80s continuing at least into mid-week, with dry weather looking to stay in place until Thursday. But let's not trouble ourselves too much with a new work week with a weekend on tap, shall we?