Rest of the work week: Getting hot in here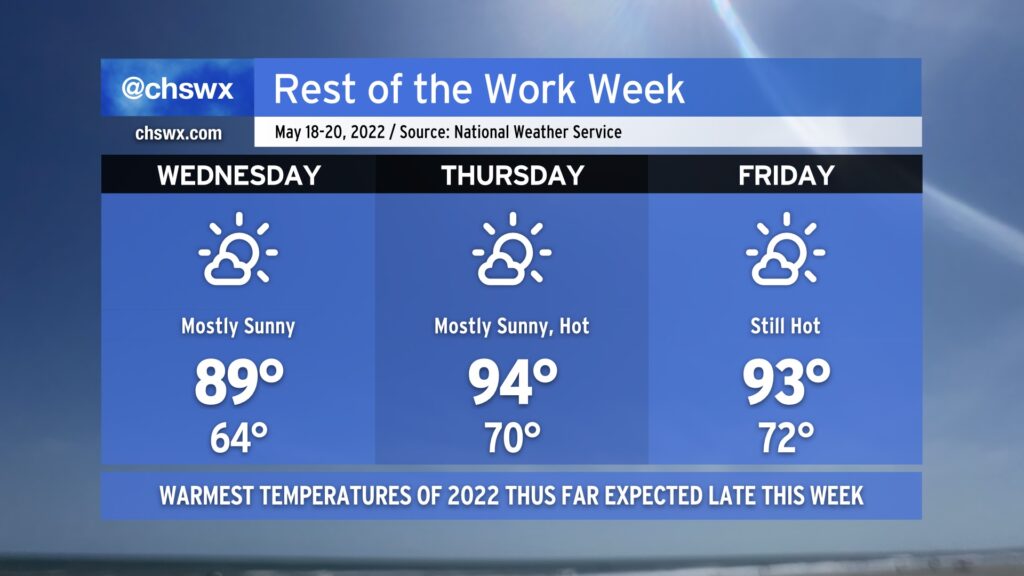 No mincing words: Here comes the heat. Mostly sunny skies combined with high pressure at the surface and aloft will bring us a period of hot weather to close out the work week.
Wednesday will be the last day of the warm-but-not-horribly-humid weather. We'll start the day in the mid-60s away from the warmer coastline on our way to flirt with 90° once again in the afternoon. The saving grace will be dewpoints in the mid-50s at peak heating, which will help keep heat indices well in check.
Southerly winds, though, will begin to send warm and humid air into the area. Thursday should feature the hottest temperatures thus far this season, with highs in the mid-90s expected away from the coast. Heat indices will run into the upper 90s given the elevated humidity (though certainly not quite as bad as, say, July or August). Mostly sunny skies will persist, so don't count on cloud cover — much less a thunderstorm — to cool things off briefly.
We should see similar, if not slightly cooler, temperatures for Friday — not that it is much consolation given the NWS forecast highs are topping out in the low 90s still. Skies will once again be mostly sunny and devoid of afternoon thunderstorms.
Shower and storm chances begin to increase Saturday afternoon into next week as the ridge aloft breaks down a bit. We have a few days of scattered storm chances in the offing getting into next week along with cooler temperatures as a cold front moves across the area before stalling, so the good news is that this won't last forever. For now, though, stay cool and keep on watering in the evenings.