Meteorological summer begins with heat and afternoon storms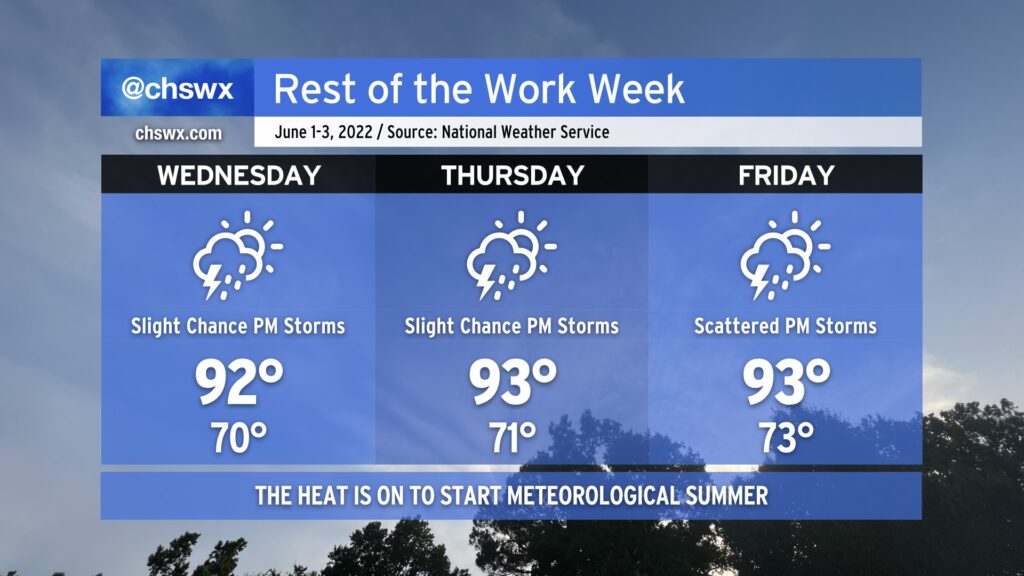 Stop me if you thought today was Monday — yes, it is indeed Tuesday — which means we're already getting into the midpoint of the work week. And as we begin June and meteorological summer, the weather will certainly cooperate with summer-like conditions. Expect warmer-than-normal temperatures to dominate into Friday, with highs in the low 90s expected each afternoon. Factor in humidity, and it'll feel closer to the mid-90s, especially right after the seabreeze comes through.
We'll see a slight chance of afternoon thunderstorms each day as the aforementioned seabreeze moves inland, but the vast majority of us should stay rain free through Friday as these storms will be extremely hit-or-miss. We'll start to see a little uptick in shower activity on Friday as a front approaches the area, but the better rain chances (for now) will be found Saturday morning as the front gets through.
We'll also be keeping an eye on the tropics, where an area of disturbed weather (the former Hurricane Agatha in the eastern Pacific) could form into a tropical depression as it approaches western Florida later this week. It's far too soon to know what this means in our neck of the woods, but this looks to be a decent rainstorm for at least some parts of Florida. Depending on the track, we could see some marine impacts and maybe even some tidal flooding over the weekend. The first name on the list for the 2022 season is Alex. I don't think this is going to be a major issue for us (if it even becomes much of one at all), but will watch it all the same. Just about that time of year, after all.