Post-frontal cooldown for the weekend, but storms stay in the forecast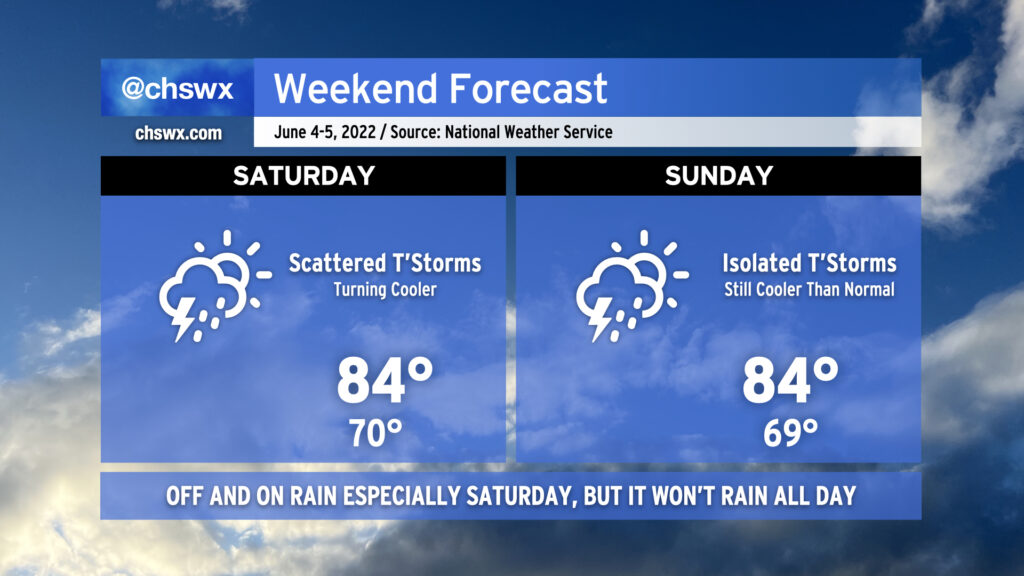 As we head into the weekend, we'll get a break from the run of mid-90s that we've seen in the latter half of this abbreviated work week. This is courtesy of a cold front, which will sink southward across the area tonight bringing with it some showers and thunderstorms. Said front is expected to stall out to our southeast, and this combined with an influx of tropical moisture from what could be an eventual tropical cyclone well to the south and some energy rippling through aloft will be enough to generate periods of showers and thunderstorms for much of the day Saturday. It won't rain all day at any one location, but be ready to move outdoor activities inside quickly in case the weather changes. Highs top out in the mid-80s on Saturday thanks to the cooler air and expected cloud cover. Sunday should be a little bit drier, though there will still be a slight chance of showers and thunderstorms. Highs once again will top out in the mid-80s, and with any luck, there will be longer breaks in the rain so you can enjoy it a bit.
Spoleto forecast: Better rain chances than previous days, but not totally spoiled, either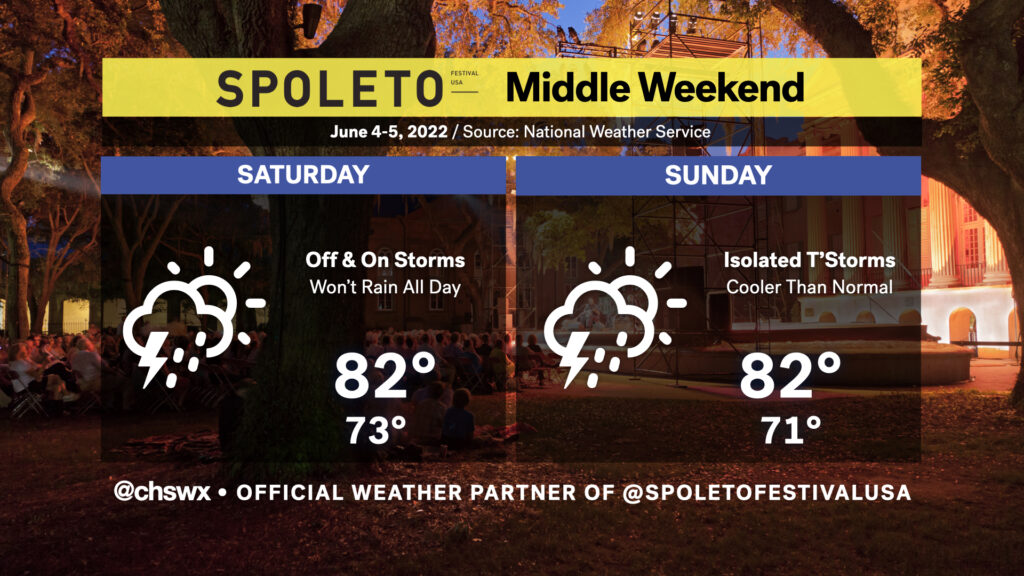 This year, @chswx is the official weather partner of Spoleto Festival USA! Follow along throughout the next few weeks for weather updates specifically targeted to the festival. (For any cancellations or venue changes due to weather, be sure to be following the festival on Twitter, Instagram, and/or Facebook.)
We've been good about dodging the rain over the past few days at Spoleto, but with a cold front sinking southward across the area and more onshore flow setting up, we're more likely to see showers and even a few thunderstorms impact downtown Charleston over the next couple days, particularly on Saturday when more moisture will be available. It won't rain all day at any one location, but be sure to bring the rain gear if you're headed down to a show during the day.
Looking toward Saturday evening, we'll want to continue to watch out for showers and thunderstorms in the area, which could have some impacts on the Cistern if they are able to keep it together after sunset. We'll definitely want to watch trends as Saturday goes on. For now, though, don't chuck any plans!
Sunday will feature less in the way of shower and storm coverage, thankfully. Breezy northeast winds will keep temperatures on the chill side, still only topping out in the low 80s in downtown Charleston. You may want rain gear in case of a stray shower or storm, but otherwise, things are looking pretty decent for Sunday.