The week ahead: Turning hot again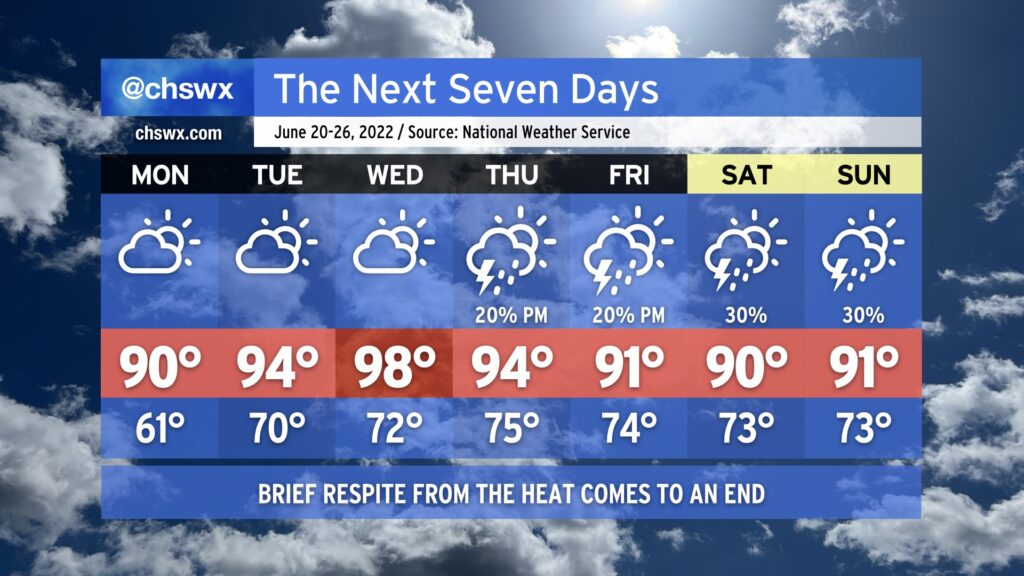 All good things must come to an end, and that includes our brief respite of below-normal temperatures that we've seen today. We do get one more crisp (by June standards) morning with lows bottoming out in the low 60s away from the immediate coast Monday morning. This will be followed by highs rising to around 90° in the afternoon. Thankfully, humidity will stay on the lower side to start the week as drier air remains firmly in place. Northwest flow around an anomalously strong ridge of high pressure will act to further dry out the atmosphere during the day, which will also help temperatures out to the mid-90s on Tuesday and the upper 90s on Wednesday thanks to compressional heating from downslope flow. The tempering of humidity will help keep heat indices from getting too far out of whack, but at the end of the day, the mid-to-upper 90s is still pretty hot weather. The lack of moisture will suppress development of afternoon showers and thunderstorms, so we look to stay rain-free through Wednesday.
We'll start to see changes on Thursday as the aforementioned ridge of high pressure shifts west a bit. This combined with a little bit more troughiness and onshore flow at the surface will help reintroduce some slight shower and thunderstorm chances for Thursday and Friday afternoons. A front encroaching on the area could lead to a little uptick in storm chances for next weekend, but so far it doesn't look like anything completely out of the ordinary for mid-to-late June.