Rest of the work week: Rain chances to ramp back up once again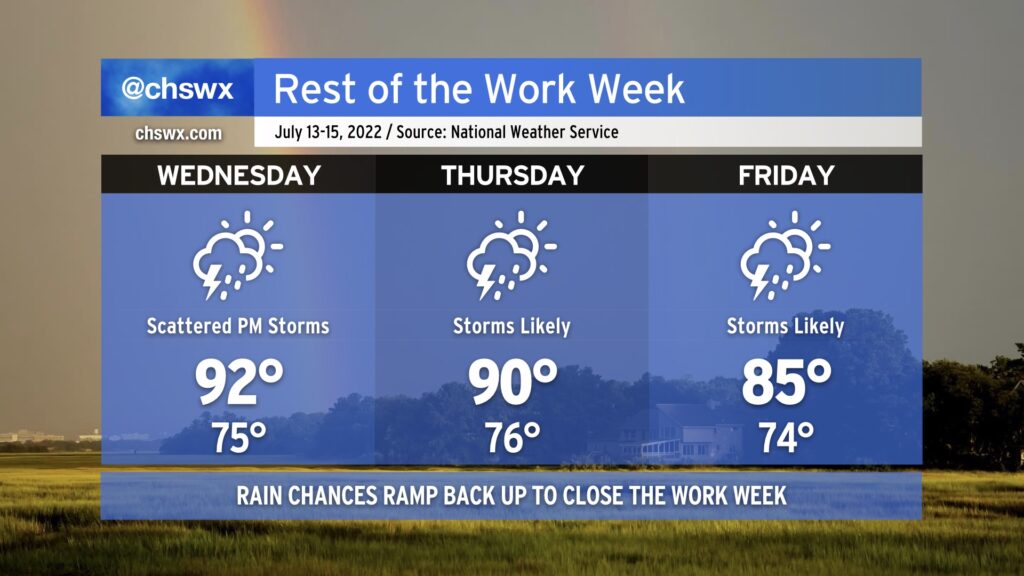 The rest of the work week will remain unsettled and turn even more so as we close it out thanks to another cold front moving into the area. Wednesday will maintain a more standard summer-like feel with highs in the low 90s and afternoon thunderstorms along and ahead of the seabreeze. By Thursday, though, we'll start to see rain chances head back into the "likely" category once again as the aforementioned front moves in and stalls out. This'll stick around into Friday, with perhaps even more coverage of showers and storms helping to keep highs in the mid-80s. Heavy rain continues to be a concern with any storms that fire — the atmosphere remains very juiced up — and we'll certainly see a lightning risk with storms as well.
High tides on Wednesday and Thursday evenings will once again be capable of producing minor salt water flooding in coastal areas including downtown Charleston. We should be okay rain-wise on Wednesday, but on Thursday, we'll want to keep a close eye on where the heavy rain is in case it coincides with the flooding high tide. Regardless of where the rain is, be ready for additional Coastal Flood Advisories from the National Weather Service.