Mild and turning unsettled as the holidays begin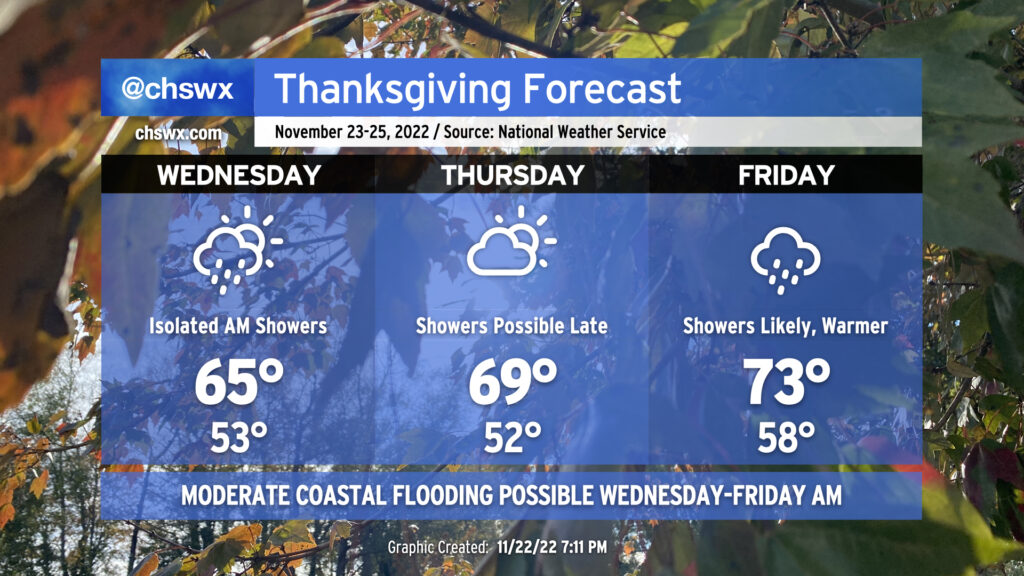 Temperatures will continue on a warming trend as we head through Thanksgiving into the weekend. We'll see periods of unsettled weather, too, but nothing too heinous to write home about.
Overnight tonight into Wednesday morning, a few showers will be possible especially near the coast as a trough hangs around. High pressure will continue to wedge in from the north, and that will keep temperatures in the mid-60s for Wednesday after a rather mild start (aided by cloud cover) in the low 50s.
We look to get the bulk of Thanksgiving Day in rain-free. We will be off to another mild start in the low 50s followed by highs peaking near 70° under a mix of sun and clouds. As we get closer to and beyond sunset, shower chances will gradually increase as a warm front approaches the area. Said warm front will move north of us on Friday, sending us into the warm sector of an approaching storm system. This will send highs back into the 70s for the first time since November 15. Expect scattered showers and maybe even a thunderstorm or two throughout the day Friday, though it won't rain all day at any one location.
Somewhat drier air works into the area for Saturday before another stronger cold front sweeps the area Sunday, taking rain chances with it to start the new work week…but we have plenty of time to worry about a new work week later.
Moderate coastal flooding possible each morning for the rest of the week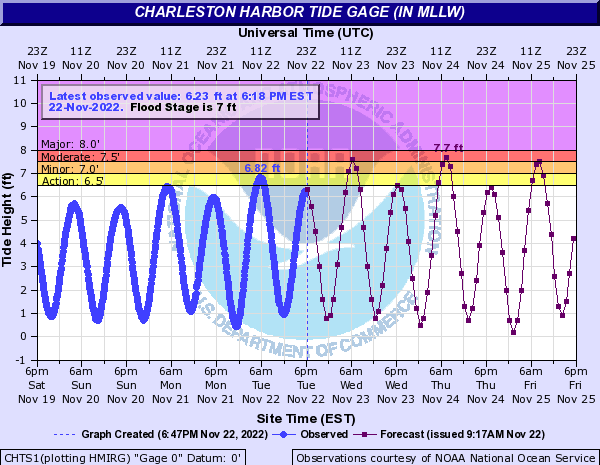 We'll need to watch closely for the risk for moderate coastal flooding during times of high tide Wednesday-Friday, which will be high enough to close roads for a few hours each morning. Water levels should peak between 7.5-7.7′ around 6:55am on Wednesday, which may cause some troubles for early commuters in downtown Charleston. The peak of the coastal flooding should arrive with Thursday morning's high tide around 7:43am, where water levels could peak between 7.6-7.8′, causing scattered to potentially numerous road closures. Friday should see a little lower water level, but minor to moderate flooding will remain possible with the 8:34am high tide, which will once again scatter road closures at times. Remember, coastal flooding = salt water. Always try to find an alternate route.
In memoriam
Tragedy struck the Carolina weather community today as the Sky 3 helicopter for WBTW in Charlotte, NC, crashed early this afternoon very near I-77. The crash killed the pilot, Chip Tayag — whose final act according to witnesses was to steer the helicopter away from more populated areas, likely saving many lives — and one of WBTW's meteorologists, Jason Myers, who by all accounts was a great person, scientist, and an enthusiastic mentor. Keep their families in your thoughts as we head toward Thanksgiving.
---
Follow my Charleston Weather updates on Mastodon, Instagram, Facebook, Bluesky, or directly in a feed reader. You can also get daily audio updates via the Charleston Weather Daily companion podcast, available wherever fine podcasts are listed. Do you like what you see here? Please consider supporting my independent, hype-averse weather journalism and become a supporter on Patreon for a broader look at all things #chswx!