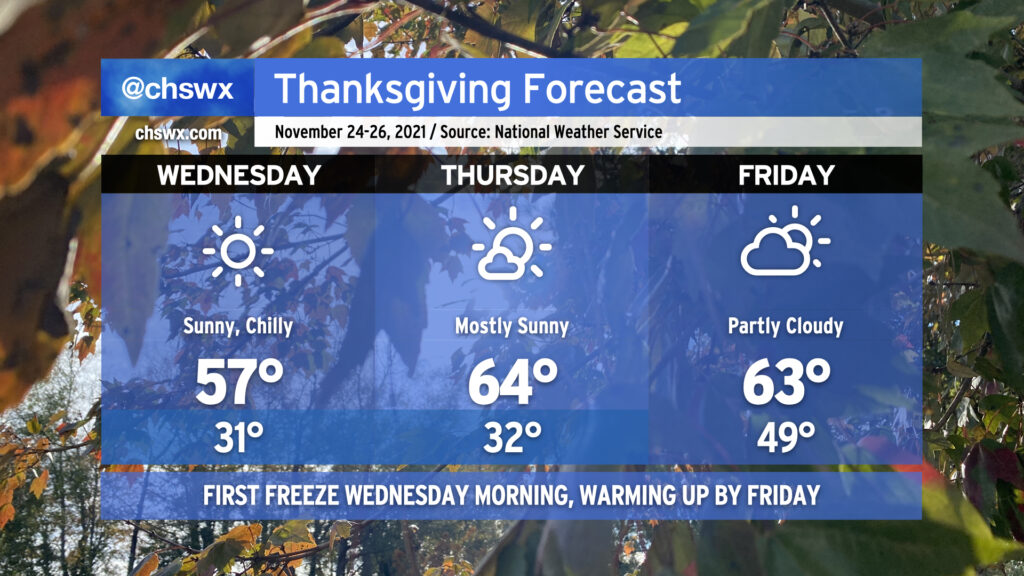 A Freeze Warning is in effect overnight as a killing freeze is likely going to end the growing season across the Lowcountry. While places near bodies of water such as Lake Moultrie and coastal areas should remain above freezing, the vast majority of us look to experience at least some duration of freezing temperatures, with the longest-duration freeze well inland. Protect plants, pets, pipes, and people tonight!
Temperatures will warm only to the mid-50s on Wednesday — perhaps a degree or two warmer than we saw today — but still well below normal for this point in November. We'll dip back toward and likely below freezing in many spots again on Thanksgiving morning before high pressure slips offshore and return flow develops, helping temperatures to warm into the mid-60s with mostly sunny skies for much of the day. Friday morning will be considerably warmer ahead of a cold front that'll swing through during the day. Said front will enhance cloud cover and help keep highs back into the low-to-mid 60s once again, a few clicks below normal but certainly not to the degree we experienced today and will experience again on Wednesday.
Travel safely (if you're headed anywhere) and have a wonderful Thanksgiving holiday!