A few showers for Thanksgiving, with more in store this weekend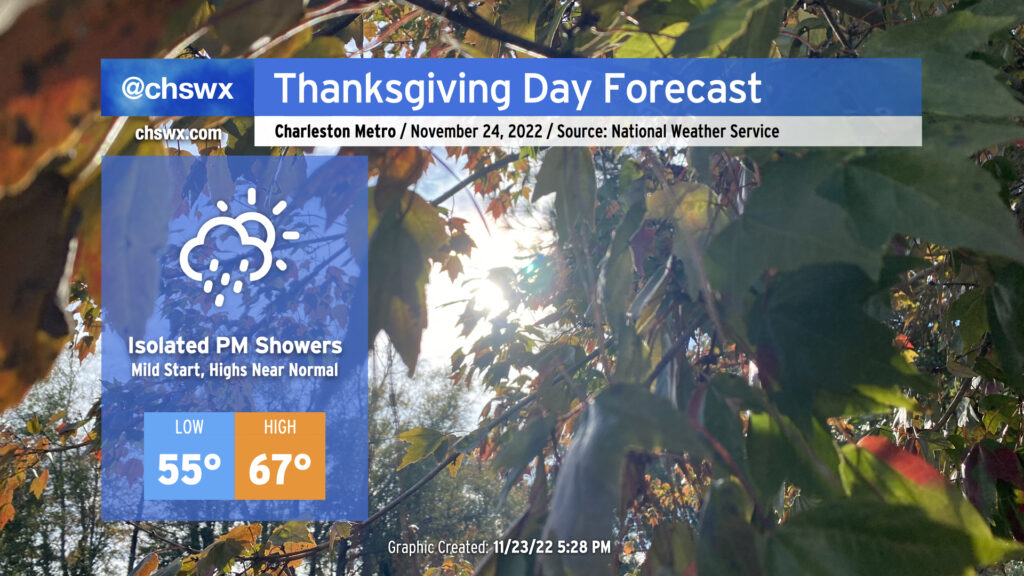 We have a relatively mild Thanksgiving Day ahead as temperatures start in the mid-50s, about 10° above normal for this point in the year. Pesky cloud cover will remain pesky with the coastal trough lingering offshore, and a few showers will be possible before rain chances increase further after sunset as more moisture makes its way ashore. Overall, don't be surprised to dodge a shower or two, but I suspect that a lot of us get a majority of Thanksgiving in rain-free.
Friday & the weekend: Periods of showers with a nice day in the middle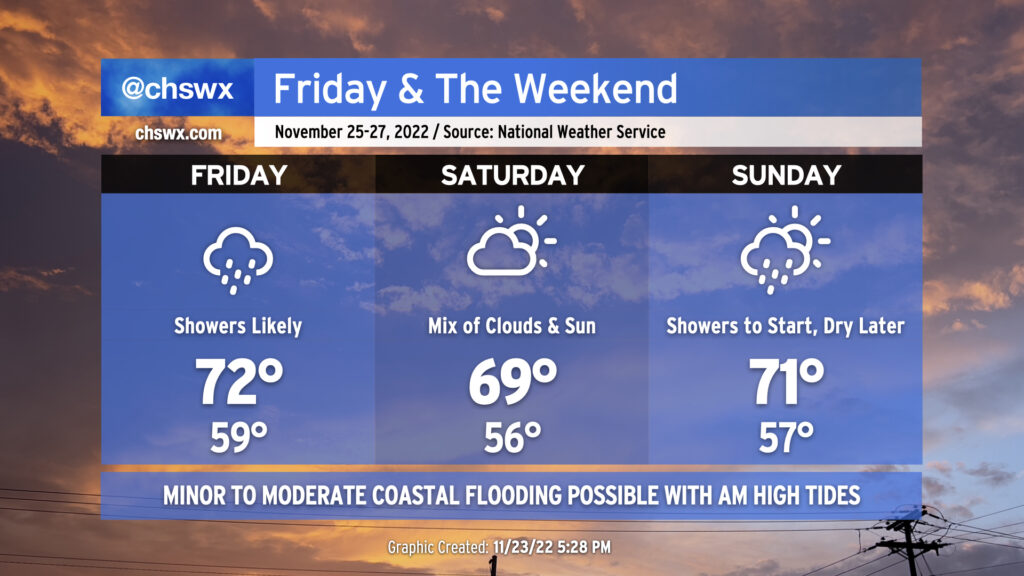 Shower chances will peak on Friday as a warm front moves by followed by a cold front moving in from the north overnight. Lows will approach 15° above normal with cloud cover and a moist airmass in place. The warm front will help temperatures reach the low 70s in the afternoon despite shower activity that's expected to be in the area. (A thunderstorm can't be ruled out, either.) These showers will work their way out of here overnight with the aforementioned cold frontal passage.
Saturday should remain mostly dry with a mix of clouds and sun remaining in place. Temperatures will once again bottom out around 10°+ degrees above normal for another mild start followed by highs running right around 70° in the afternoon.
Showers return to the forecast Sunday as another cold front moves by the area. Once again, highs in the low 70s will follow a seasonably mild start to the day in the mid-50s. We should see showers begin to decrease later in the afternoon, paving the way for a cooler, drier, and sunnier Monday.
Coastal flooding remains a concern with morning high tides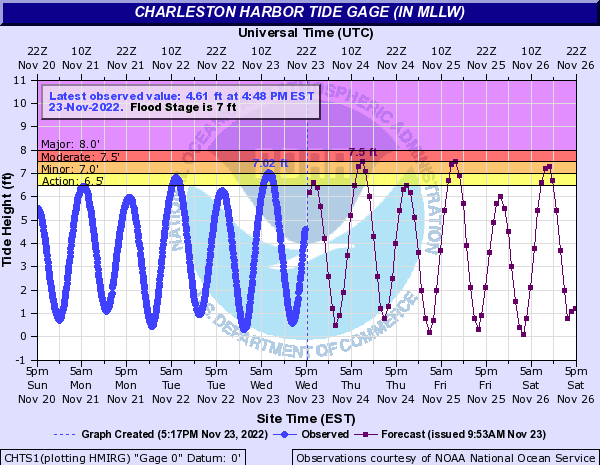 This morning's high tide peaked around 7.02′, which scraped minor coastal flooding thresholds. Expect additional rounds of minor to moderate salt water flooding around times of the morning's high tide through Thanksgiving and the long weekend. High tide on Thanksgiving morning is forecast to peak around 7.5′, or moderate flood stage, around 7:43am. We should see similar results from Friday morning's high tide which is predicted to peak around 8:34am. Minor coastal flooding is forecast for Saturday morning's 9:29am high tide, while guidance indicates another round of flooding will be possible for Sunday morning's 10:28am high tide. Stay tuned for Coastal Flood Advisories from the National Weather Service.
---
Follow my Charleston Weather updates on Mastodon, Instagram, Facebook, Bluesky, or directly in a feed reader. You can also get daily audio updates via the Charleston Weather Daily companion podcast, available wherever fine podcasts are listed. Do you like what you see here? Please consider supporting my independent, hype-averse weather journalism and become a supporter on Patreon for a broader look at all things #chswx!