Friday & the weekend: A sunshine sandwich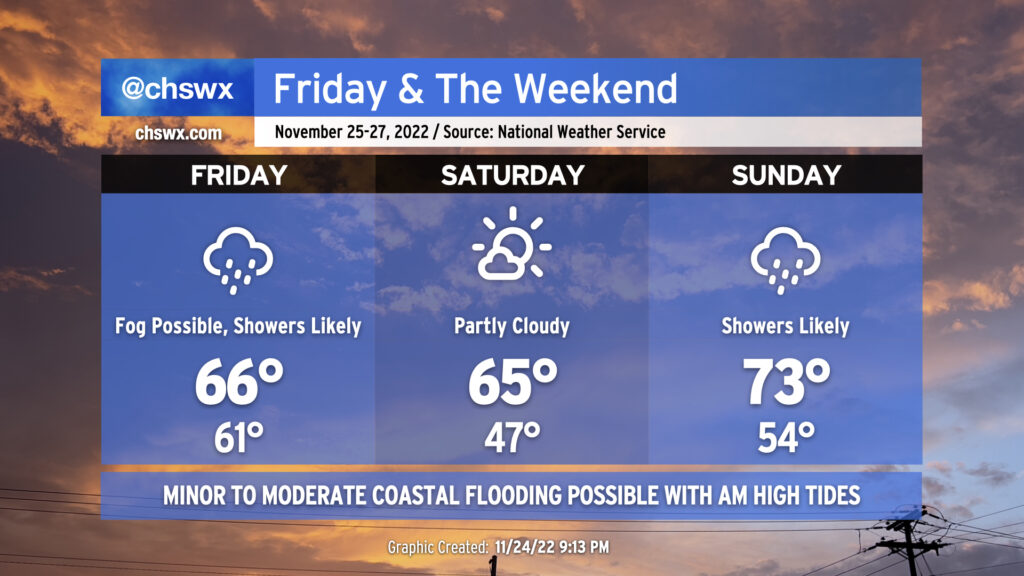 I hope everyone had a great Thanksgiving Day! The next few days will be a "sunshine sandwich" — overcast and rain, followed by mostly sunny skies, followed by another round of overcast and rain. We will also continue to contend with coastal flooding with the morning high tides through Sunday.
We'll see shower activity expand across the area on Friday with the potential for fog to put a damper on visibility in the morning. While it won't rain all day in any one spot, most locations should measure some rain before Friday is over. We'll start remarkably mild for this point in November with lows in the low 60s, but temperatures won't get much of an opportunity to climb much with the cloud cover and rain in the area, with highs only expected to peak in the mid-60s. Note that this is a bit of a change from previous forecasts as it looks like the warm sector will stay south of us on Friday.
A cold front will saunter south of the area late Friday, bringing us a much more seasonable — and brighter — start to Saturday. Expect to start Saturday in the mid-to-upper-40s (much closer to normal) with highs peaking in the mid-60s under partly cloudy to mostly sunny skies. Clouds then begin to increase late Saturday into Sunday as another cold front approaches from the west. Showers will build back into the area at times for much of Sunday. This go-around, it looks like a warm front will lift north of us, and that will allow highs to peak in the low-to-mid-70s despite rain in the area. A thunderstorm or two can't be ruled out, either.
Quieter weather returns to start the new work week with temperatures around if not slightly above normal; the next rain chance thereafter arrives mid-week as we close out November and welcome in December.
Coastal flood concerns continue through Sunday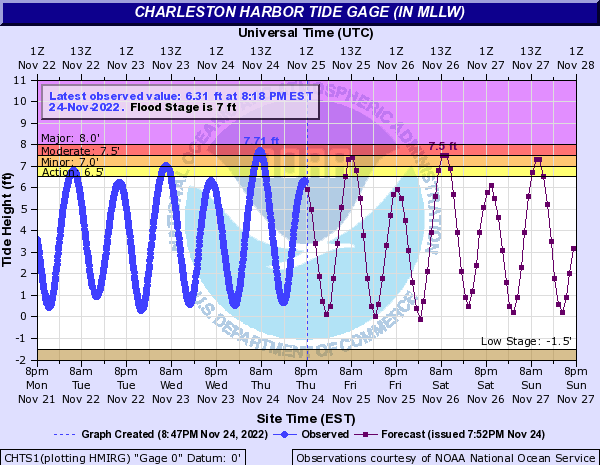 After water levels reached 7.71′ this morning (well Into moderate flood stage), we will see another round of minor to moderate flooding with the 8:34am high tide on Friday. Water levels are forecast to peak around 7.3-7.5′, which will be enough to close a few roads in downtown Charleston. A Coastal Flood Advisory goes into effect at 7am and will last through 11am.
Water levels will peak slightly higher Saturday morning with northeasterly flow re-establishing itself briefly in the wake of a cold front. Expect water levels approaching moderate flood stage and another round of road closures as a result. High tide is expected to peak around 9:29am Saturday. Similar conditions are possible Sunday with the 10:29am high tide. This round of coastal flooding looks to come to a close on Monday as westerly winds build back in and astronomical influences from Wednesday's new moon continue to taper off.
Be ready to reroute around closed roads each morning this weekend, and be sure to keep an ear out for Coastal Flood Advisories from the National Weather Service.
---
Follow my Charleston Weather updates on Mastodon, Instagram, Facebook, Bluesky, or directly in a feed reader. You can also get daily audio updates via the Charleston Weather Daily companion podcast, available wherever fine podcasts are listed. Do you like what you see here? Please consider supporting my independent, hype-averse weather journalism and become a supporter on Patreon for a broader look at all things #chswx!