Thursday: Partly cloudy, slight shower chance in the evening…and warm!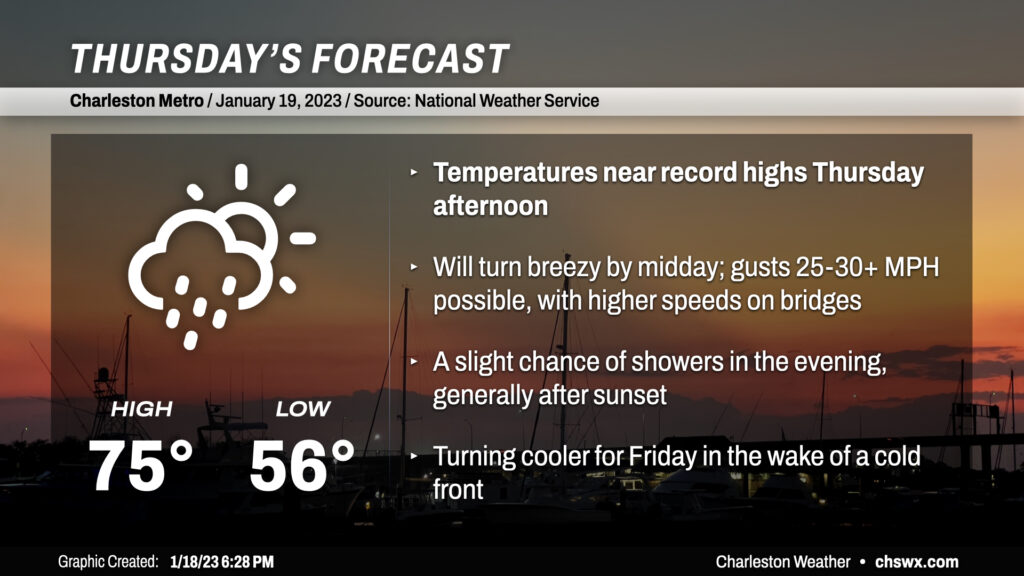 Thursday will be quite a warm day ahead of a cold front that will swing through late night/early Friday morning. We'll start the day some 15+° above normal as lows only bottom out in the mid-50s. Temperatures will head into the mid-70s in the afternoon, with some upper 70s possible in spots.
It'll be a bit of a windy day: expect winds to kick up to 15-20 MPH sustained with gusts 25-30+ MPH particularly in the afternoon hours. Higher speeds will be possible on bridges, and a Lake Wind Advisory is in effect for Lake Moultrie tomorrow as well. Hold on to your hats and steering wheels if navigating the bridges is in your travel plans tomorrow.
There will be a slight chance of showers as the front gets closer Thursday evening. Some of the high-res guidance sparks some additional showers as a remnant boundary ahead of the front itself perhaps intersects a seabreeze, but widespread heavy rain is not expected and no thunderstorms are forecast.