Weekend forecast: Cool Saturday, rainy Sunday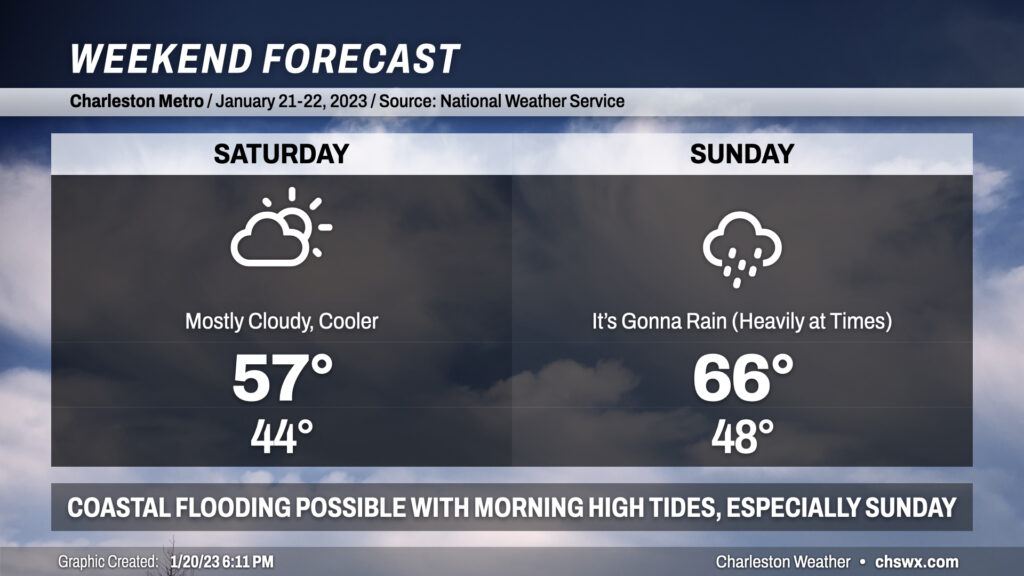 Despite thickening cloud cover and a cool wedge of high pressure building in Saturday, it'll be the day to do anything outside as Sunday looks more active with some heavy rain at times and maybe some coastal flooding in the morning to boot.
Clouds will be on the increase throughout the day Saturday as the wedge takes hold and our next storm system approaches from the west. We'll start the day in the mid-40s before highs only reach the mid-50s in the afternoon, a touch below normal for this point in January. Northeasterly winds will reinforce that cooler air, and could lead to some minor coastal flooding in the morning as the 7:21am high tide approaches 7′ MLLW. Otherwise, though, we'll get much of the day in rain-free with perhaps a shower or two around midnight.
Rain picks up fairly quickly early Sunday morning, with a chance of some thunder as well. We'll get into the warm sector of the system during the day, with highs topping out in the upper 60s — some 10° warmer than Saturday. The heaviest rain appears destined for the morning as of now, but generally expect wet weather for much of the day. We'll see rain shut off late Sunday/early Monday as a cold front swings through, which will start the final full week of January (yes, really) on a chilly note.
Of note: High tide Sunday morning is currently projected around 7.5′ MLLW, which would be enough for moderate salt water flooding to develop; rain on top of this could produce additional flooding across peninsular Charleston. We'll want to keep a close eye on this potential, especially for those of you with downtown plans Sunday morning.
---
Follow my Charleston Weather updates on Mastodon, Instagram, Facebook, Bluesky, or directly in a feed reader. You can also get daily audio updates via the Charleston Weather Daily companion podcast, available wherever fine podcasts are listed. Do you like what you see here? Please consider supporting my independent, hype-averse weather journalism and become a supporter on Patreon for a broader look at all things #chswx!