Rainy Sunday ahead with coastal flooding issues in the morning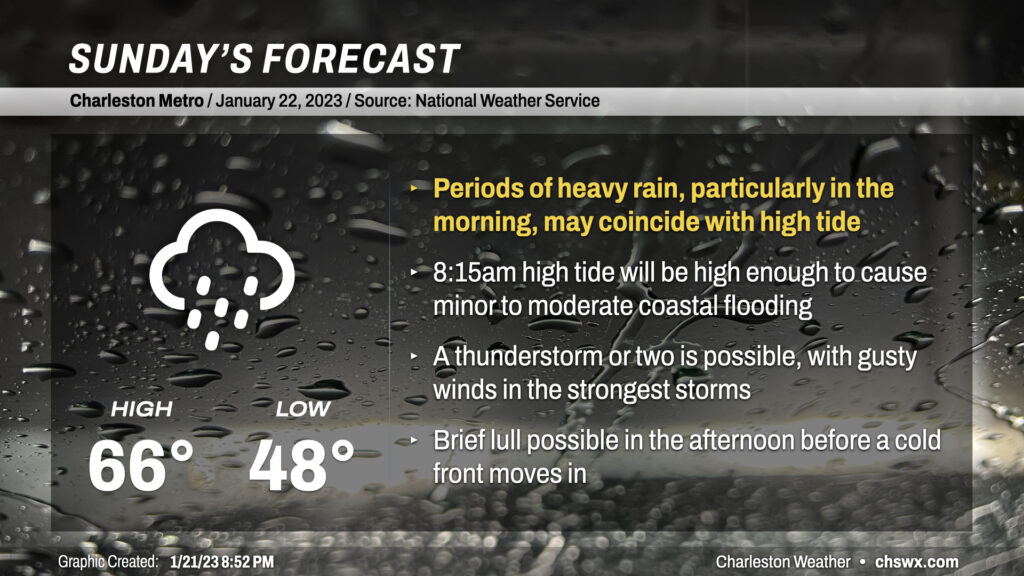 Sunday will be an active weather day across the area as a somewhat complex storm system moves through the Southeast US. Needed rain will fall throughout the day, but some of that rain might be heavy at times near a morning high tide that would cause flooding on a sunny day.
Low pressure will organize overnight along a warm front that'll be straddling the coast. Throughout the morning, the warm front will press ashore and should roughly stall out near I-95, putting the Tri-County area within the warm sector of the storm. Consequently, highs will run in the mid-60s as opposed to the mid-50s on Saturday despite the rain in the area.
Rain will build in overnight as the storm system gets closer, starting generally light to moderate. High-res modeling depicts a band of heavy rain that looks to lift northward through the area sometime between 6-10am. High tide around 8:15am is forecast to peak between 7.5-7.7′, which is solidly in moderate coastal flooding territory. Even if rain remains reasonably light, we should still see some road closures purely from the height of the tide. If heavy rain does coincide with this tide, flooding could develop in areas of downtown that are not normally impacted from tidal flooding. If you have plans to travel around the peninsula tomorrow, be ready for delays and the need to use alternate routes.
Rain rates should lighten up late morning into early afternoon as low pressure riding the front moves past. As we head past sunset, a band of showers and maybe even a few thunderstorms associated with a cold front will approach the coast. There could be some gusty winds with these storms depending on how much instability they can tap into. Overall, the severe weather risk is low but not necessarily zero, so keep an ear out in case a warning is needed somewhere.
Once it's all said and done, rain totals generally around 1-2″ will be common across the metro area. We need the rain, for sure, but hopefully we won't see it all at once.
---
Follow my Charleston Weather updates on Mastodon, Instagram, Facebook, Bluesky, or directly in a feed reader. You can also get daily audio updates via the Charleston Weather Daily companion podcast, available wherever fine podcasts are listed. Do you like what you see here? Please consider supporting my independent, hype-averse weather journalism and become a supporter on Patreon for a broader look at all things #chswx!