Friday & Memorial Day weekend: Unsettled as a coastal low affects the area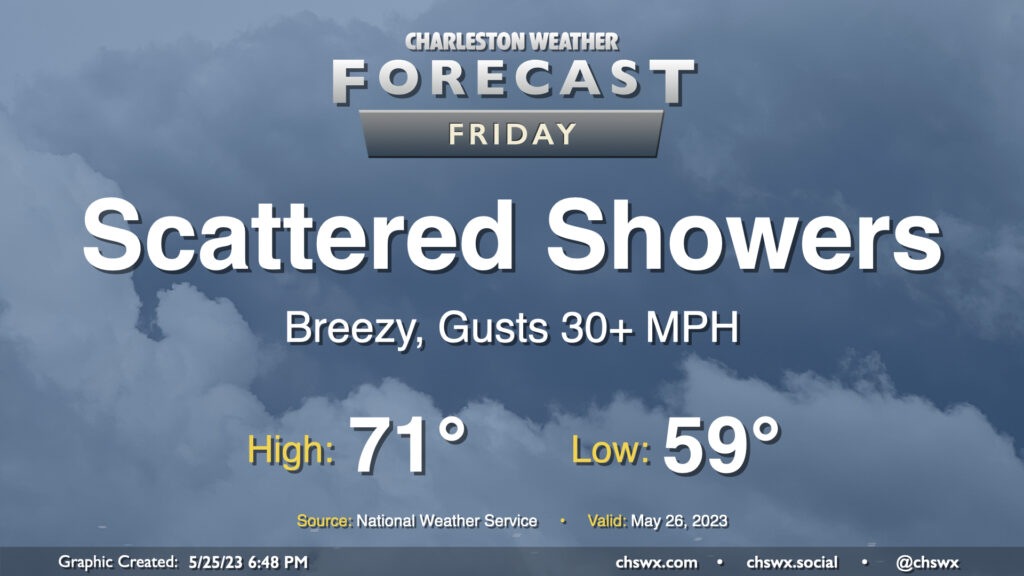 Wet weather will kick off the Memorial Day weekend as a low pressure system rides up the coast and affects the Carolinas with heavy rain, gusty winds, rough surf, strong rip currents, and very hazardous marine conditions. It's also going to be very unseasonably cool, at least to start — think highs in the 60s for Saturday. (Seriously.)
Friday will start in the upper 50s (the normal low for May 26 is 66°, for comparison) and only warm to the low 70s with cloud cover and increasing shower activity throughout the day. Winds will be breezy, coming in from the northeast around 20 MPH with higher gusts. The best chance for showers will begin in the evening hours and last well into Saturday as the low pressure system comes ashore somewhere between Charleston and Wilmington.
Memorial Day weekend: Unusually chilly Saturday, then slow warming as low pressure departs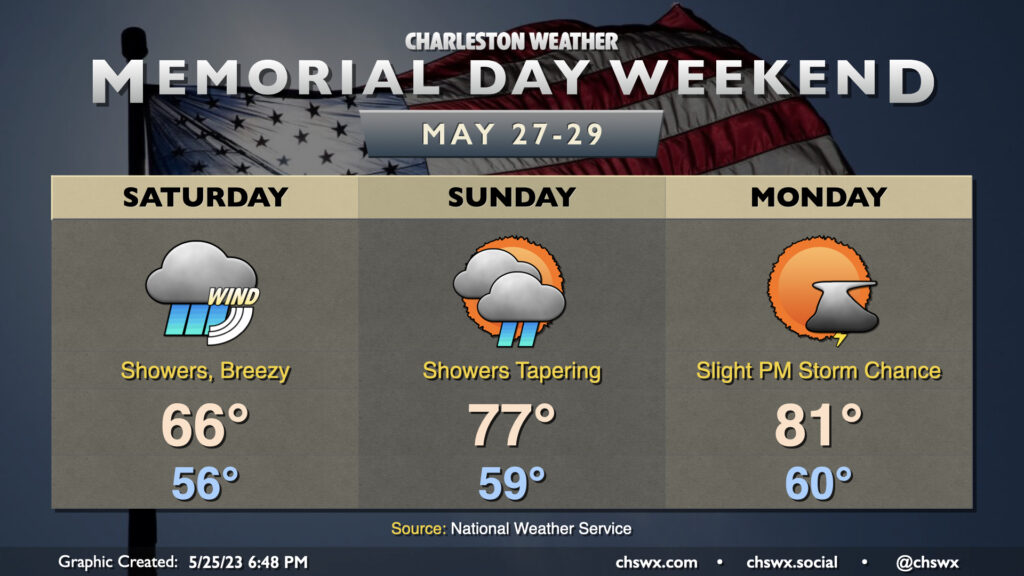 The worst of the inclement weather peaks Saturday as numerous showers, some of which may be heavy at times, move through the area along with gusty winds out of the northeast that'll eventually shift more to the north. Along with the rain, temperatures will run straight up chilly for this point in the year — the forecast high of 66°, if verified, would tie the record coldest high for May 27 set in 1988. Some spots may see 1-2″ of rain, with locally heavier amounts. The best chance for heavier rain in the Charleston metro will be found generally east of I-26. Tweaks in the track of the low could introduce some swings in either direction on rain totals.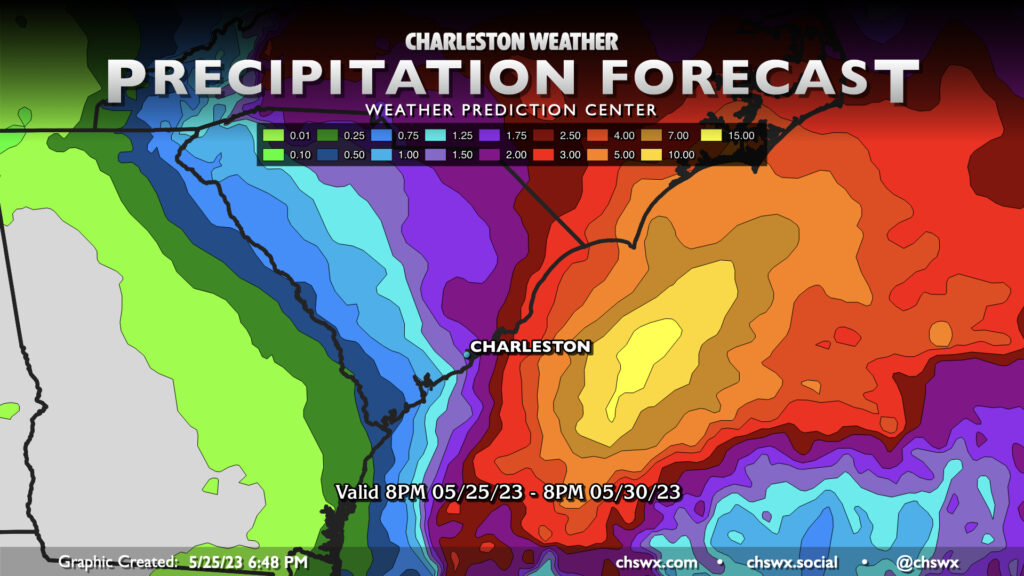 It won't feel great to head to the beach anyway, but if you do, be alert for the potential for high surf and strong rip currents especially Friday and Saturday.
Slow improvement begins Sunday
The low will move inland and spin down on Sunday. Showers will taper off, clouds will break up a little, and it'll be overall a better day with temperatures running 10°+ degrees warmer than Saturday. Even still, we look to top out just in the upper 70s after starting the day around 60°.
Memorial Day will still run on the cool side of normal — a typical Memorial Day runs about 85° in the afternoon — but we should have some more sunshine. A thunderstorm or two could pop in the afternoon as a cutoff upper low hangs around, but this feature will be making its way out of here next week, allowing for a warming trend to commence just in time to start June (and climatological summer).
---
Follow my Charleston Weather updates on Mastodon, Instagram, Facebook, Bluesky, or directly in a feed reader. You can also get daily audio updates via the Charleston Weather Daily companion podcast, available wherever fine podcasts are listed. Do you like what you see here? Please consider supporting my independent, hype-averse weather journalism and become a supporter on Patreon for a broader look at all things #chswx!