Weekend forecast: Largely quiet, but watch for coastal flooding in the evenings
This weekend's forecast is looking pretty good by 2023 standards, and will certainly be a far cry from what last weekend looked like. Saturday will be the warmer of the two days with highs topping out in the mid-80s in the afternoon. A few showers will be possible along the seabreeze, but those should be few and far between. A cold front moves by overnight Saturday into early Sunday morning, which will usher in some cooler and drier air that'll keep highs capped around 80° in the afternoon under a mix of sun and clouds. Watch for some breezy conditions in the wake of the front on Sunday, with gusts near 30 MPH possible particularly on elevated surfaces and at the beaches.
Coastal flooding, perhaps significant, possible in the evenings this weekend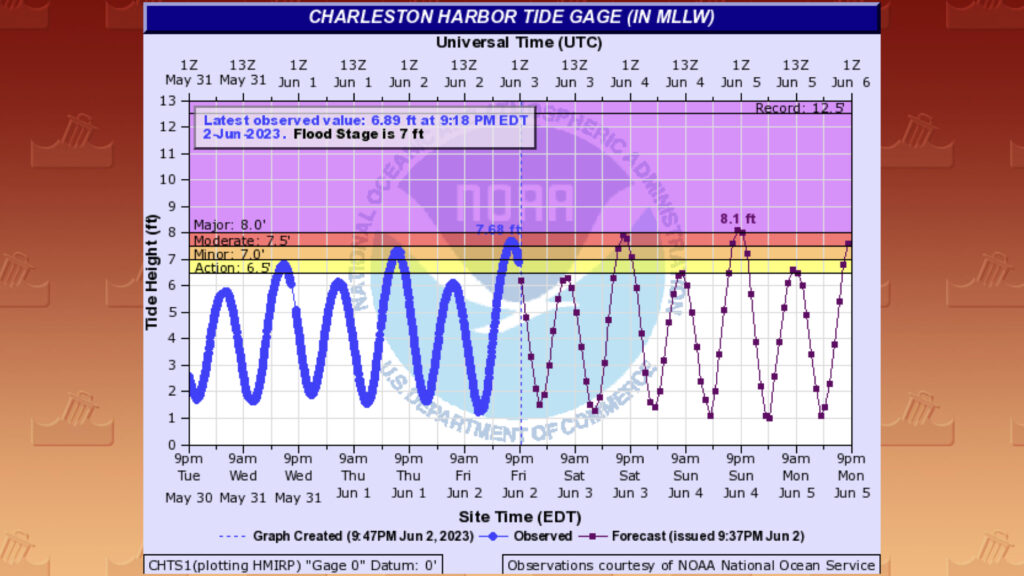 The only fly in the ointment will be the risk for coastal flooding each evening. Moderate flooding is forecast with Saturday evening's high tide (peaking around 8:21 PM) and major flooding is expected with Sunday evening's high tide (peaking around 9:10 PM). If you have plans to get out and about in parts of downtown during the evenings this weekend, be ready to use alternate routes. Never cross a flooded road, especially one that's been barricaded — this is salt water, after all, which is horrible for your car's undercarriage.
Tropics: Arlene forms, but will be short-lived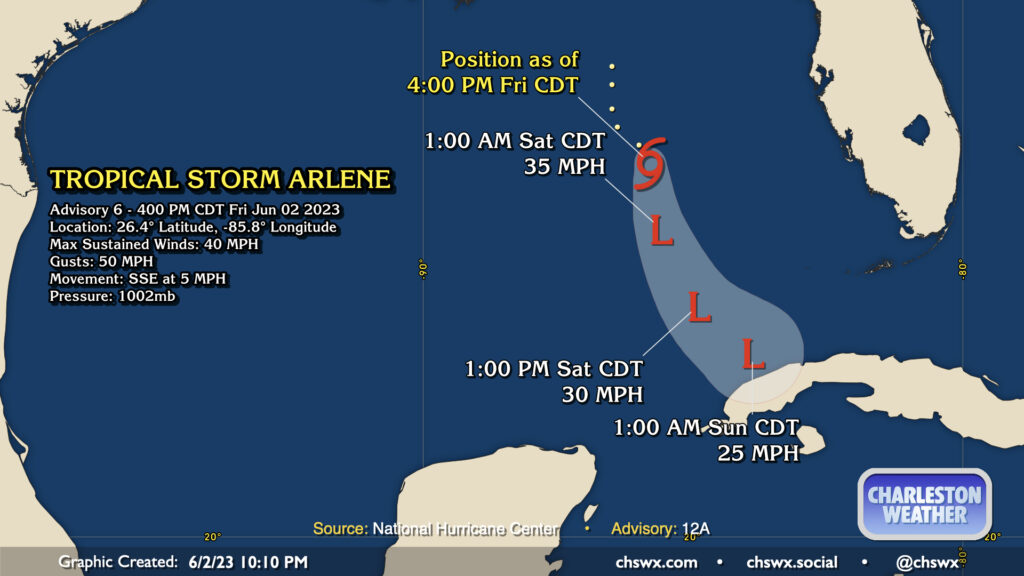 Tropical Depression Two became Tropical Storm Arlene earlier this afternoon, making it the first named storm of the season. It will be short-lived, as it's expected to succumb to shear over the weekend in the southeastern Gulf of Mexico. Arlene poses no concern for our weather.
---
Follow my Charleston Weather updates on Mastodon, Instagram, Facebook, Bluesky, or directly in a feed reader. You can also get daily audio updates via the Charleston Weather Daily companion podcast, available wherever fine podcasts are listed. Do you like what you see here? Please consider supporting my independent, hype-averse weather journalism and become a supporter on Patreon for a broader look at all things #chswx!