Tuesday's forecast: Showers return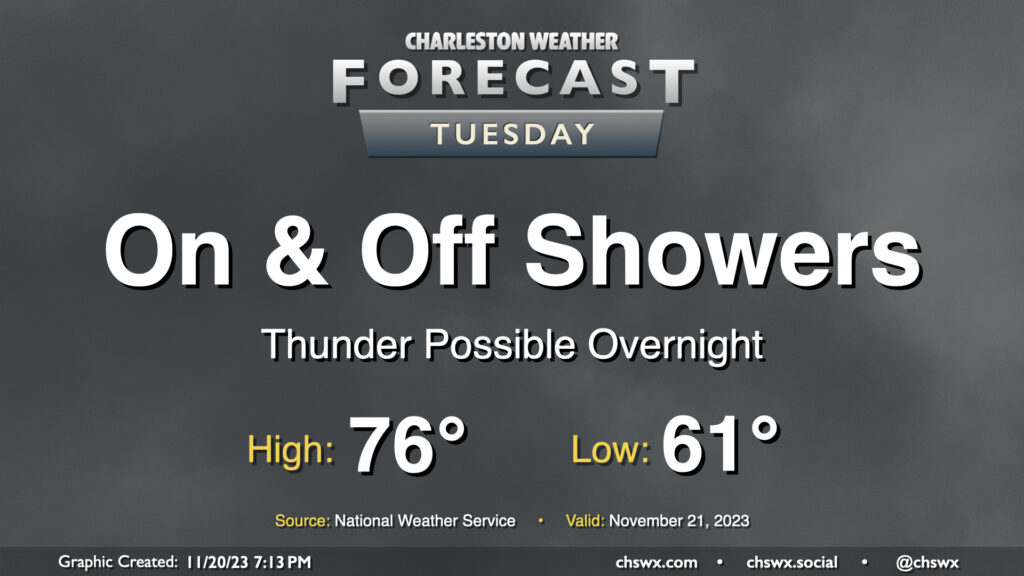 Tuesday's forecast will be unsettled at times with periods of showers ahead of a cold front that'll advance through the area on Wednesday. It's going to be a warm and humid day, with lows around 60-61° warming to the mid-70s in the afternoon. Shower chances will increase as we get into Tuesday night and early Wednesday, and some rumbles of thunder may be possible as well. We need the rain and it looks like we could get a fair bit of it in spots. A half-inch of rain seems to be a decent bet in many locations, with locally heavier amounts possible as well.
Rest of the week: Stormy Wednesday, quiet Thanksgiving, some showers Friday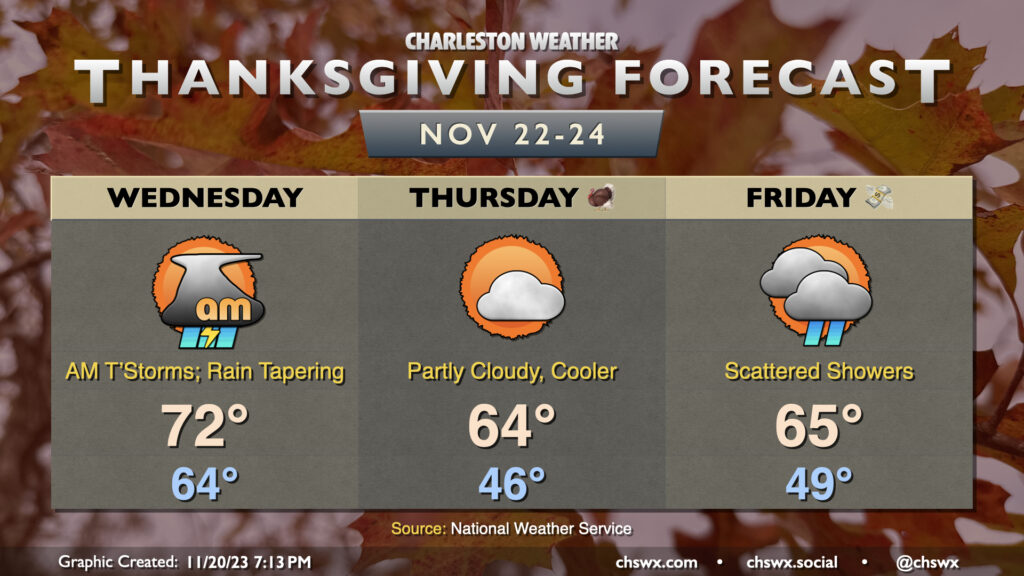 Showers and maybe even a few thunderstorms will be ongoing on what will be a warm Wednesday morning, and some of the rain could be heavy at times. A perusal of today's models suggests that severe weather shouldn't be a major concern for us, though I wouldn't rule out a strong wind gust or two overnight Tuesday into Wednesday morning. Temperatures will start in the mid-60s and warm to the low 70s early Wednesday afternoon. We'll see those showers and thunderstorms begin to taper as we get further into Wednesday afternoon, and rain should clear the coast along with the cold front by evening.
Thanksgiving Day will feel, well, as it should. We'll start the day in the mid-40s, warming to the mid-60s in the afternoon under partly cloudy skies. Another disturbance and cold front will affect the area Friday, which will bring a few more showers into the picture, but it'll be weaker. Temperatures on Friday will remain on the cool side of normal, with lows in the upper 40s and highs in the mid-60s.
---
Follow my Charleston Weather updates on Mastodon, Instagram, Facebook, Bluesky, or directly in a feed reader. You can also get daily audio updates via the Charleston Weather Daily companion podcast, available wherever fine podcasts are listed. Do you like what you see here? Please consider supporting my independent, hype-averse weather journalism and become a supporter on Patreon for a broader look at all things #chswx!