A few storms on Saturday, but the rest of the long weekend looks great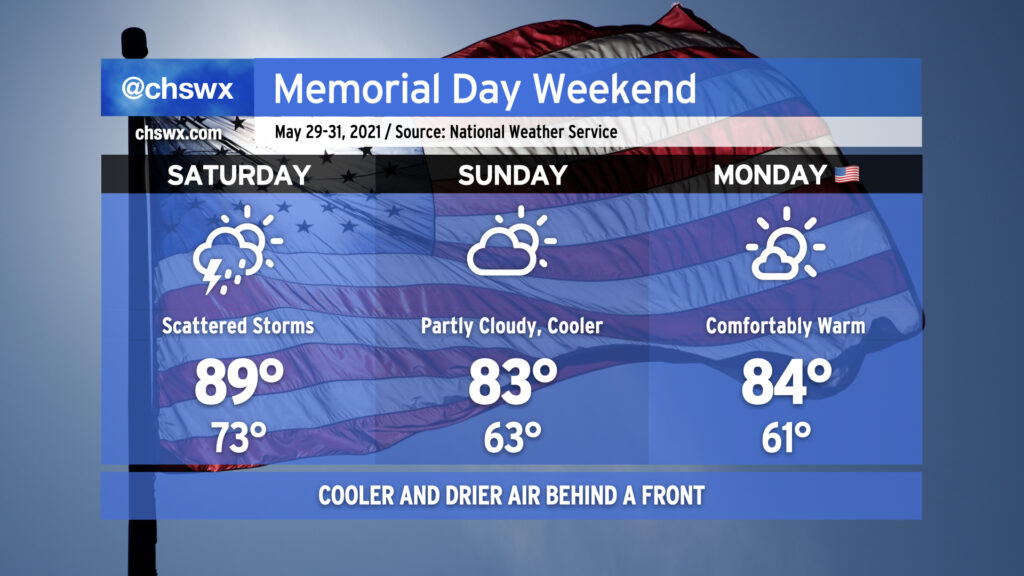 We'll get off to a warm, humid, and perhaps a stormy start to the Memorial Day weekend, but a late-season cold front will make the weather very pleasant for Sunday and Monday.
A cold front, which as of publish time was draped over the Mid-South from Kentucky southward through Tennessee and far northwest Mississippi, will be advancing eastward toward the coast on Saturday. Atmospheric moisture will surge ahead of the front, providing a more hospitable atmosphere for afternoon showers and thunderstorms than we have seen in the past week or so. Temperatures will top out around 90° before scattered storms kick in ahead of the front. Brief downpours will be possible, but no severe weather is expected. (In fact, not everyone may even get rain.)
The front will get through overnight Saturday into early Sunday morning, ushering in a cooler and drier airmass. We'll start Sunday about 10° cooler than we started Saturday, with lows in the low 60s away from the locally warmer coast. Highs will top out in the low 80s, a little below normal for late May, and will feel pretty great after a week of 90s. This comfortable warmth continues into Monday with a little bit more blue sky to boot. Overall, not too bad — we need the rain, and it's awfully nice to enter June in the mid-80s rather than the upper 90s!