Friday & the weekend: Somewhat unsettled, but no washout
We will remain in a warm and muggy regime on Friday into the weekend as tropical moisture remains in place over the area. We should see a little less shower and storm coverage on Friday as compared to today without much in the way of forcing, but a few airmass thunderstorms will be possible especially ahead of the seabreeze. Saturday looks similar right now as forcing mechanisms remain few and far between. Heading into Sunday, though, upper-level energy will rotate into the area, and this should help enhance shower and thunderstorm coverage especially in the afternoon and evening hours. A total washout is not in the cards, though, so don't go torching your weekend plans — just keep an eye on the forecast as there will be adjustments and fine-tuning throughout the weekend.
Temperature-wise, we'll remain generally in the mid-80s each afternoon after starting out in the low 70s each morning (with perhaps some upper 70s to around 80° lows close to the coast, including downtown). Temperatures should be knocked down a peg for Sunday given more expansive cloud cover and shower and thunderstorm activity in the region.
No imminent tropical concerns, but the Atlantic remains busy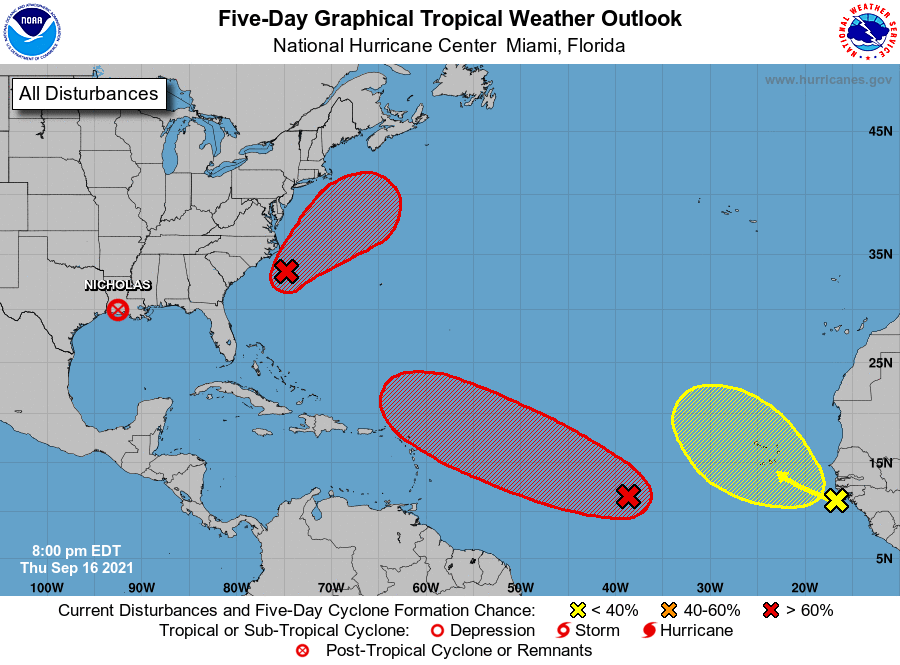 We remain well-entrenched in the peak of hurricane season, and the National Hurricane Center's outlook definitely reflects this.
Closest to home, a storm tagged as Invest 96L has a 70% chance of developing into a tropical cyclone as it moves away from the eastern US. This storm is having an influence on our weather, though, enhancing some northeast winds that drove tide levels up earlier this evening. That being said, this won't cause any tropical mischief for our neck of the woods.
The main feature of note is a tropical wave moving across the Atlantic, approaching the Leeward Islands over the next few days. NHC gives this storm a 70% chance of being a tropical cyclone in the next five days. From there, it's anybody's guess how much latitude it will gain. Model solutions diverge sharply at 72 hours, with some solutions beginning a recurvature to the north, some solutions favoring continued west-northwestward motion, and even a solution or two favoring a more southerly track (though this seems to be an outlier at this point). Bottom line right now: There's a long way to go with this system, and we have plenty of time to watch it.
The next names up in the list are Odette and Peter. I suspect we'll see one or both in the next few days.