Dry day Saturday before a Sunday drenching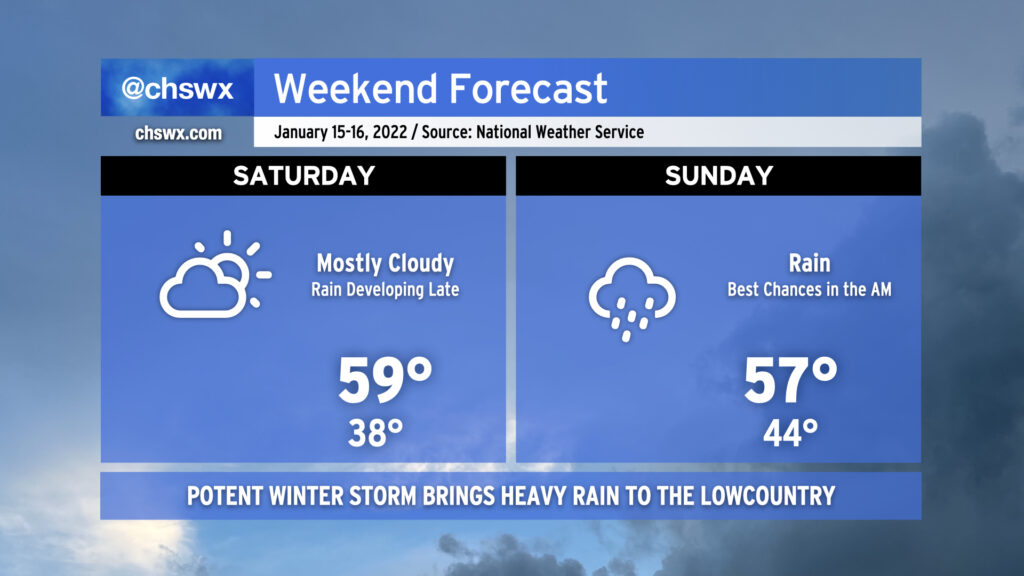 A relatively quiet Saturday will give way to a somewhat turbulent Sunday as a potent winter storm brings heavy rain to the Lowcountry. Temperatures on Saturday will generally run in the upper 50s as cloud cover increases as the storm approaches from the west. We should get much of Saturday in rain-free, with the better rain chances arriving at and after midnight.
Sunday's storm threat
Rain will overspread the area overnight Saturday into Sunday, with the bulk of the rain in the Charleston metro area falling before Sunday evening. Temperatures are going to be somewhat difficult to pin down as a wedge of high pressure will be in the area. Right now, the forecast is for low 50s inland of 17-A to around 60° at the coast. There's a bust potential for temperatures, though, given the wedge that's expected to be in place. Much will hinge on where low pressure redevelops along the SC coast. If it's a little further west, warmer air could penetrate inland for longer. If it is closer to the coastline itself, the 60s may be confined to a very thin sliver right on the immediate coast, with temperatures not getting out of the 40s for a lot of us throughout the day. I suspect there will be future refinement to Sunday's forecast temperatures as a result, and would plan on temperatures running cooler than currently forecast.
Very limited winter weather threat in far northwestern Berkeley and Dorchester
Precipitation continues to look all liquid for the Charleston metro area. There is, however, a small — but yet, non-zero — chance for some brief freezing rain to develop in the far upper northwest tier of Berkeley and Dorchester counties during Sunday morning. This will be watched closely, but for now, assume all rain across the area. If freezing rain does fall, it's not expected to be tremendously impactful beyond glazing over some elevated surfaces.
Winds to become breezy and gusty by Sunday evening
As low pressure develops nearby and a cold front swings offshore, expect winds to kick up and be quite gusty especially going into Sunday evening and into Monday. Wind gusts to 40 MPH appear likely across the area, and the National Weather Service may consider a wind advisory as a result. This could be enough to bring down a couple trees and power lines after a soggy Sunday, so be ready for sporadic power outages.
Limited thunderstorm threat near the coast
Depending on where low pressure develops, there's a non-zero chance for some thunderstorms primarily near the coast. Right now, guidance is leaning strongly toward keeping most instability offshore, which should keep any risk for severe storms away from our neck of the woods. If the wedge should stall out a little further inland, then that may slightly improve the risk for thunderstorms, but this outcome seems unlikely at this juncture.
Bottom line
We in #chswx will continue to monitor this storm in case things change, but for now, expect a chilly, rainy day for a good bit of Sunday with gusty winds developing in the afternoon and evening hours. The wind could cause sporadic power outages with the occasional downed tree or power line possible. Expect the winter weather threat to stay north and west of the metro area, with the risk for thunderstorms north and east of here.
---
Follow my Charleston Weather updates using Twitter, Facebook, Instagram, micro.blog, or RSS. Do you like what you see here? Please consider supporting my independent, hype-averse weather journalism and become a supporter on Patreon for a broader look at all things #chswx!