Friday & the weekend: One more hot day before afternoon storm chances return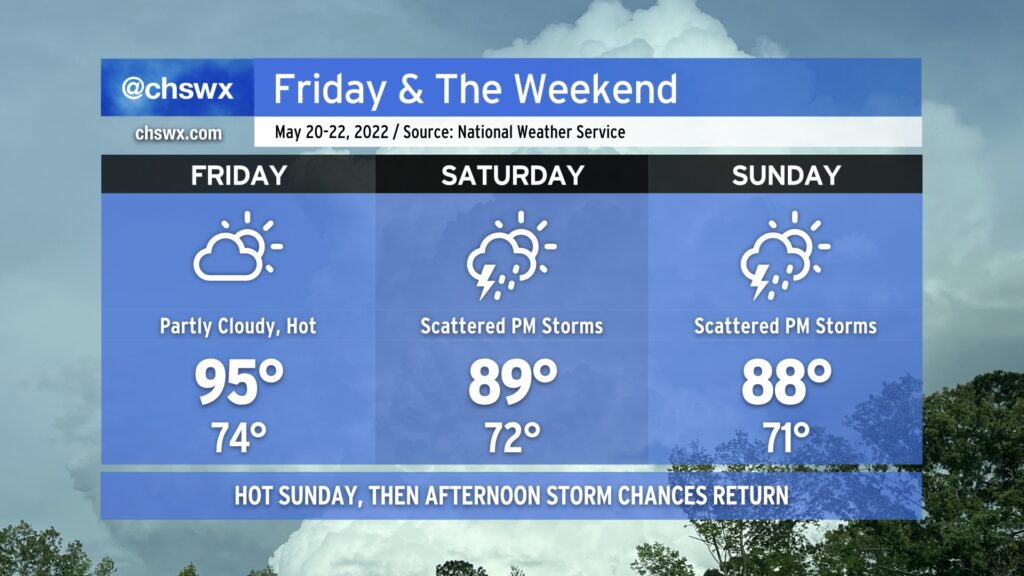 We hit 95° at the airport today, making it the warmest day of the year thus far in the Charleston metro area. As of this writing, the cap has held, too, and there are no thunderstorms to speak of. We should repeat this performance tomorrow under partly cloudy skies, with temperatures starting in the mid-70s in the morning to the low-to-mid-90s in the afternoon. Once again, a dearth of energy and a strong cap will keep thunderstorms at bay for Friday, so don't count on any heat relief in that regard.
We start to see the high pressure ridge begin to shift away a little on Saturday, though, opening the door for afternoon showers and thunderstorms. They'll be scattered about, so not everyone will see measurable rain. Where it does rain, though, it could be heavy. Highs top out in the upper 80s to around 90°, tempered by afternoon thunderstorms.
We should see similar weather on Sunday, with even more numerous showers and thunderstorms expected that afternoon. Again, though, some spots may see a downpour while others get little to no measurable precipitation. There also appears to be a risk for a few storms to be on the strong side with strong downburst winds and perhaps hail. Widespread severe weather, at this point, doesn't appear likely, though.
Scattered showers and thunderstorms remain in the forecast each afternoon thus far next week, so if you miss out on the rain this weekend, there's still plenty of chances to come.