The weekend: Warm, humid, and popup storms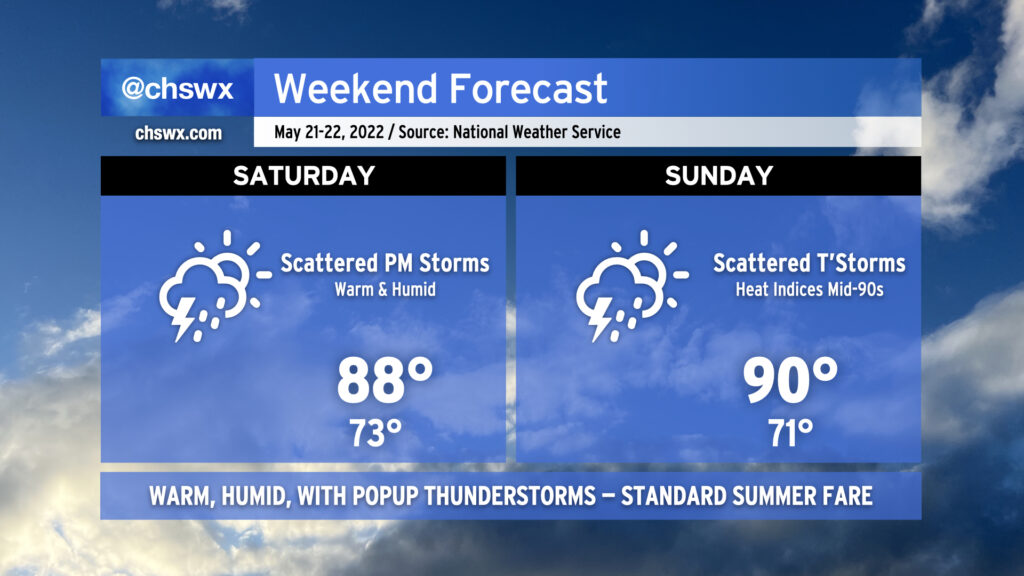 Our run of early summer weather continues into the weekend. While temperatures will be lower than we've seen recently — we hit 95° yesterday, and 94° today — we'll be adding popup showers and thunderstorms back into the mix each afternoon, which is typically the other mode of summer weather we see around these parts.
The drill remains the same: No washout, but conditions could change quickly in the afternoon as thunderstorms develop. Expect storms to develop in the early afternoon around the Highway 17 corridor before moving inland with the seabreeze heading into the late afternoon and evening hours. A storm or two could turn strong to severe with damaging wind gusts and large hail, but an organized, widespread severe weather threat is not on the table here either day. Just be ready to move indoors if thunderstorms approach — remember, lightning makes every thunderstorm dangerous.
I know y'all are thirsty for rain, and this weekend represents a decent chance for many of us to see some much-needed precipitation. Keep in mind, though, that the scattered and cellular nature of these storms will mean that a few people could see quite a bit of rain, while others may not measure much if any. The good news is that we are heading into a more unsettled weather regime getting into next week, so many of us should see at least a little drought relief before the month is over.
Temperatures will run in the upper 80s to around 90 each afternoon after starting in the low 70s each day, still above normal for this time of year. We look to stay in this temperature regime heading into next week depending on how far south a cold front can get.