The week ahead: More chances for beneficial rainfall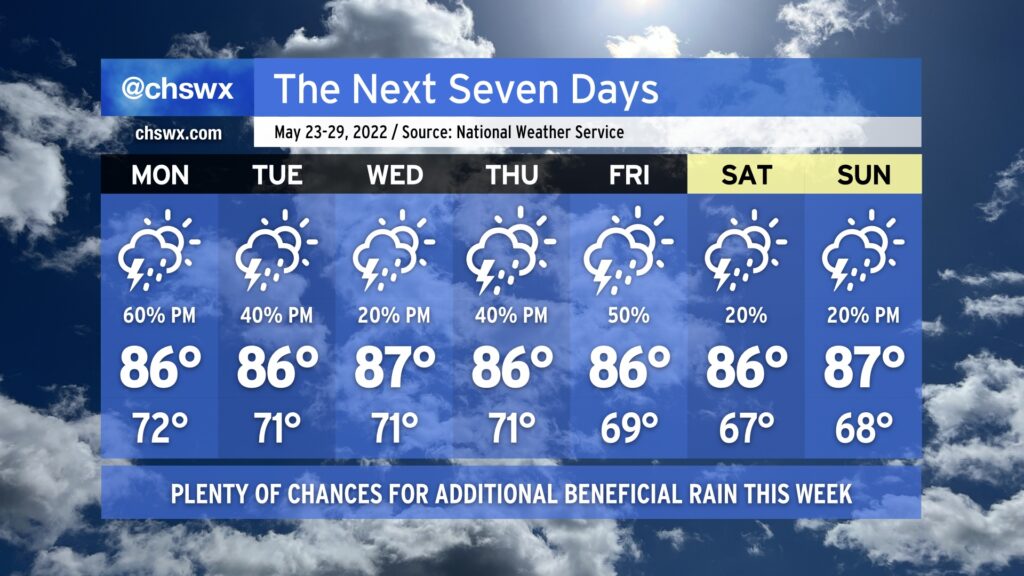 It rained today — really, really well, in fact — and that felt nothing short of miraculous. Quite a few gauges in the metro area recorded over 1" of rain from this morning's thunderstorms. We'll have additional shots at beneficial rainfall this week, especially at the beginning and the end, while temperatures generally remain around normal.
Showers and thunderstorms are expected to redevelop during the day Monday as slugs of tropical moisture from a disturbance in the Gulf — the first to gain the Hurricane Center's attention this year, though development is unlikely — traverse the area and interact with a stalling cold front to our north. This should bring some more substantial rains to at least some of us by Monday afternoon. Temperatures will hold in the mid-80s given cloud cover and expected thunderstorm activity.
The stalled front hangs around Tuesday, though the Gulf disturbance will be departing the weather picture. There will still be plenty of moisture around, though, and that combined with the lingering front should help kick off additional showers and thunderstorms in the afternoon. Expect more of the same going into Wednesday, too, though showers and thunderstorms should be a little more isolated. Rain chances head back up for Thursday and Friday as a cold front pushes toward the area from the west. There's still going to be plenty of moisture around, and some heavy rainfall will be possible from any storms that develop.
The cold front clears the area and stalls out offshore as we kick off the Memorial Day weekend. Rain chances could still hang around given the proximity of the front, but they'd be relatively slight. It should feel a touch less humid, too, which would be welcome news as Spoleto opens. Keep an eye on forecast updates as this will become more clear as the week goes on.