Rest of the work week: A couple rain-free days, then another shot at solid rainfall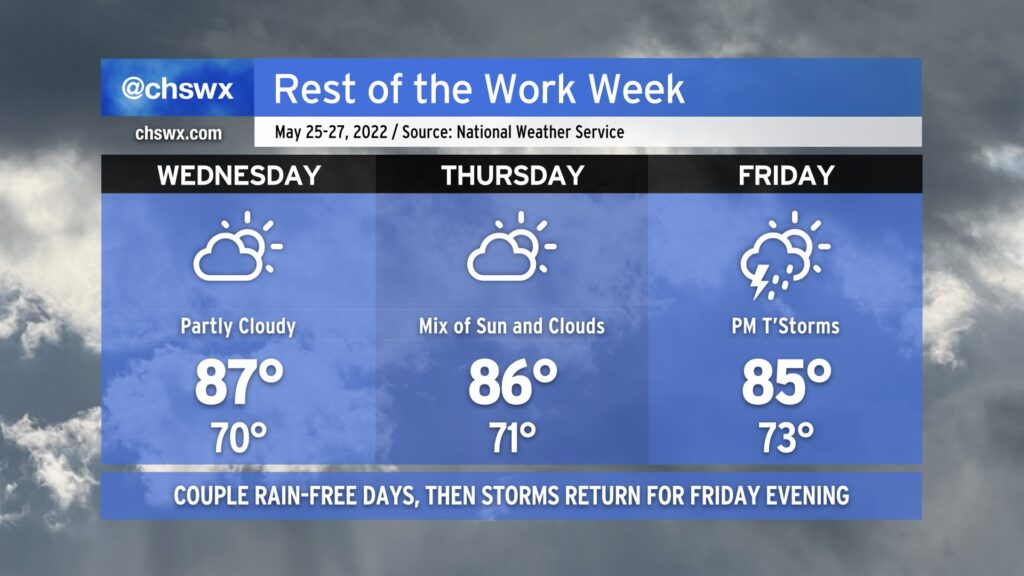 The forecast turns a touch quieter for a couple days as a front sags south across the area, capping the atmosphere off a bit and limiting shower and thunderstorm development. Expect partly cloudy skies for Wednesday and Thursday with highs topping out generally in the mid-80s. While you can never totally discount a shower or storm this time of year, strong capping on the atmosphere should prevent much in the way of storms.
Rain chances return on Friday as a surface cold front, aided by a trough of low pressure aloft, approach the area. We'll see plenty of moisture streaming into the area thanks to the upper-air configuration, which should aid numerous showers and thunderstorms heading into Friday afternoon and evening. (Not exactly great timing for the Spoleto opener.) The atmosphere will be pretty juiced, too, allowing for heavy rainfall to be an issue in some spots. We'll want to keep an eye out for flooding as a result. We do need the rain, but perhaps not all at once! With the rain and cloud cover in the area, expect high temperatures in the mid-80s after starting in the low to mid-70s.