The week ahead: Here comes a heat wave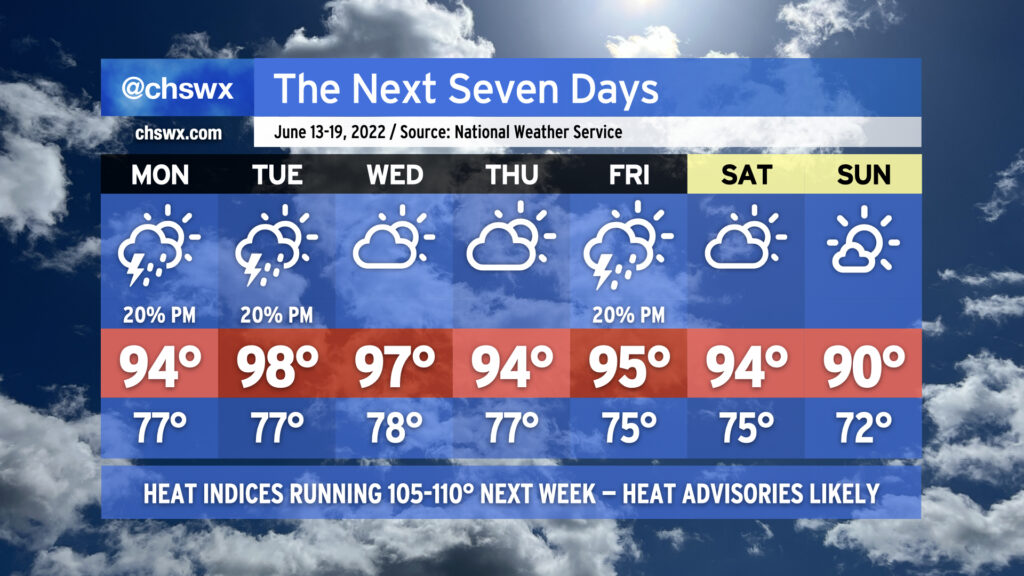 The hottest weather thus far in 2022 will arrive this week as a strong ridge of high pressure builds over the Southeast. The heat wave will peak Tuesday and Wednesday, with highs in the upper 90s expected and heat indices likely exceeding 110° both days. We stay hot heading into the weekend before a frontal system looks to push through Saturday night, leaving us with slightly cooler temperatures — if you could call 90° "cooler" — for Sunday.
Compounding things, low temperatures will struggle down to the mid-70s on the coolest mornings. There may be some mornings near the coast where temperatures don't drop below 80°. The heat during the day with the lack of cooling at night will make for an oppressive few days. Check on your neighbors, especially those with vulnerability to the heat, during this tough stretch. Make sure you're getting plenty of water and taking frequent shady breaks if you've got to be outside during the peak of the afternoon.
Thunderstorms will be few and far between for much of the week, with the better rain chances likely overnight Saturday into early Sunday morning with the frontal passage. Even then, right now the rain probabilities are in the 20-30% range.
Finally, astronomical factors and favorable winds will combine for minor to moderate tidal flooding with each evening's high tide. Be ready for road closures in a few spots in downtown Charleston at times this week, and keep an ear out for Coastal Flood Advisories from the National Weather Service.