Unsettled weekend ahead as a front sags into the area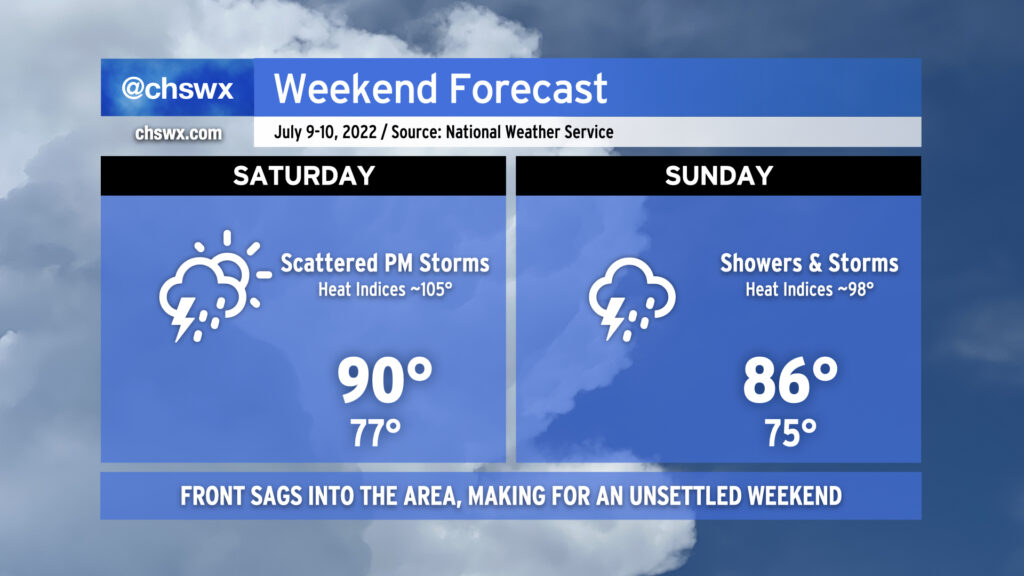 Expect more in the way of showers and thunderstorms this weekend, particularly on Sunday as a frontal zone moves into the area from the north. Storms could fire as early as mid-morning on Saturday, but should remain scattered through the evening hours. Thus, outdoor activities should have a backup plan, but don't expect to be washed out, either. Temperatures will top out around 90° with heat indices peaking around 105° with the continued very warm and moist atmosphere in place across the area.
Saturday evening, we'll be watching for a line of thunderstorms to sink southward into the metro area. Timing right now looks to be generally around and after sunset. Heavy rain, frequent lightning, and gusty winds will be the main concerns with this line as it sags into the area. We could see some sporadic wind damage from it, so we'll want to keep an eye on that.
Sunday turns even more unsettled as the frontal zone sags southward into the area and stalls out. Expect on and off showers and thunderstorms throughout the day. It probably won't rain all day at any one location, but it'll be a good day to favor indoor plans. Sunday's evolution could be a bit conditional on how things go with the Saturday night thunderstorm line, so stay tuned for more specifics as the mesoscale details work out. Regardless, the expectation of widespread rain and the nearby front will keep high temperatures in the mid-80s. Mix in the humidity, though, and it'll still feel like the upper 90s.