Weekend forecast: Muggy with on-and-off storms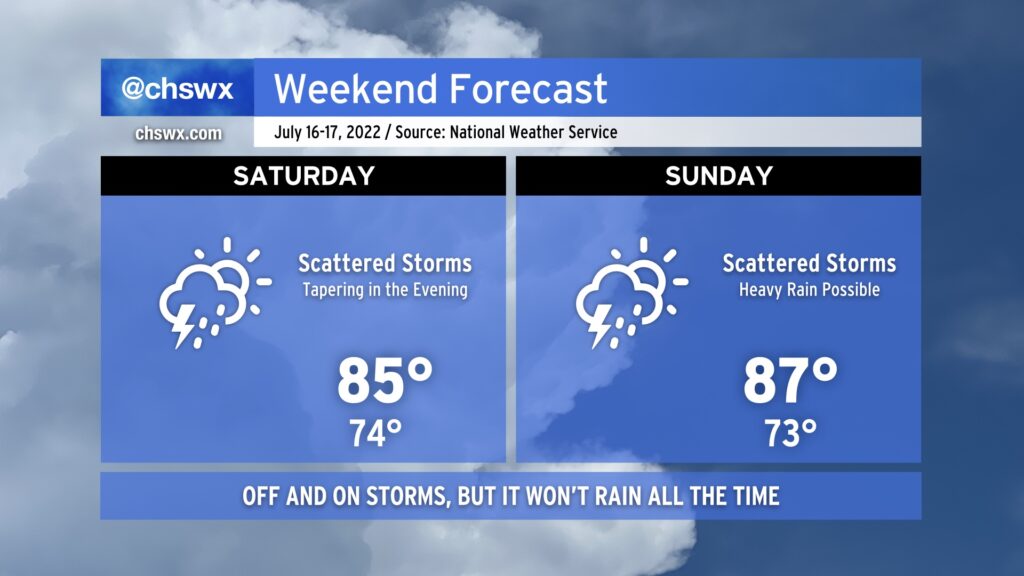 We'll stay in a warm, humid, and occasionally stormy pattern this weekend as a trough continues to affect the East. Saturday will feature more typical afternoon thunderstorm chances along and ahead of the seabreeze, while Sunday could see a little more widespread activity thanks to a little mid-level energy traversing the area. Still, a total washout of the weekend isn't expected. We'll have breaks in the rain, and coverage will be such that, barring any mesoscale accidents that cause storms to build back on one another, they should be reasonably short-lived. And while you can never rule out a strong downburst this time of year, the risk for widespread severe weather is low. As always, though, lightning makes every thunderstorm dangerous. When thunder roars, go indoors!
The troughiness and cloud cover will help keep temperatures down in the mid-80s. We may turn a little warmer Sunday, but air temperatures should remain sub-90°. Mix in humidity and it'll feel closer to the low-to-mid-90s. Thunderstorms will, of course, have a moderating effect on temperatures.
All in all, it won't be the best weekend for weather…but not the worst, either. A solid "meh" if you ask me.