Thursday: Another steamy day with afternoon thunderstorms possible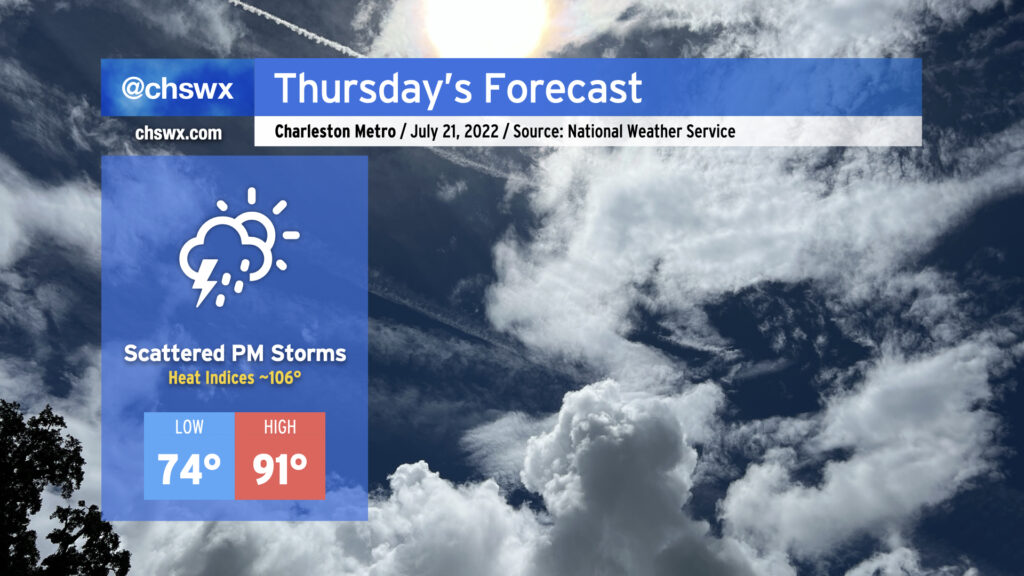 We've got another warm, steamy day ahead on Thursday with the potential for heavy afternoon thunderstorms once again affecting the area. Temperatures will start in the mid-70s once again, and your glasses (sun or otherwise) will almost certainly fog up when you walk outside in the morning. Temperatures should rise to the low 90s by early afternoon, and when you factor in the humidity, it'll feel closer to 105-106° or so — certainly stifling heat that'll require precautions against heat exhaustion or heat stroke if you must be outside tomorrow afternoon.
Attention will then turn to the threat for showers and thunderstorms. The seabreeze may once again be the culprit for at least an initial round of storms, while west-northwest flow aloft will be monitored closely for any thunderstorm complexes that can develop and push our direction. The seabreeze should have an easier time moving inland tomorrow than it did today, but it could still face some resistance and stay pinned closer to the coast. We'll want to watch the seabreeze's inland progression carefully; the lack of such progression today, with storms firing along it and then training heavy rain in the same places, led to 2″ of rain in a little over an hour in spots and resulted in yet another urban flooding event in downtown Charleston. If storms get going, they'll have plenty of moisture to work with, as precipitable water values continue to be in the 2-2.2″+ range. Hopefully we won't see a repeat of today — odds are, we won't — but we'll keep an eye on it regardless.