Rest of the work week: Turning unsettled as a front stalls out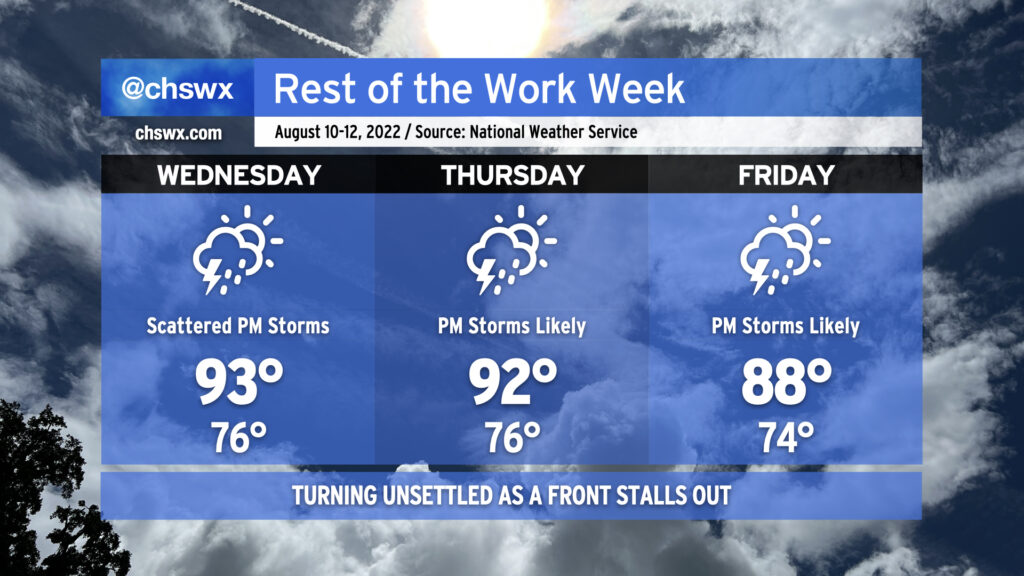 After a relatively quiet Tuesday, we'll start to see rain chances trend back up starting Wednesday as a trough develops aloft and a cold front presses southward, which will eventually stall out somewhere in the area over the weekend. We still stay quite warm Wednesday into Thursday as highs top out in the low 90s and heat indices top out in the low 100s. Isolated to scattered showers and storms should develop along the seabreeze in the early afternoon and move inland as the day progresses. Same deal for Thursday, though we could see some additional coverage sprout up as the trough digs in a bit more down the East Coast and the front starts to drive southward a little more. By Friday, the front will be getting closer, and this will instigate greater shower and storm coverage as a result. Temperatures will also run a little cooler — by cooler, I mean upper 80s instead of low 90s — thanks to the more widespread cloud cover and rain coverage.
Heading into the weekend, we look to stay unsettled for at least part of Saturday, but drier air will be punching into the area. We should see a taste of mid-60s dewpoints starting Saturday afternoon, leading into what should be a rather gorgeous (by mid-August standards) Sunday. Fingers crossed these trends in the models continue — typically, it is still tough to get fronts this far south at this point in August, but then again, July's deluge courtesy of southward-pushing fronts showed us that this hasn't been a very typical summer. Stay tuned.