Friday & the weekend: Heavy rain and tidal flooding expected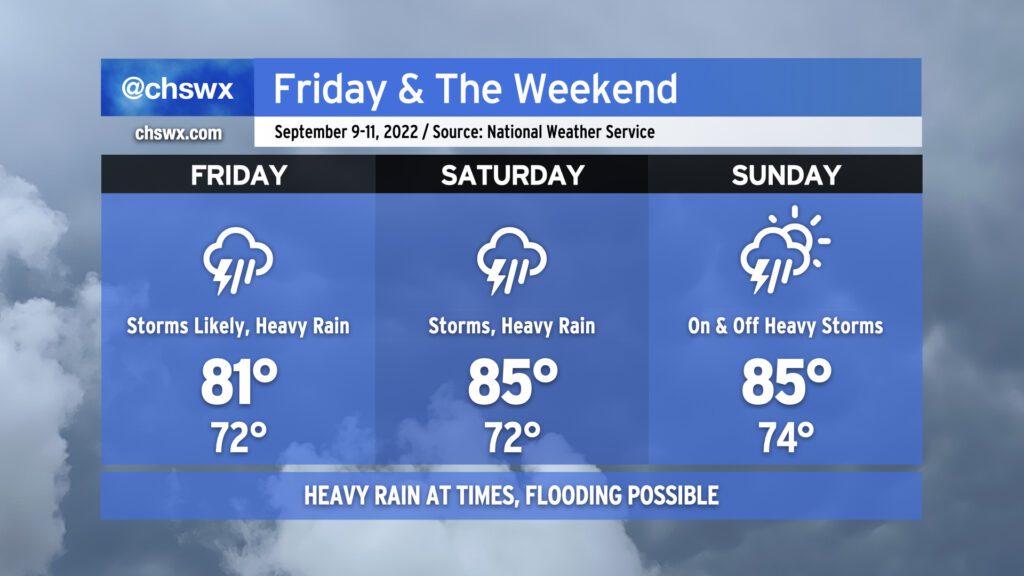 Numerous showers and thunderstorms with periods of salt water flooding due to high tides will be the major weather issue for Friday and the weekend.
As I write this late Thursday evening, showers and thunderstorms were redeveloping off the coast, moving slowly west-southwest. Some heavy rain can't be ruled out overnight in a few spots, but the general consensus right now is that the worst of the rain stays south of the area to start Friday. As a front lifts back north as a warm front, we should see some of these heavier downpours migrate northward into the area throughout the day. A few spots could see a quick 1-3″ of rain in the heaviest downpours. The cloud cover and rain, as well as cooler air nudging southward in a wedge-like setup, will combine to keep highs pinned to the low 80s at best.
Northeast winds, astronomical influences, and swell from distant Hurricane Earl will combine to potentially produce moderate to major coastal flooding Friday evening. High tide is projected for around 8:13 PM and is currently forecast to top out around 8′. Water levels this high alone are enough to close numerous roads downtown as well as Long Point by Snee Farm in Mt. Pleasant. Add rain on top and flooding issues will quickly become much more widespread. Be ready for the potential for significant flooding in downtown Charleston as you make your Friday night plans!
On Saturday, the surface front will get closer to the coast. The cutoff low aloft will continue to meander over the Gulf of Mexico, still sending disturbances and deep tropical moisture our direction, which will cause periods of off and on showers and thunderstorms. Heavy rain will remain the chief concern, with freshwater flooding possible in some spots. Note, though, that it won't rain all day. Then, in the later part of the evening we'll be dealing with another round of minor to moderate salt water flooding in downtown Charleston once again around high tide. Winds shifting easterly and southeasterly on Saturday should help limit some of the water loading issues that we get with a northeasterly wind, but water levels should still reach heights to close some roads. Expect temperatures to run a little warmer than Friday, generally in the mid-80s.
Expect more of the same for Sunday. Once again, it won't rain all day, but expect periods of showers and thunderstorms at times with heavy rainfall in spots. Flooding remains a possibility, especially depending on how much rain falls Friday and Saturday. We may see another round of tidal flooding as well in the late evening, though guidance suggests it may not be nearly as severe as Friday's and Saturday's. Mid-80s for highs seem like a good bet considering continued cloud cover and rainfall. Stay tuned to forecast updates throughout the weekend for fine-tuning of rainfall forecasts and the potential for flooding.